We all have an important role to play in making travel sustainable, both immediately and in the future, by taking ultimate responsibility for our actions and our decisions. As travellers we need to research and support hotels and resorts that take sustainability seriously, whilst hotels and resorts have to keep assessing and improving their sustainability initiatives. Together, conscious travellers who make informed choices and hotels and resorts that see reducing their environmental impact as a core value, we can all make a difference.
S for Sustainability features Six Senses Ninh Van Bay in Vietnam, Soneva Kiri in Thailand and Song Saa in Cambodia. These three luxury resorts in Southeast Asia have continued to go above and beyond to ensure that their approach to sustainability is not only one of their core values but an essential part of tourism today.
Sustainable luxury resort in Vietnam
First stop on our sustainability tour of Southeast Asia is Six Senses Ninh Van Bay, located on a pristine peninsula in central Vietnam. The unique peninsula location means that this resort is accessible by boat transfer only, ensuring that deserted tropical island feel.
It also means that the surrounding environment is a nature lover's dream. With jungle and ocean meeting seamlessly, your stay will give you a glimpse of natural beauty that remains free from development, allowing nature to thrive without the damaging impact of mass tourism.
The fact that during our stay, Six Senses Ninh Van Bay hosted visiting chefs from around the world for a 'Culinary Sensation' week, where 'celebrating food with a sustainable twist' was the focus, shows that sustainability is something they take seriously. Add to this that the opening gala event for the week was a multi-chef and multi-course plant based meal, then you can really see that every element of being more sustainable is being considered. Everywhere you look at Six Senses Ninh Van Bay their environmental and sustainability initiatives are clear to see.
From the 800 panel solar farm that already supplies 20% of the resort energy to the educational and informative 'Earth Lab' where guests are invited to learn about and partake in a series of environmental activities; you can't ignore the efforts that are being made to make a difference. When discussing these efforts (including the innovative tablets to replace the need for single use plastic toothpaste tubes) with Amy, the inspiring and passionate regional sustainability director, she said "sustainability is not just what we are doing, but also should be who we are". This is so true of the team at Six Senses Ninh Van Bay who truly believe they can make a difference and will leave no stone unturned in trying to achieve this.
Vegan food and sustainable travel both aim to reduce the negative impact modern day living has on the environment whilst promoting a more responsible and ethical way of living. For us, any discussion about sustainable travel has to include the availability of vegan items on the menu.
So when staying at Six Senses Ninh Van Bay, we were suitably impressed to find a huge selection of plant based food throughout the resort. Whether it's the plant powered bowl of pasta or the pizza with homemade vegan cheese that we enjoyed at 'Dining by the Pool' or the fact that that they've just opened a plant based farm-to-table dining experience within their expansive organic gardens, there is an abundance of vegan food at Six Senses Ninh Van Bay and we loved it!
Sustainable luxury resort in Thailand
Next up is the peerless Soneva Kiri, located on the unspoiled island of Koh Kood in Thailand. Unlike many Thai islands where development and tourism have led to mass deforestation and a negative environmental impact, Koh Kood despite being one of the largest Thai islands has remained relatively untouched.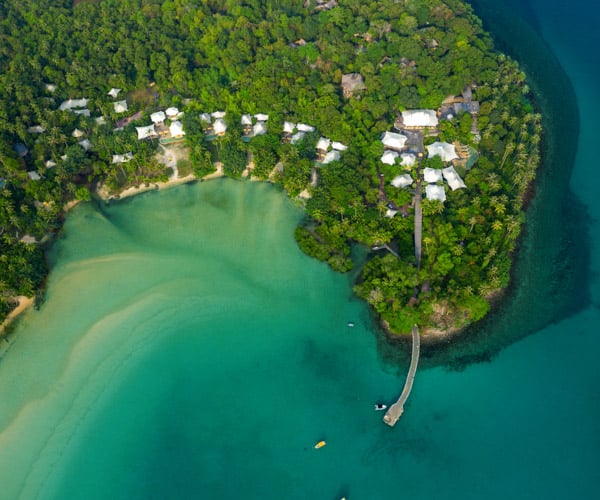 This makes it the perfect location for Soneva Kiri to call home. This multi-award winning luxury eco-resort fuses perfectly into the jungles of Koh Kood, where they harmoniously co exist in this pristine environment, offering discerning travellers the chance to enjoy bespoke experiences and the finest of responsible luxury travel.
Since 1995 when Soneva opened their first resort in the Maldives, they have continued to lead from the front in their commitment to responsible and sustainable luxury travel. Understanding that "luxury and sustainability can be interconnected concepts" is a core belief of Soneva, one they have adopted from the very start and is why they are considered by many to be trailblazers in the field of sustainable travel.
The 2% environmental levy on all stays supports the Soneva Foundation who deliver and develop multiple projects that continue to make a difference. From clean water projects and mangrove restoration in multiple locations, to carbon reducing initiatives that have seen villages in Myanmar and Sudan being supplied with fuel efficient stoves, the efforts are far and wide. Closer to home, Eco Centro takes resort recycling to the next level, whilst a successful Hornbill reintroduction programme on Koh Kood and reforestation projects in the north of Thailand have delivered environmental benefit to local communities.
By appreciating the growing demand for plant based food, whilst at the same time understanding that this is just one piece in the sustainable travel jigsaw, Soneva Kiri have continued to develop the inclusion of creative and nutritious vegan food throughout the resort.
We lost count of the vegan ice cream flavours and vegan chocolates available at 'So Chilled' and 'So Guilty', the complimentary ice cream parlour and chocolate room where even the sweetest toothed travellers will not fail to be impressed. Whilst each and every menu featured exciting vegan options, from the 'Sonu Salad' on the breakfast menu named after the Soneva co-founder, Sonu Shivdasani OBE, or the delightful tofu satay which we enjoyed as part of a light lunch next to the pool at 'So Spirited'. This is next level plant based luxury living.
Sustainable luxury resort in Cambodia
Last but by no means least on our sustainable luxury travel tour of Southeast Asia, we head to a pristine private island resort off the coast of Cambodia where the team at Song Saa have been welcoming discerning guests since opening in 2012.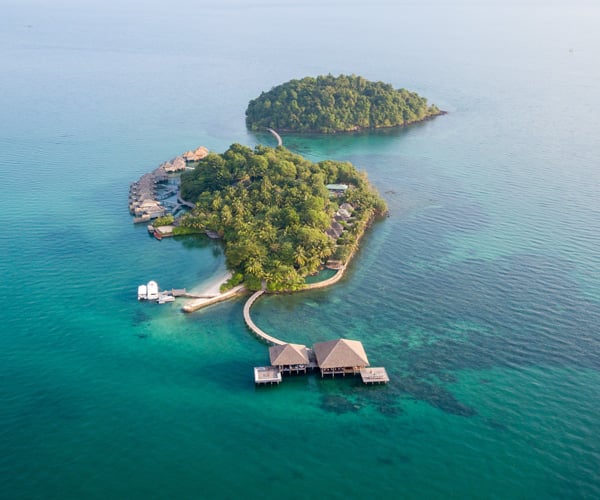 Those guests can choose from 24 spacious private pool villas, divided into three distinct styles, overwater, ocean view and jungle, with each offering the finest tropical island vibes and the luxury elements you'd expect from one of the best resorts in the region. Surrounded by turquoise waters, white sand beaches and virgin rainforest, Song Saa Private Island is certainly one of those places to relax, recharge and soak up every single precious moment.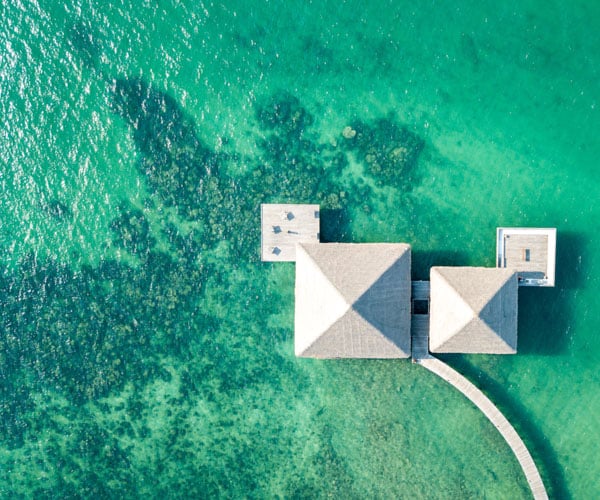 Connecting with, and protecting the environment are woven deeply into the Song Saa psyche; forever considering the impact of tourism and therefore ensuring luxury travel to this unique corner of Cambodia can be truly sustainable. Song Saa Foundation delivers and develops projects in three categories, water, people and land.
Protecting sea turtles, developing a coral nursery, mangrove restoration and marine conservation are just some of the areas that ensure the waters, flora and fauna in the region remain pristine and protected. Whilst people and the local communities are supported through employment opportunities, health care provision, education and organic farming programmes. Land based initiatives include rainforest reforestation, waste management, recycling and composting programmes. This myriad of efforts ensure that Song Saa can live in supportive harmony with the local communities, the enchanting oceans and the Cambodian countryside who are all the perfect hosts.
With a plant based menu available and other vegan dishes on each of the menus, we knew we were in for a culinary treat during our stay at Song Saa. A selection traditional Khmer dishes alongside other global favourites were on offer including fresh and healthy salads, vegan pizza (with vegan cheese) and a delicious Khmer vegan curry. Natural and healthy food was at the fore, which certainly suited the overall feel of the the resort.
Our creamy smashed avocado was served on nutty dark rye bread with an accompanying salt and pepper buffet which showcased the region's world renowned condiment. Cinnamon, coriander and chilli salt, ground black and white Kampot pepper added a further pinch of something special to an already well executed dish. We loved that the tofu and vegetable fried rice was made with organic Ibis Wildlife Friendly Rice, locally grown rice that protects endangered species and preserves vulnerable forests in Cambodia. We are excited to see how Song Saa develop their vegan offering having worked with the team to create new and exciting dishes, whilst at the same time adapt existing dishes to make them vegan friendly.
---
IMPORTANT NOTICE:
If you are reading this article anywhere other than on A Luxury Travel Blog, then the chances are that this content has been stolen without permission.
Please make a note of the web address above and contact A Luxury Travel Blog to advise them of this issue.
Thank you for your help in combatting content theft.
---
By selecting resorts such as this tremendous trio, we can be confident that our travel choices have a reduced impact and know that we are supporting resorts that are serious about sustainability and really want to make a difference. In addition to the feel good factor that will come from staying at Six Senses Ninh Van Bay, Soneva Kiri or Song Saa, the fact they are three of the finest resorts in Southeast Asia ensures a memorable trip that you will never want to end!
Paul Eyers is Founder of Vegan Food Quest. Vegan Food Quest have become luxury vegan travel specialists as they continue to find, eat and write about the best vegan food in the world.
If you would like to be a guest blogger on A Luxury Travel Blog in order to raise your profile, please contact us.