As the Caribbean's sugar isle prepares to flex its culinary muscles for the annual St. Kitts & Nevis Restaurant Week, the St. Kitts Tourism Authority showcases some of the island's top spots for dining and "liming".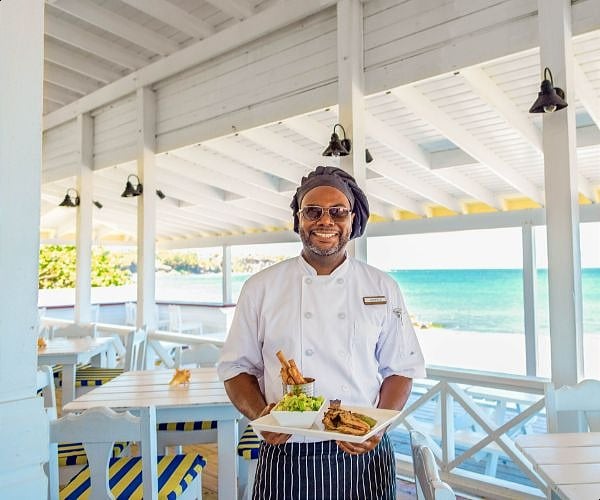 As part of the 2023 "Summer of Fun", which kicked off with the Annual St. Kitts Music Festival in June, the St. Kitts and Nevis Restaurant Week (13 – 23 July 2023) celebrates the best gastronomic delights the islands have to offer. Each year, restaurants create menus, based on a single local ingredient, at fixed special prices. This year's featured ingredient is pineapple.
With food tastings, wine pairings and mouthwatering meals at a choice of 40 participating venues, Restaurant Week offers the opportunity to celebrate a local culinary scene, built up of rich, homegrown ingredients and expert techniques.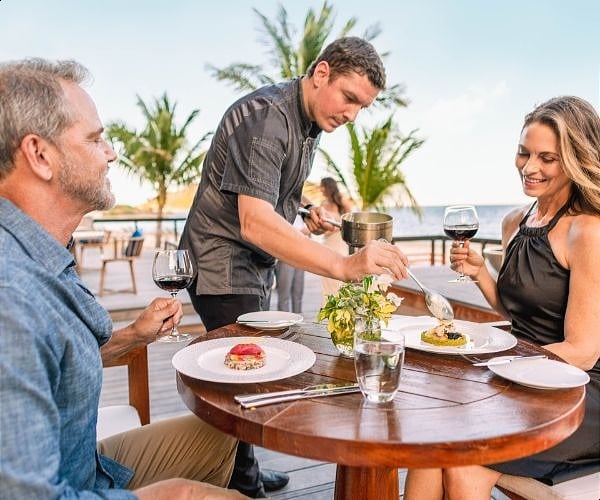 Outside of Restaurant Week, locals and visitors to St. Kitts have a wide range of dining options available to them year-round, from farm-to-table feasts and fine dining in the island's luxury hotels, to toes-in-the-sand beach bars and casual, roadside eateries where a bowl of goat water with a Carib beer is the order of the day.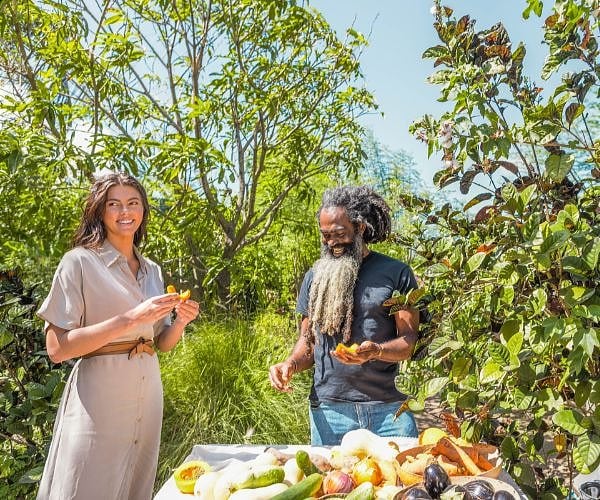 The St. Kitts Tourism Authority's culinary guide details the range of immersive food and drink experiences available on the island. Here are just a few of the locals' favourites, that are sure to get the tastebuds tingling:
Farm to table feasting
"The Farm Table" at Belle Mont Farm
The Farm Table is an al fresco dining experience at the boutique, Belle Mont Farm hotel, set in the heart of the Kittitian rainforest. Guests partake in a farm-to-table feast that's created from the "edible landscape" that surrounds the property. Diners take their seat around the 30-foot table surrounded by twinkling lights, as the refreshing rainforest breeze rolls inland from the distant ocean. From handmade loaves of bread with sweet mango relish and spicy chutneys, to lamb lollipops roasted in the authentic tableside brick oven, the myriad of dishes are passed, family-style from person to person.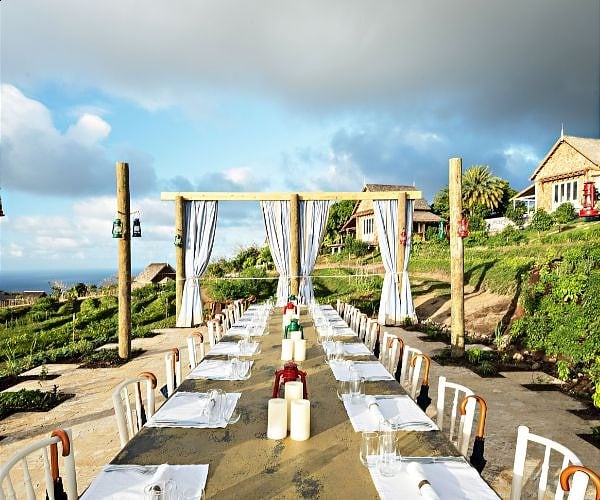 Liamuiga Natural Farm
A brand-new experience for 2023, the Liamuiga Natural Farm offers tours of this family-owned farm in the St. Kitts rainforest, over 1,500ft above sea level. An inspirational guide takes guests on an educational tour of the wide variety of produce being grown on the farm before they are served a delectable three-course lunch, created solely from the farm's own produce. Freshly harvested veggies and herbs bring a unique flavour to the "LNF Salad", which is followed by the Yaka Mein, prepared in a local Yabba Pot, and then homemade coffee ice cream for dessert.
Beachside dining
Reggae Beach Bar & Grill
Relaxation is practically a religion at this breezy beachside bar where "Rush Slowly" is the motto and a bucket of beer goes down easily on their sandy beach overlooking Nevis Peak.
Carambola Beach Club
If beachside pampering, champagne and plush lounge chairs fit the bill, this beach club on South Friar's Bay is the ultimate in indulgence. Guests can spend the day soaking up the dramatic views and aqua sports, then freshen up at the club's facilities before transitioning to a fine dining experience where conch, grilled lobster, beef tenderloin and fresh sushi will please the most discerning palates. Carambola also boasts over 4,000 fine wines in its cellar, making it the most extensive collection on the island of St. Kitts.
Spice Mill at Cockleshell Beach
With a modern rustic atmosphere, and breathtaking views of neighbouring Nevis, this oceanfront beach bar and restaurant delivers on its promise of delicious food, local brews and delectable rum-fuelled cocktails.
Boozies
A firm favourite with locals, Boozies on the Frigate Bay "Strip" serves up a selection of savoury Caribbean and international cuisine, alongside a buzzing atmosphere and cocktails with a kick. The undisputed hot spot for island entertainment, fun fare and tasty libations, The Strip's other bars and restaurants, all of which boast they open 10am to "whenever", include Vibes, Mr. X's Shiggidy Shack, Cathy's, and Zanzi.
Arthur's Restaurant & Bar
Locals will go out of their way for a meal at Arthur's, located on the northern point of the island, in Dieppe Bay. Arthur's is a sweet seaside canteen that offers tasty beach-style eats, with views of a black sand shoreline and colourful fishing boats returning with their catch.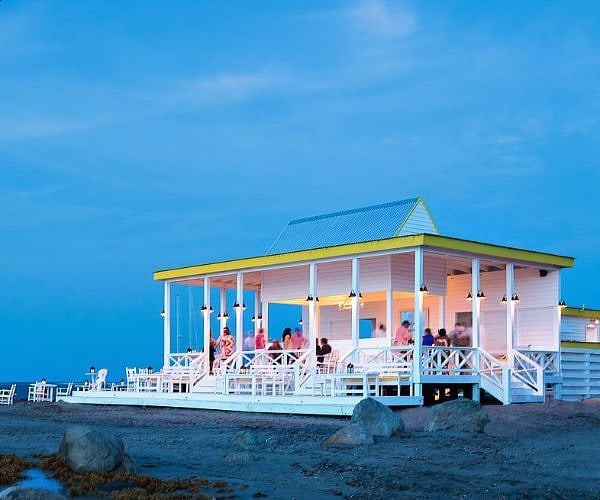 Keeping it casual
El Fredo's Restaurant & Bar
A St. Kitts institution, this popular home style eatery has an ever-changing fresh menu including Caribbean favourites like oxtail stew, saltfish and roti served with traditional sides like rice and beans, fried plantain, pumpkin fritters and sweet potato.
---
IMPORTANT NOTICE:
If you are reading this article anywhere other than on A Luxury Travel Blog, then the chances are that this content has been stolen without permission.
Please make a note of the web address above and contact A Luxury Travel Blog to advise them of this issue.
Thank you for your help in combatting content theft.
---
Ital Creations
Evolving from its days as a roadside food truck, this family-owned kitchen serves up tasty vegetarian and vegan dishes, including wraps, fresh hummus and salads from its onsite organic farm. Diners can sip the vitamin-packed "tree of life" moringa smoothie, whilst sitting under the enormous mango tree.
Coconut Grove
This lively, open-air bistro, operated by veteran barista, Julian "Jules" Armstrong, is a foodie favourite known for its friendly service and famously fresh food. A popular spot for breakfast, The Eggs Royale Benedict or gluten free Huevos Ranchero come highly recommended, washed down with a cool Coconut Mimosa.
Coopers
The roadside, Coopers Bar on the west side of the island, located in the small village of Dieppe Bay, is known for its authentic home-cooked Kittitian food and drink. Visitors can "lime" with locals for lunch or dinner with dishes including goat water, cook-up, coconut dumplings and green banana served with a cold Carib beer.
Sprat Net Bar & Grill
For lovers of lobster and fish, a trip to the simple restaurant, Sprat Net, is a must. Here the daily catch is served alongside corn and "Johnny Cake" (fried dumplings), in a rustic style at picnic tables, while an adjacent hut serves up pizza Wednesday-Sunday. Sprat Net prides itself on offering old-style Caribbean flavour, with the cheapest drinks and best bands.
Fine dining
"Stone Barn" at Park Hyatt St. Kitts
Named for the stone barns once used on island to protect crops during the wet season, this romantic, adults only restaurant offers an inventive tasting menu. Dishes like free range Kittitian eggs with truffle, boneless lamb loin with saffron and Wagyu tenderloin will impress. The Park Hyatt has a variety of dining options available including the oceanfront Fisherman's Village that serves high-end, eclectic fare like Mango BBQ Kurubota Pork Ribs and Banana Bay Tacos; or the plantation-style Great House serving star dishes like Squid Ink Tagliatelle and Wagyu Burgers.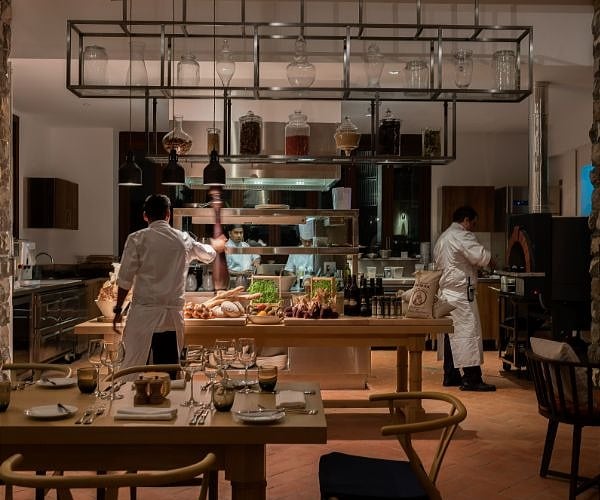 The Pavilion, Christophe Harbour
With contemporary Caribbean dishes on offer, like chilled shrimp salad with passion fruit and lamb shoulder with plantains, this sophisticated club restaurant is known for its ever-changing menu, premier service and refined poolside atmosphere.
"Drop Anchor Grill" at Sunset Reef
Perched above the Caribbean Sea, with magnificent views and arguably one of the best sunsets on the island, the new luxury, boutique hotel, Sunset Reef St. Kitts is making a splash – and so is its restaurant. The Drop Anchor Grill is earning a reputation for elevated fare with dishes like Smoked Wahoo Carpaccio, Ginger & Lemongrass Pumpkin Soup, Cocoa Coffee Pork Filet and Flourless Chocolate Cake. Diners can also enjoy a spectacular sunset with a signature Strawberry and Basil Martini or classic Negroni in hand.
Marshall's
Marshall's, set in the capital of Basseterre, is an island institution that overlooks the ocean and serves up specialities including blackened grouper with shrimp and saffron sauce and Caribbean chicken curry with pineapple and coconut.