Home > Travel Guides > Spain > Barcelona Travel Guide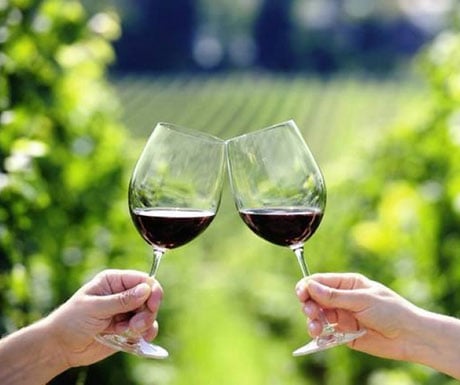 LUXURY TRAVEL
Barcelona Travel Guide
With beautiful beaches, world-famous landmarks and a rich fusion culture of Catalan and Spanish heritage, Barcelona is one of the world's top tourist destinations. The city's warm, Mediterranean climate and spectacular scenery continue to attract visitors year in and year out. The Catalan capital can charm any traveller regardless of what they want from the city, whether it be for the culinary experience, a dive into the Modernisme art movement or to explore the breathtaking coast of Catalonia..
Introduction to Barcelona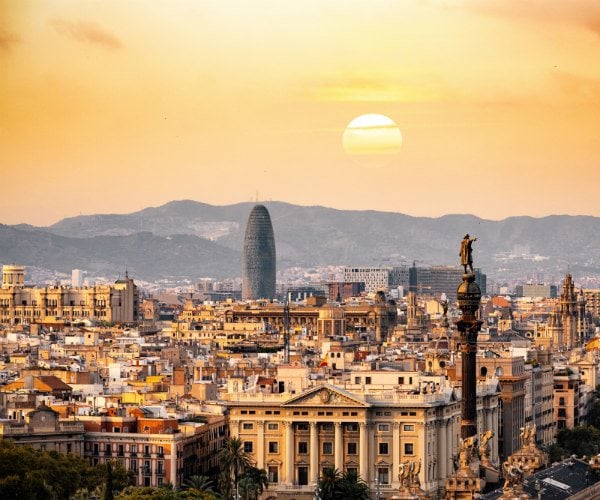 The capital of Catalonia, Barcelona, is one of the world's best-loved holiday destinations.
Barcelona is located in the north-eastern part of Spain, on the Mediterranean coast of the Iberian Peninsula. It is the second largest city in the country in terms of both size and population: more than an estimated 5.6 million people in the larger metropolitan area as of 2021. The city itself is approximately 100 square kilometres in size, meaning nowhere is too far to get to.
Tourism in Barcelona represents a significant proportion of the region's economy, accounting for 12% of Catalonian GDP.
The increase in tourism to the city over the past few decades has led to an increased focus on sustainable tourism, to minimise the impact on both the environment and on residents.
With its temperature Mediterranean climate, Barcelona is not only a beach destination, but a popular year-round holiday location. With a wealth of landmarks and culture to experience in the city, as well as first-class accommodation and sophisticated gastronomy, Barcelona provides all that the luxury traveller could desire.
Geographically the city of Barcelona is divided into 10 districts and 73 neighbourhoods. The beauty of the city is how wonderfully diverse each neighbourhood and district are from one another, each with their own quirks and appeal.
Ciutat Vella
Meaning Old Town in English, Ciutat Vella was Barcelona's first district that emerged from a walled precinct that surrounded the ancient city. Due to being the oldest part of the city, it is generally considered as the city's historic centre and remains a popular choice for both residents and tourists alike.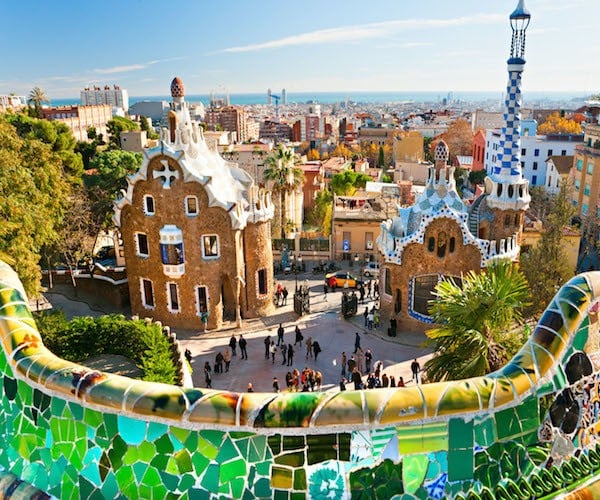 Despite being the oldest district, it is one of the liveliest and most diverse areas of Barcelona, with contrasting Gothic architecture and winding streets against the contemporary restaurants, shops and bars.
Four neighbourhoods comprise the Ciutat Vella district: La Barceloneta, the Gothic Quarter, El Raval, and Sant Pere, Santa Caterina i la Ribera.
Barceloneta
Barceloneta is the city's beach neighbourhood, bordered by the Mediterranean Sea, the Moll d'Espanya of Port Vell, and the El Born neighbourhood. The neighbourhood has three beautiful beaches of Barceloneta, Sant Sebastià and Somorrostro. Staying in Barceloneta during the summer months gives you the most enviable location to be the first one to arrive and the last one to leave the city's golden sands.
The Gothic Quarter
The Gothic Quarter contains some of the city's oldest buildings and a plethora of iconic landmarks, such as the Cathedral of Santa Eulàlia (Barcelona Cathedral), the Church of Santa Maria del Pi, and the bridge that crosses Carrer Bisbe. The neighbourhood is also renowned for its iconic squares, including the Plaça del Rei, Plaça Sant Jaume, and Plaça Reial. Here you can find numerous excellent bars and restaurants to enjoy some tapas and drinks.
El Raval
El Raval borders Barcelona's most famous street, La Rambla, which is lined with many bars, restaurants and cafes. One of the most recognisable points to El Raval is La Boquería Market, which offers fresh fruit, vegetables, spices, meats and much more. There is also the Palau Güell, one of Antoni Gaudí's first commissions built in 1888, which is now declared a UNESCO World Heritage Site.
Sant Pere, Santa Caterina i la Ribera
Sant Pere, Santa Caterina i la Ribera were formerly separate neighbourhoods, but are now joined as one and colloquially referred to as 'El Born'. This area is sandwiched between the Gothic Quarter and the Parc de la Ciutadella and stretches all the way up from Barceloneta to the Palau de la Música Catalana (a UNESCO World Heritage Site concert hall). It is one of the most popular areas of Barcelona to live in, thanks to its delightful fusion of authentic, historical Barcelona, with the vibrant buzz of contemporary life, and an abundance of excellent restaurants and bars.
Eixample
Eixample is home to the iconic Passeig de Gràcia avenue, lined with luxury brands such as Louis Vuitton, Chanel and Prada, and some of the city's most prestigious 5-star hotels and restaurants. It's the ideal district for anyone with an appreciation for the finer things in life! Some of Barcelona's most famous landmarks and architecture take their home in Eixample, such as Antoni Gaudí's Sagrada Familia, La Pedrera and Casa Batlló. The area is also characterised by its famous grid-structure layout of buildings, designed by Idefons Cerdà to allow better sunlight and traffic flow to the city.
Gràcia
Gràcia was once its own municipality for several years, before being joined to the city of Barcelona via the Eixample extension in 1897. The area has maintained its small-town, unique image and feel. Despite having plenty of accommodation, independent shops and bars, Gràcia is considered as an unknown spot to tourists. It is home to Gaudí's iconic Parc Güell, a fantastic green space with panoramic views over the city and with sculptures crafted by the artist himself. For a more peaceful and authentic experience of Barcelona, Gràcia is an excellent option for any traveller to the city.
It may feel overwhelming deciding where to stay on your visit to Barcelona, but thanks to the excellent transportation and compact nature of the city, everything will be in easy access no matter where you choose. However, we imagine your first visit will leave you eager to come back for more!
History of Barcelona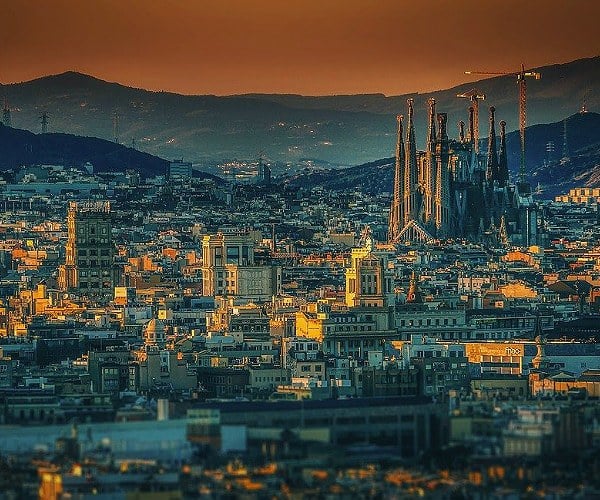 Thanks to its proud and rich history, modern-day Spain is overflowing with culture.
The earliest known settlements on the land of present-day Barcelona believe to stretch back earlier than 5000 BC. Ruins were excavated in the El Raval neighbourhood dating to the Neolithic times, including tombs and remains of dwellings. In the 3rd and 2nd centuries BC, the area had was inhabited by the Laietani settlers, on the Táber Hill (present-day Ciutat Vella district) and at Laie, which is believed to be on modern-day Montjuïc hill.
The city itself was founded by the Romans, as they set out to conquer the entirety of the Iberian Peninsula in the Cantabrian Wars led by Caesar Augustus in 19 BC. By the end of Augustus' reign in AD 14, the name Barcino was formalised for the city. As a colony of the Roman Empire, its land was distributed among retired soldiers. Due to the city's strategic position near to the Via Augusta and on the Mediterranean coastline, it soon became an important trade hub, allowing Barcino to flourish.
During the Middle Ages, the separate kingdoms of Spain were united by the marriage of Ferdinand II of Aragon and Isabella I of Castile, which led to the Golden Era of the country. This also brought political repercussions, leading to the War of the Spanish Succession between 1701 to 1714, in which Catalan autonomy was abolished, and their rights and privileges eroded. However, from the 19th century a period of cultural recovery began for Catalonia with the boom of the textile industry, leading to the regions own industrial revolution.
The cultural awakening of the Catalan Renaixenca (rebirth) of the 19th and 20th centuries brought widespread urban regeneration throughout the city of Barcelona. The Eixample district (meaning extension in Catalan) was designed by engineer Ildefons Cerdà, to expand the old town to meet with the neighbouring town of Gràcia to the north. It was expertly constructed to allow maximum sunlight and ventilation for inhabitants of the new grid system of Eixample. The district showcases some of Barcelona's most distinctive Catalan art-nouveau, or modernista, buildings. Antoni Gaudí designed buildings such as the Casa Milà, Casa Battló and the Sagrada Familia, which are the now some of the world's most iconic landmarks.
Unfortunately, the economic and cultural freedoms achieved during this period were later restricted by the Civil War in 1936 and the subsequent Franco dictatorship. During the Franco period (1939-1975), the Catalan language was subject to oppression and was restricted to only family use, while Castilian (Spanish) became the language of education, administration and the media. Once the dictatorship ended and democracy was reinstated in 1978, Barcelona society regained its economic strength, and the Catalan language was restored. Hosting the Olympic Games in 1992 gave a holistic makeover to the city, with new infrastructure, a boost to the economy and employment, and marking Barcelona as one of the world's most popular tourist destinations.
Where to stay in Barcelona
The beauty of Barcelona is that each of its districts and neighbourhoods are wonderfully diverse, offering the perfect location for any traveller that visits. The city has a seemingly endless number of tourist accommodations to choose between, which has led to a marked increase in quality over the past few decades.
The city centre is the most popular choice for tourists descending on the Catalan capital, in areas such as: The Gothic Quarter, Plaza Catalunya, El Born, and Eixample. They are beautiful areas within walking distance of the main sights, as well as being best placed for public transport to access the rest of the city. Due to the location, the prices of these areas are slightly higher, but worth it to make getting round to all the sights easily and stress-free. Gothic Quarter and El Born are part of the Ciutat Vella (old town) district of Barcelona, which is the city's historic centre. Here you can find some of the oldest buildings in the city, and the largest and best-preserved medieval quarter in the whole of Europe.
Eixample is another excellent place to stay in Barcelona, as one of the most modern, quietest and safest areas in the whole city. In Eixample, there are some of the most famous landmarks of Barcelona, such as Casa Batlló, La Pedrera and the Sagrada Familia. It is a popular choice all-round for any visitor but is particularly good for those travelling with a family or those that want a more relaxed stay. The iconic Passeig de Gràcia street is in the heart of Eixample, the most expensive avenue in the whole of Spain.
The Gràcia district is a popular option for those coming to Barcelona, offering a peaceful, small-town experience of the city. Due to being slightly out of the centre and once an entirely separate town to Barcelona, it has a unique, bohemian feel. The area is charming, the perfect place to get lost while you explore its leafy streets. The Parc Güell and Casa Vicens take their home in Gràcia, so there's still attractions to be found here too.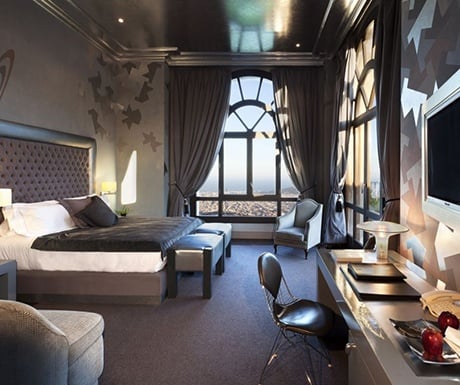 Accommodation in Barcelona
Barcelona has a wealth of accommodation to choose from, having seen a large increase in luxury accommodation over the past few years. Five-star and boutique hotels can be found all over the city, as well as luxury apartments for a more private experience.
The most popular luxury hotels in Barcelona cut through the heart of the city, along the Passeig de Gràcia and down to the Ciutat Vella district. Each hotel has a distinct style dependent on personal preference, from high-tech boutique hotels and beachside resorts, to five-star hotels adorned in classic glamour.
For beach access: Hotel Arts Barcelona A regular haunt of celebrities visiting the city, the Hotel Arts is an unmissable feature of the Barcelona seafront. The on-site restaurant, Enoteca, has two Michelin stars, and the hotel is just 250 yards from the beach. What more could you want?
For high-end shopping: Mandarin Oriental On a prime location on the luxurious Passeig de Gràcia, this hotel is perfect for anyone with a penchant for designer shopping. There's a rooftop pool, luxury spa, and some suites even have a view of Gaudí's iconic Casa Batlló.
For sea views: The W Hotel Barcelona's most iconic luxury hotel that offers the best sea views in the entire city. Shaped like a sail facing out to sea, as a nod to Dubai's Burj al Arab, it's a hotel that certainly makes a statement. With three restaurants, a trendy lounge bar and a poolside area, you'll feel in the holiday mood for your stay.
For history lovers: The Serras Hotel Serras is set in the same 19th-century building where a young Pablo Picasso has his first studio all the way back in 1896! It offers views over the luxury yachts on the Port Vell marina from its leafy rooftop.
If you would prefer a more authentic and private experience while staying in Barcelona, renting a luxury apartment is another great option. Many come equipped with rooftop terraces and pools, as well as all the home comforts you would require for a delightful stay. There are also many apartments for larger groups or families, of up to 6 bedrooms, so you that you can spend intimate time as a group.
Although less common given being a city, it is also possible to rent a villa to stay in Barcelona. Heading slightly out of the centre to areas such as Gràcia, Horta and Pedralbes, you can find many luxury villas with space for extra-large group sizes. Renting a villa will give you ample space to relax, as well as the luxury of having your own private pool.
Places to visit in Barcelona
It would be impossible to list all of the attractions on offer in Barcelona, as there are simply so many wonderful things to experience.
Antoni Gaudí left his modernist stamp on the city like no artist has ever done before. A trip to the Sagrada Familia is an essential trip for any visitor to Barcelona, standing at a breathtaking 172 metres tall and still remaining under construction since the first stone was laid in 1882. Best of all is a visit inside the crypt, the famed artist's final resting place. Another marvel designed by Gaudí is the Casa Batlló, a 19th century townhouse constructed for the Batlló family. It is characterised by flowing sculpted stonework and colourful mosaic made from broken ceramic tiles.
Located a block north of Casa Batlló, La Pedrera is another fantastic sight in Barcelona. The building earns its name from its rough-looking stone façade, and was the last private residence designed by Gaudí. Both Casa Batlló and La Pedrera take their home on the iconic Passeig de Gràcia street, which is lined with luxury stores such as Chanel, Louis Vuitton and Prada for a spot of shopping.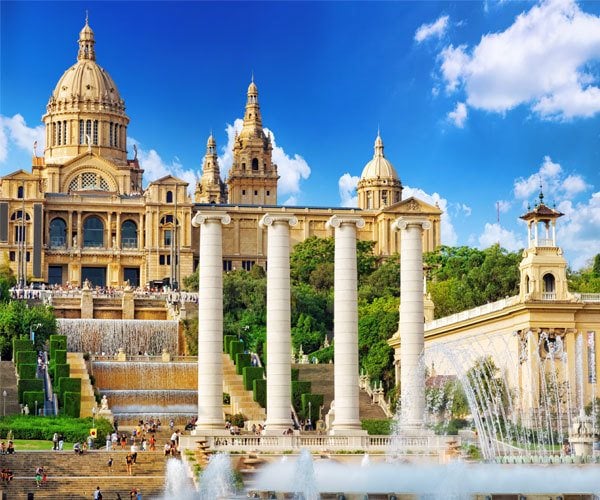 Park Güell is one of the largest green spaces in Barcelona, designed by Gaudí and his friend and patron Eusebi Güell. It offers some of the best views of Barcelona, and the park itself has more wonderful modernist works to enjoy.
For some more fresh air and a step into nature out of city life, the Parc de la Ciutadella is the perfect place for an afternoon picnic. Created in 1877, the park has ample green space, an opulent fountain, and even a lake in which you can hire a rowing boat. If you're travelling to Barcelona with children, the Barcelona Zoo is on the west side of the park too!
A stroll down the famous street in Barcelona, La Rambla, is another tourist favourite. It's a large boulevard that runs from Plaça de Catalunya to the seafront, and is full of cafés, shops, and La Boqueria food market.
These are just a few of the most loved attractions in Barcelona, that are unmissable sights on your visit. There's much more to see and experience, but we're sure you will want to come back to discover more on the next time you come.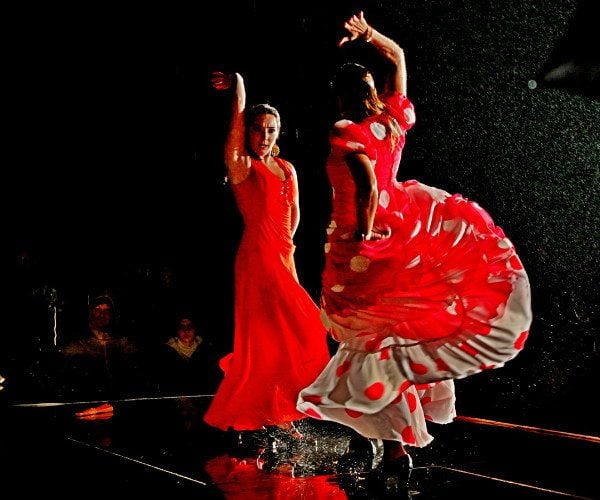 Things to do in Barcelona
See Barcelona from a different perspective and head to the skies on a hot air balloon ride. Experience breathtaking panoramic views of the sublime Catalonian landscape, marvelling at the city of Barcelona, the Pyrenees Mountains, and the Mediterranean Sea.
As night draws on the Catalan capital, the city delights with its magical sunset skies. Head for a luxurious sunset sailing experience in the Port Vell, led by a professional skipper on a magnificent yacht. Spot the iconic landmarks of Barcelona from the waters, such as the Sagrada Familia, Barcelona Cathedral, and Tibidabo Church.
If you would prefer to stay on two feet, discover Catalonian and Spanish food traditions in the most authentic way, by joining a guided tapas and wine tour. A local guide can take you through the city's neighbourhoods, learning the etiquette, history and art of the 'tapas' style of dining.
To continue the dining experience, sip on sumptuous cocktails while taking in the views of Barcelona from one of the many splendid rooftop bars that the city has to offer. One of our personal favourite rooftop bars is La Dolce Vitae at Majestic Hotel, found on the luxurious Passeig de Gràcia.
For those after an adrenaline rush, join the Williams Racing team on the Formula 1 Circuit de Barcelona-Catalunya track to experience driving a Formula One car. An instructor will take you through the technical aspects in lessons, before you head out onto the track yourself to experience the home of the Spanish Grand Prix.
Take to the skies once more to bask in the beautiful Catalonian landscape on a helicopter ride down the coast. Trace the curves of Barceloneta beach and make some unforgettable memories with your loved ones.
It's well known that Barcelona is the perfect 'instagrammable' spot due to its awe-inspiring landmarks and scenery. Make yourself the star of the show and take home a memento of your trip with a private photoshoot session. A professional photographer can take solo or group photos in front of Barcelona's most recognisable spots, so that you can cherish these moments forever.
Food in Barcelona
Catalan cuisine is characterised by its geographical location between mountain and sea, with its flavours and ingredients influenced by Mediterranean, Spanish and French food. The region is rich in excellent quality local produce, offering an abundance of ingredient options to experiment with. Fresh vegetables such as tomatoes, red peppers, and aubergine are regular features of Catalan dishes, as well as seafood, lamb and pork. The concept of Mar I muntanya (sea and mountain), having both fish and meat on the same plate, is a key Catalan cuisine feature.
Tapas style dining is a popular manner of eating that can be found all over Spain. Some typical Catalan tapas dishes you can expect to enjoy while visiting Barcelona include patatas bravas, botifarra, croquetes, and pa amb tomàquet. Finish off your dining experience with a delicious crema catalana, catalonia's answer to the French crème brûlée, accompanied by an espresso.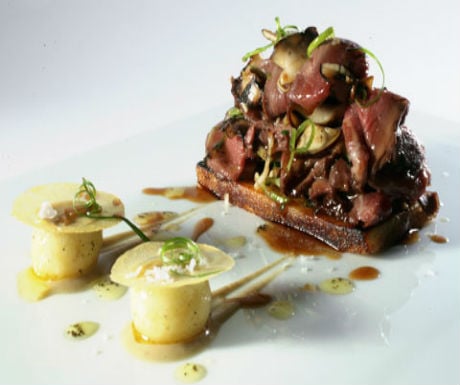 Barcelona's cosmopolitan population lends itself to an exciting variety of international cuisines on offer here too. The city is brimming with world-class chefs and thousands of restaurants to choose between.
For a fine dining experience, there is no better way to pass an evening than by a tasting menu at one of the city's celebrated Michelin-starred restaurants. Barcelona excels in restaurants that offer superb quality tasting menus, such as double Michelin-starred Disfrutar, whose chefs were crowned the best in Spain in 2020.
When talking about food in Barcelona, we simply cannot miss mentioning the local wines too. Catalonia is famed for its wine tourism, a wine tour in the region's plethora of vineyards is an unmissable experience for your trip. The region has 12 Destinations of Origin, each with its own unique wines that have been shaped by the rugged Catalonian landscape. Cava is the region's famed wine, but there is much more to discover here.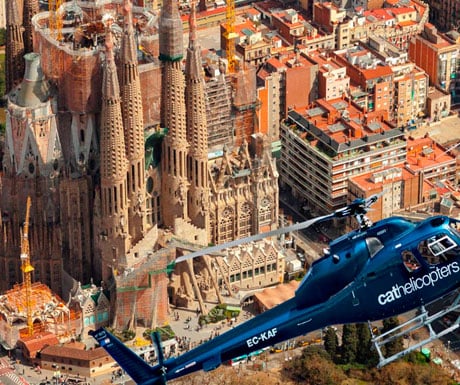 Getting around Barcelona
Travelling around Barcelona is so easy and simple.
There is a wide range of public transport that makes getting around the city very convenient.
The metro, bus, tram, and trains are efficient and frequent, connecting you to anywhere you want to go in the city. Public services are also well maintained and have air conditioning, making that summer heat a bit more bearable!
If you are after fresh air but still slightly afar from your desired destination to walk, hop onto a bike to cycle through the city. Barcelona's 'Bicing' service has stations all over the city to pick up a bike from, it simply requires online registration first and then you are all set to cycle.
There are taxis readily available to hail across the city, and from the airport too. A more cost-effective way of travelling by taxi is to use mobile applications such as FreeNow or Cabify, which allows you to see an upfront cost as opposed to running by the metre.
It is possible to drive through the city yourself, but as with any major city it will not be the most relaxing of experiences. However, having a car makes it easy to access other areas of Catalonia up and down the coast, and the coastal roads have fantastic vistas to enjoy. Many apartments offer underground parking with stays, and there are also several parking lots in the city too.
For a more unusual way to travel across the city, the Port Vell cable car connects from Barceloneta beach up to Montjuïc Hill. Head at sunset to enjoy beautiful views all across Barcelona and out down the breathtaking coastline of Catalonia.
To experience even more spectacular views, but less so to have a destination in mind, we recommend taking a sailing excursion on Port Vell. A breather from city life with the most wonderful views imaginable of the Catalan capital to accompany.
When to visit Barcelona
Barcelona's pleasant Mediterranean climate means weather all year round is very comfortable. There are over 2500 hours of sunshine per year in Barcelona, over 1000 more hours than that of the UK's average!
January and February can be chilly months in Barcelona, but perfect for sightseeing with less crowds to contend with.
May through to June is one of the most perfect times to visit as the weather is warm, but not too hot. There's also a plethora of music festivals during this time to kick off the beautiful summertime. The popular Primavera Sound festival takes place during May, and electronic Sónar Festival concedes this in June time.
For sports fans, May is also an excellent time to visit to experience the adrenaline of the Formula One Spanish Grand Prix, held at the Barcelona-Catalunya circuit each year.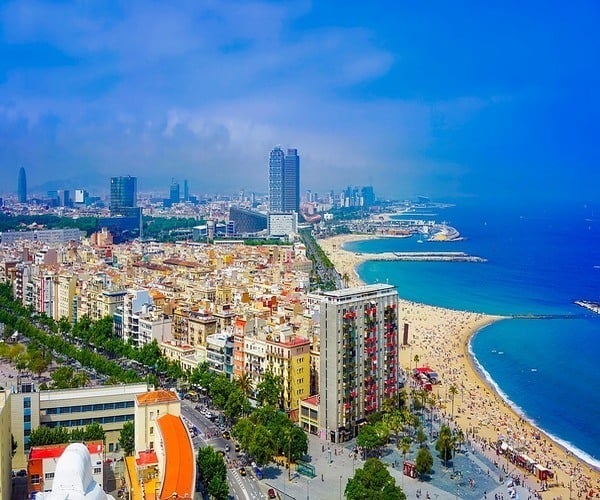 July-August high season in Barcelona means hot sunny days, warm beaches, and an increased number of tourists descending upon the city. Summer embodies Barcelona, with on average only 2 rainy days per month and a great selection of outdoor concerts, street parades and creative festivals. Temperatures only slightly drop during the night, so you can spend warm nights watching the sunset, cool glass of vermouth in hand.
Summer is the best time to enjoy Barcelona's nine sandy beaches, stretching over five kilometres across the Mediterranean Sea coastline. The option is there to head straight to Barceloneta beach, the closest to the city centre, or to head to further beaches which are much quieter.
September is another lovely month to visit as the humidity and heat lessens slightly, and the crowds have calmed too. Locals return from their summer getaways to elsewhere in Spain, and the city retains its 'lived-in' feel. The largest street party in Barcelona, La Mercè Festival, takes place at the end of September. The streets come alive with events, parades, fire runs (Correfoc), and celebrations.
The weather stays warm and comfortable into October, still perfect for a day at the beach and with even less tourist crowds.
The city begins to get into the festive spirit in November and December, with Christmas lights and decorations adorning the city. To sample some festive delights such as torró, or turrón in Spanish, this is the time to go.
Events in Barcelona
Spain has a large number of national holidays and Catalonia has its own region-specific days of celebration too. Here are a some of the public holidays and festivals to get involved in when you visit Barcelona.
January
New Year's Day
Epiphany Three Kings Day parades
St Anthony's Day (Festa dels Tres Tombs)
February
Santa Eulàlia
Mobile World Congress
Barcelona Carnival
March
Semana Santa (Holy Week)
Sitges Barcelona Car Rally
Festa Major del Pi
April
Easter (Pascua) Sunday and Monday
St. George's Day (Diada de Sant Jordi)
May
Whit Monday / Pentecost Monday
Primavera Sound Festival
Formula One Spanish Grand Prix
June
Midsummer's Day / St John's Day
Sónar Festival
Barcelona Pride
July
Cruïlla Festival
Montjuïc de Nit
Sala Montjuïc Outdoor Film Festival
Festa Major de Raval
August
Grec Festival
Festa Major de Gràcia
Gandules Outdoor Film Festival
Circuit Festival
Festa de Sant Roc
September
Catalunya National Day
La Mercè, Barcelona (street theatre, parades, light shows)
Jazz Festival (Festival L'Hora del Jazz)
Catalonia Wine and Carnival Fair
October
48h Open House BCN
Market of the Markets
International Jazz Festival
La Castanyada
November
All Saints' Day
Fira de Santa Llúcia (Christmas Markets)
December
Constitution Day
Feast of the Immaculate Conception
Feast of Santa Lucía
Christmas
St. Stephen's Day
New Year's Eve
Luxury travel tips
To commence your trip to Barcelona in luxury before even stepping foot on Spanish soil, we recommend booking a private jet or helicopter service. Travel in privacy and enjoy a separate and discrete customs service for a relaxing journey.
Upon arrival to the airport in Barcelona, it can sometimes be crowded in the queue for taxis outside. To travel comfortably we recommend booking a VIP private transfer service to collect you from the airport and take you straight to your destination. For an even more luxurious transfer, there is a helipad at Barcelona airport for helicopter drop off services to the city.
There are twenty-two restaurants bestowed with Michelin Stars in Barcelona, which will require prebooking before you visit. There will always be English speakers to serve, so no worries if you still need to brush up on your Spanish skills. Spanish dinner time is later than some other countries, so check the hours of service at the individual restaurant before visiting.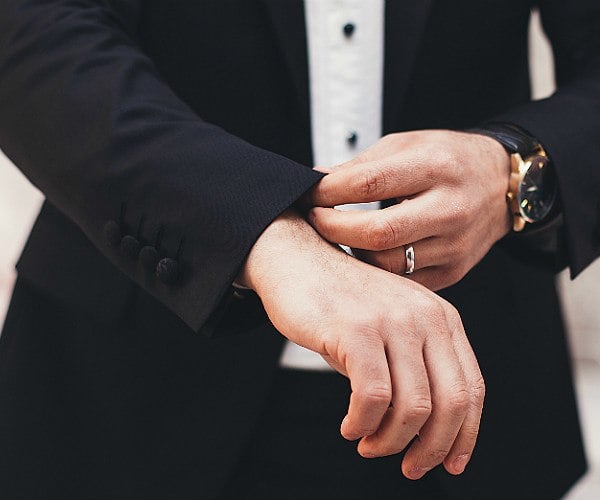 Tipping is not something that is expected nor obligated in Barcelona, unless you receive exceptional service and feel that it is necessary. This applies to taxi drivers, bartenders, waiters, etc.
If you decide to rent an apartment during your stay, ensure that it is with a reliable and trusted agency. Reputable agencies will take care of you during your stay and be on hand for any queries or requests. Good quality apartments will more often than not come with perks such as a free gym membership to accompany, or a parking spot if you choose to rent a car.
Although the most convenient beach to access, Barceloneta can often be crowded and very lively. Visit the beaches further up such as Nova Icária, Bogatell, Sant Miquel and Mar Bella, which are much more peaceful and quieter.
Language and culture
Castilian Spanish is the official language of Spain, but the region of Catalonia has both Catalan and Castilian Spanish as its two co-official languages. It is common to hear people speaking both languages when you are out and about, and thanks to the large international population, it's also very often that you will hear English spoken too.
The Catalan language originated from Colloquial Latin spoken in the Pyrenees Mountains between France and Spain. It is in fact not a dialect of Spanish, despite having the same Romantic origins. It is spoken by over 7 million people across Catalonia, Valencia, the Balearic Isles, Andorra and the town of Alghero in Sardinia.
The Fascist Franco regime between 1939 and 1975 forbid the official and private use of Catalan, in an attempt to eradicate the language.
Thankfully with the return of democracy, Catalan was again accepted as an individual language and was taught in schools and universities. The majority of people from Barcelona that grew up here are perfectly bilingual in both Catalan and Spanish, as well as having excellent English skills too.
The oppression of the Catalan language and culture of the past has cultivated a strong pride and sense of identity for people of Catalonia. It is more common to see Catalan flags flying from buildings across Barcelona than it is Spanish.
Catalans are very proud of their culture, there's always a celebration to be had in Barcelona. The city comes together regularly for events such as La Diada de Sant Jordi, a romantic day where roses and books are exchanged between lovers. La Mercè is another big cultural celebration in Barcelona, held in honour of the Patron Saint of the city. Barcelona is buzzing with life and activity from morning to night – New York's European cousin!
Family and tradition are at the heart of every community in Barcelona. One of Barcelona and Catalonia's most famous traditions is the sport of Castell, when groups of people climb on top of one another to form human towers.
Catalonia also has its own special Christmas traditions that may surprise you too. Tió de Nadal, meaning Christmas log, is a regular feature across households in Barcelona. It is a hollow log with a face, covered with a blanket and 'fed' by the children through December to help him to defecate their presents on Christmas Day or Eve. Certainly unique!
Useful phrases
¡Hola! – Hello (O-la)
¡Buenos días! – Good morning! (BWAY-nos DEE-as)
¡Buenas tardes! – Good evening! (BWAY-nas TAR-des)
¡Bienvenido! – Welcome! (Bee-en-ven-EE-doh)
¿Cómo estás? – How are you? (KOH-moh eh-STAHS)
¿Cómo te va? – How's it going? (KOH-moh te BAH)
¿Cómo te ha ido? – How've you been? (KOH-moh te ha EE-doh)
Estoy bien ¡Gracias! – I'm fine, thanks (eh-STOY bee-en GRA-tee-as/GRA-see-as)
¿Y tú? – And you?(ee too)
Bien/ Así así. – Good/ So-so (bee-en / a-SEE a-SEE)
¿Qué tal? – How are you? (kay tal)
¿Qué pasa? – What's happening? (kay PA-sa)
¿Qué haces? – What are you doing? (kay AH-says)
¡Gracias! – Thank you! (GRA-thee-as/GRA-see-as)
Por favor – Please (por FAH-vor)
¡De nada! – You're welcome! (de NA-da)
¡Perdone! / ¡Oiga! – Excuse me (to ask for something)! (per-DON-ay/ OY-ga)
¡Perdone! / Disculpe! – Excuse me (to get past)! (per-DON-ay/ dis-KUL-pay)
¡Disculpe! – Sorry! (if you didn't hear something) (dis-KUL-pay)
¡Lo siento! – Sorry! (for a mistake) (lo see-EN-to)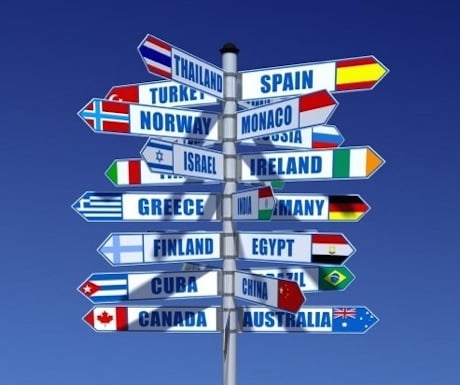 Weather in Barcelona
Visiting Barcelona soon? See below for the latest weather forecast for Barcelona.
Useful information
Currency
Spain's currency is the Euro which replaced the peseta in 2002. See www.xe.com for current exchange rates with the British Pound and the American Dollar.
Power
Spain operates on 230V/50Hz system and has two-pin plug sockets accepting type F or 'schuko' plugs. Appliances with a voltage of 220-240V can be used here with the correct adapter. UK appliances would need a standard two-pin to three-pin adapter.
Telecommunications
The four main network providers in Spain are Vodafone, Movistar, Orange and Yoigo. GSM/GPRS compatible SIM cards are needed and can be bought in some smaller, and most of the larger, mobile phone network stores. UK phones can be used here but if you wish to use a Spanish SIM card, you will need to have your phone unlocked in one of the smaller, independent phone shops. The price of this is roughly 20€. Spaniards use WhatsApp frequently rendering SMS messages almost obsolete. Leaving recorded WhatsApp messages is extremely common. This application is a must-have as it is not only used by individual businesses but also by networking groups and even the police!
Timezone
UTC +0 (Canary Islands) Western European Time
UTC +1 (Continental Spain) Central European Time
UTC +1 (Canary Islands) Western European Summer Time
UTC +2 (Continental Spain) Central European Summer Time
Tipping
Tipping in Barcelona is not expected unlike in countries such as the United States or the United Kingdom. If you feel you have received exceptional service and would like to tip, you still may do so, but usually only around 10%. But only tip when the service you have received is good, never do so if it has been poor! Any tip should be given in cash directly to your server, as there is generally not an option to add a tip to the bill via card. Tipping concierges, housekeeping and bellhops is fairly universal, in luxury hotels it would be sufficient to give a euro per piece of luggage..
WiFi
Free Wifi (pronounced wee-fee in Spanish) can be found in many restaurants, cafes, museums, parks and on city buses. Barcelona, for example, has over 400 locations with free WiFi including parks, museums, libraries and the beach.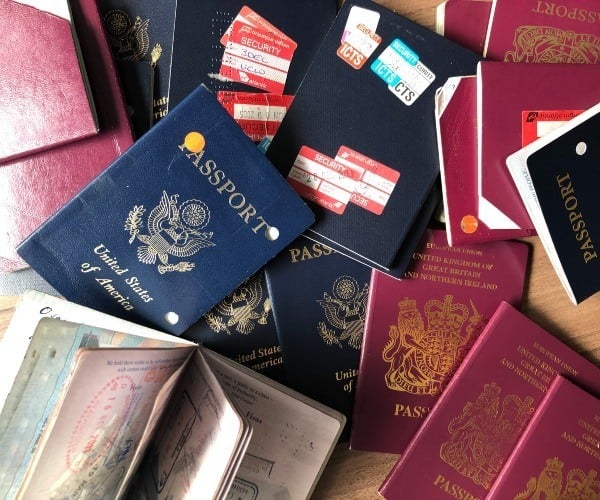 Want to contribute to our travel guides? Please contact us for details…