Home > Travel Guides > Iceland Travel Guide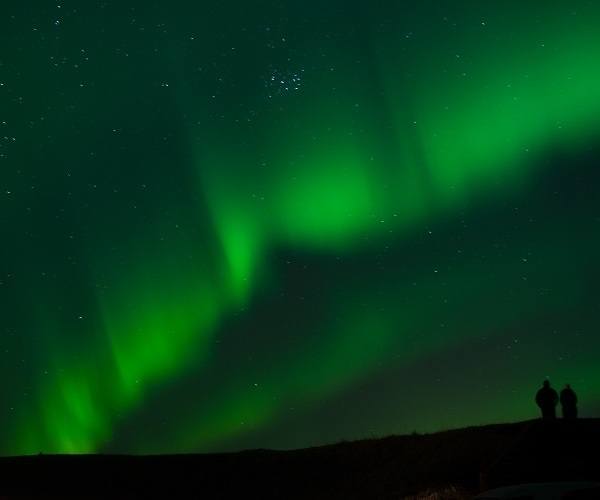 LUXURY TRAVEL
Iceland Travel Guide
Situated in the middle of the Atlantic Ocean, Iceland skirts the Arctic Circle at a latitude of 64 to 66 degrees North. With its lush and fruitful landscape, thanks to the wonders of the Gulf Stream, it is a far cry from the barren tundra you might expect to find in a country so far north.
Introduction to Iceland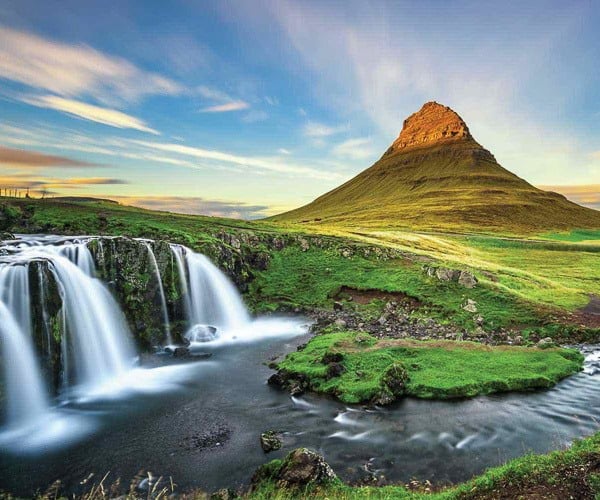 Iceland has only enjoyed a burgeoning tourism sector since 2010 when Eyjafjallajökull erupted stopping over 100,000 planes from flying across Europe.
An unexpected consequence of this event was all the free press at the time. Coupled with an aggressive marketing campaign and an Iceland Air free stop-over deal and Iceland's tourism numbers skyrocketed. From a little over 400,000 in 2009 to over 2,300,000 in 2018.
So if you are surprised by the lack of infrastructure in the country to the most popular tourist spots such as 5 star hotels, modern roads and visitor centres, then it's simply because Iceland is just trying to catch up. 2020 was of course a big blip for Iceland in regard to tourist numbers but 2019 already saw a drop from 2.3m to 2m. It was suggested that Iceland's day in the spotlight was coming to an end. This is no bad thing though as there was plenty of rhetoric about 'over-crowding in Iceland.
Icelandic is the first language of the country but you'd be hard done to to find any young Icelander without perfect English too. Around 97% of the country have access to fast internet, there's a 100% literacy rate, and the crime rate is so low that there are plenty of times in recent years where not a single murder took place that year. Add in the fact that Iceland holds the world record for the longest surviving democracy (930AD), as well as being number one in the world for gender neutrality and you can see why Iceland has been crowned the 'Most Peaceful Country in the World' for the past 12 years running.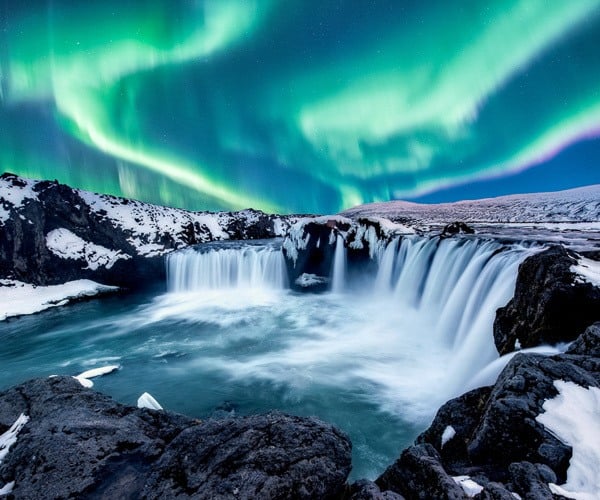 Reykjavík and other settlements
Reykjavík is the capital city of Iceland situated on the south west coast. The city is sat inside a natural inlet, being sheltered from much of the easterly winds, which also acts as a natural harbour for much of the trade and cruise ship activity. Reykjavík and the Capital Region holds 2/3rds of the entire population of Iceland at around 233,000 and yet this sizeable city almost feels like a sleepy fishing village depending on which street you walk down. The main shopping street is Laugavegur which lies perpendicular to the impressive Hallgrímskirkja church sitting high above all the modest small houses surrounding it (74.5 metres/ 244 feet).
Other notable towns include Akureyri in the north of Iceland with around 20,000 inhabitants, Selfoss in the south with around 7,000 inhabitants and Heimaey on the Westman Islands with around 4,000 inhabitants. So you can see that once you get out of the Capital Region Iceland reverts back to mainly small villages, fishing town and farmsteads. But don't worry, aside from the highlands you're never more than a few hours drive of the next petrol station and village with its own unique characteristics.
Around 25% of the country is protected either as nature reserve, national park or UNESCO World Heritage status (15% of the country). The local Icelandic population and government alike care for their environment deeply with speculative plans to create a Highland National Park which would bring the protected areas of the country to nearly 50%.
In regard to environmental efforts, the Icelandic government have set some of the most ambitious targets in the world, to be Carbon Neutral by 2040. Considering 95% of their energy production already comes from renewable sources (Geothermal and Hydro mainly) this is considered quite an achievable goal. Especially with the government's intention to plant at least 4 million new trees each year, and their new carbon capture technology, CarbFix.
Which tour companies should I use when in Iceland?
This is an easy one to answer but a hard one for you to achieve. As I mentioned, Iceland is very new to the tourism game so there are plenty of 'tour companies' out there just trying to capitalise on the current boom. Some are seasoned locals wanting to share their passion with you. Others are more like shepherds herding cattle. In my opinion, the easiest way to find a good tour company, whether that's in downtown Reykjavík or in the remote fishing village of Höfn, is to get onto Tripadvisor. It's used in abundance in Iceland and does a good job of weeding out the poor quality operators. You can learn just as much from the way a company responds to reviews as from the review itself.
History of Iceland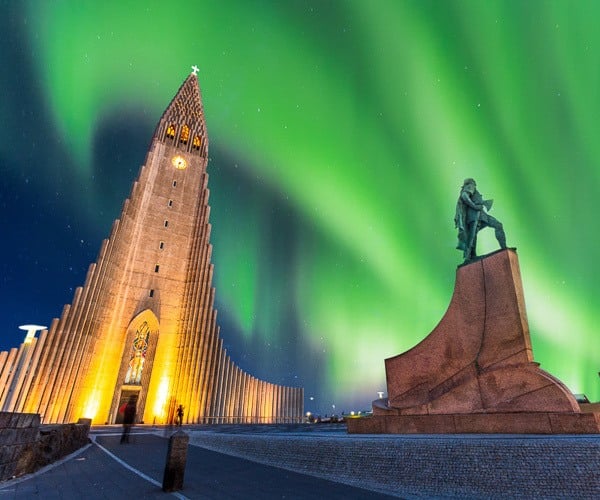 Iceland is the proud record holder of having the longest surviving democracy in the world, dating back to 930AD.
Much of Iceland's historic records are found in Íslendingabók and Landnámabók written by Ari Þorgilsson. This Icelandic priest wrote these in the 12th century so some of the historical assertions and dates are somewhat contested in recent years. The main points are considered to be accurate though. Iceland was first founded by Ingólfr Arnarson in 874AD following other failed attempts at settlement in the decade preceding this.
There is mounting evidence that Celtic monks found peace in Iceland as much as 150 years prior, but in terms of pure settlement and land cultivation the crown goes to the Norse adventurers. In the proceeding 60 years many isolated settlements popped up around the country but it wasn't until 930AD when the local clans came together in what is now known as Þingvellir National Park, and created a system of laws and trading rules that would eventually form the basis of a modern parliamentary system. This was called the Alþingi and was based on the prevailing laws in Norway at the time.
This gives Iceland the proud title of having the longest surviving democracy in the world.
A further 70 years would pass by before Iceland peacefully adopted Christianity in 1000AD. It was widely known at the time that although you must practice Christianity in public you were also still able to respect the old gods (Paganism) too without persecution.
Aside from an unarmed invasion of the Brits during World War 2, to gain a strong hold in the Atlantic ocean, Iceland has largely remained conflict free. Iceland maintained independence for the first 400 years of its existence until increasing influence from Norway made all Icelanders official subjects of the King in 1262. This new arrangement gave both Norwegians and Icelanders equal rights in both countries and was carried out peacefully.
Danish rule later took over in 1814 following the dissolution of the Kalmar Treaty which brought Norway, Sweden and Denmark under the one monarchy.
It wasn't until 1918 that Iceland finally gained partial sovereignty from Denmark and then full independence in 1944. Iceland remains a peaceful and democratic nation to this day.
Where to stay in Iceland
Most people will spend at least a few nights in Reykjavík at the start and end of their trip. This is a good idea to get to meet the locals, check out some of the best restaurants in the country and learn about Iceland in its many museums.
However, many people opt to leave the capital region quite early into their trip. Some even attempt to get around the entire island. Though this is only recommended in summer as the roads can get a bit treacherous in the east and north west at other times of the year.
Vík in the south coast is close to the impressive Black Sand Beach and hosts one of the largest puffin colonies in the country. Its iconic church on the hill gives some impressive sights too.
Skaftafell in the south east will have you resting minutes from the world famous Jökulsárlón Glacier Lagoon and the accessible glaciers. You can even explore ice caves in the winter in this part of the country.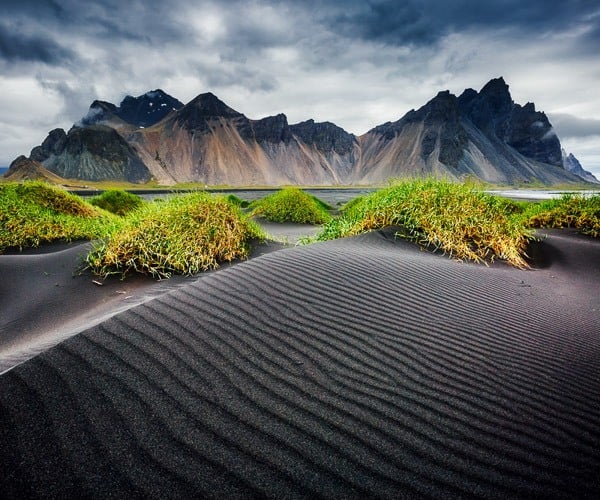 Egilsstaðir in the Eastfjords is within easy reach of many of the deep fjords and scarred sea cliffs. There's also plenty of wildlife in the area to keep you occupied on your hikes, including the oft-shy reindeer.
In the north of Iceland, Mývatn with its bubbling hot pools and Husavík with its whale watching options will be a great place to to stop off as you continue your journey around the country.
The Westfjords in the north west of Iceland is the oldest part of the country and boasts the lowest tourist numbers. It's worth spending around 4 days in this forgotten part of the country for the views alone.
Snæfellsnes, in the west of Iceland is often referred to as 'little Iceland' since it seems to have everything the rest of Iceland has but in a more condensed fashion. From glaciers and volcanoes to broken sea cliffs, seals and incredible restaurants. Not a bad way to end your trip to Iceland if this is the last stop on the tour.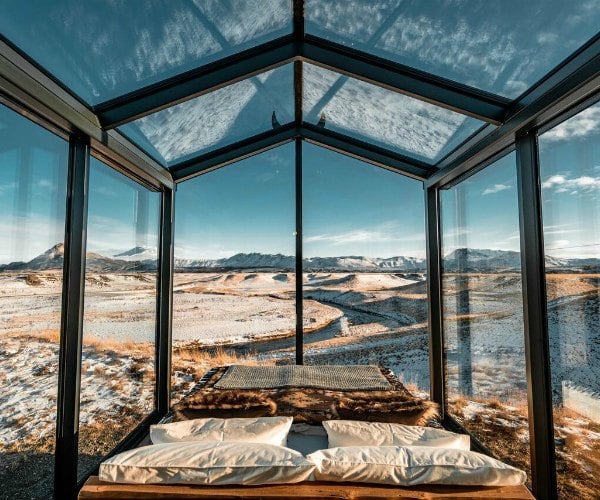 Accommodation in Iceland
As mentioned, there are no 'real' 5 star hotels in Iceland at present but that doesn't mean luxury is out of the question.
Reykjavík's first 5 star hotel, Edition Hotel By Marriott, is due to open in summer 2021 but until then the opulent Canopy By Hilton and Art Deco inspired Hotel Borg offer a great level of service, with great restaurants.
Out of Reykjavík there are plenty of great options that effortlessly blend nature, adventure and luxury.
The recently opened Retreat at Blue Lagoon in the south west provides all the natural beauty of the Blue Lagoon hot pool but with a focus on privacy and relaxation.
Along the south coast you can hunt for the northern lights from the viewing room at Hotel Rangá or enjoy the some horse riding at the Skálakot Luxury Manor. Although Hotel Rangá has become a little dated with most decorations added in the 70s and 80s, each room has its own world theme. The owner will also undoubtedly welcome you personally during dinner. Don't forget to sign up for the Northern Lights alerts overnight too.
In the south east of Iceland you can stop off at the Fosshotel Glacier Lagoon. This empty part of Iceland is known for its glacier hikes and ice cave tours. The 4 star hotel utilises local produce to create some of the most unique dishes in the south coast of Iceland. It's not too far away from the iceberg filled glacier lagoon too.
For full seclusion but plenty of adventure you can continue travelling north east to find Deplar Farms. This remote farm boasts luxury service mixed with hand picked hikes, kayaking, skiing, cycling and fishing options. This is a favourite of the rich and famous. Even Will Smith apparently spent some time here.
As you travel north west be sure to check out Heydalur Hotel in the Westfjords. This is as remote as you'll get in Iceland and still have a good level of hotel service. During the day you can go horse riding or kayaking. In the early evening try out their naturally heated pool and at night keep your eyes peeled for the elusive Arctic fox as well as the Northern Lights. The resident parrot will be welcome entertainment during dinner as Stella, the owner, will check in with you to make sure all is satisfactory with your locally caught catch of the day.
Places to visit in Iceland
The Jökulsárlón Glacier Lagoon is a 5 mile long lagoon filled with building sized blue icebergs in the south east of Iceland. Need I say more? Well, additionally this area offers some incredible glacier hikes and ice cave tours too. Seals, reindeer and Arctic Tern are the most likely wildlife you'll encounter in this part of the country.
The Látrabjarg sea cliffs in the Westfjords are the tallest vertical cliffs in Iceland at an impressive 440 metres high, stretching 14 kilometres. Don't get too close to the edge though, it's a long way down and Icelanders are not big fans of fences. If you arrive in the height of summer you're likely to see puffins swooping past you and perhaps even a distant whale passing by.
The Golden Circle is actually a collection of a number of sights in a small rural area of Iceland. In one short day trip you can stand next to a thunderous waterfall, watch a geyser erupt, bathe in Iceland's oldest hot pool and walk between the continents at the Thingvellir National Park.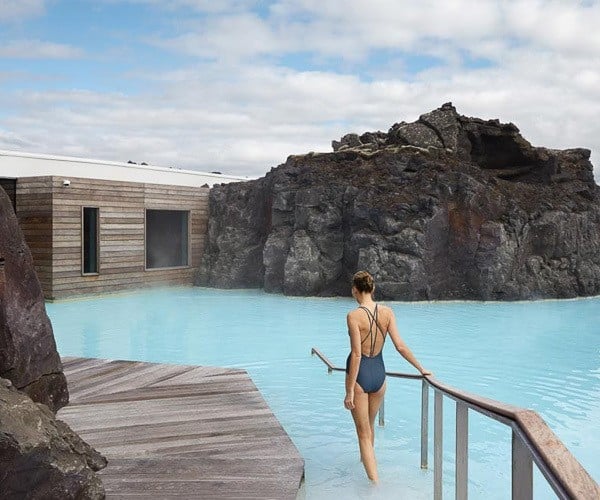 Arnarstapi in the Snæfellsnes peninsula is just one of the many attractions of this part of the country, but it's often the most talked about. A series of volcanic eruptions crafted uncountable basalt columns that formed the sea cliffs. With weathering and wave damage these previously strong walls of basalt rock have cracked and broken, making the easy hike along them exhilarating and humbling.
Iceland is also filled with cooled lava caves but none come close to the size and beauty of the multi-coloured Raufarhólshellir, more commonly known as the Lava Tunnel. Being just 30 minutes drive from the capital city many people try to squeeze a trip to the Blue Lagoon in on the same day. Both are worth the visit!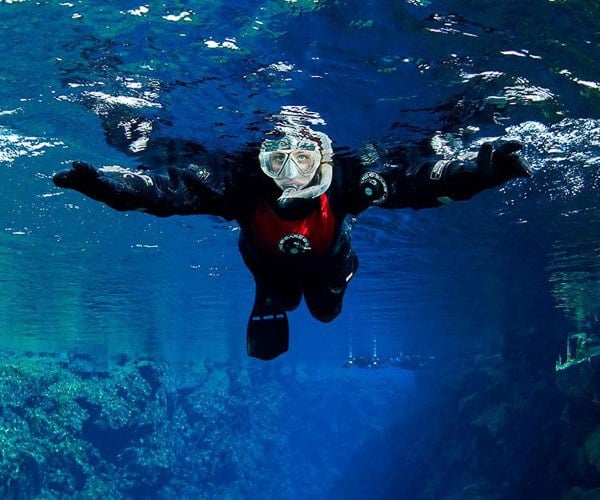 Things to do in Iceland
Iceland's natural elements give rise to some incredibly activities across the country. Most are outdoors so wrap up warm.
For example you can snowmobile over the Langjökull or Eyjafjallajökull ice caps.
You can go on an adventurous glacier hike on the Sólheimajökull or Falljökull glacier along the south coast.
If ice and snow isn't your thing you can walk deep into a 1360 metre long Lava Tunnel at Raufarhólshellir. Just wait until they turn off the lights!
If you prefer to relax on holiday you can bathe in any of the hundreds of hot pools across the country. My favourites are the naturally forming Secret Lagoon and the spa-like Blue Lagoon.
Animal lovers will enjoy horseback riding through lava fields at Skálakot horse farm on the small but mighty Icelandic horse.
In summer many hiking trails open up in the the Highlands of Iceland. For example, the 3 to 4 day Laugavegur trail boasts the best views of your life.
Another mainstay of summer is whale watching, which can be done in any number of ports across the country including Reykjavík, Husavík, Olafsvík and Akureyri.
Puffin spotting tends to coincide with whale season. There's plenty of places to spot these little guys but perhaps the volcanic Westman Islands in the south is the best.
From September to April you can go Northern Lights hunting any night that is clear. It can be done anywhere in Iceland though somewhere without unnatural light and obstructions are obviously best.
Food in Iceland
Despite Iceland's northern climes, much of the produce you will try in Iceland is locally grown.
The temperate climate and long summer days lends itself well for growing root vegetables like carrots and turnips, potatoes, onions, rhubarb and even kale. Berries and mushrooms grow naturally in the fields and are a fun activity for those coming in late summer/ early autumn to go picking.
Although crops are widespread in Iceland a lot of the farming in the country is focused on livestock. There are over 480,000 sheep that roam free in summer. I don't know the mechanics of how this happy lifestyle affects the taste but I can say that the lamb in Iceland is some of the best you'll ever eat.
Cattle farms produce meat and dairy too with some farms also rearing chickens, pigs, goats and other barnyard animals.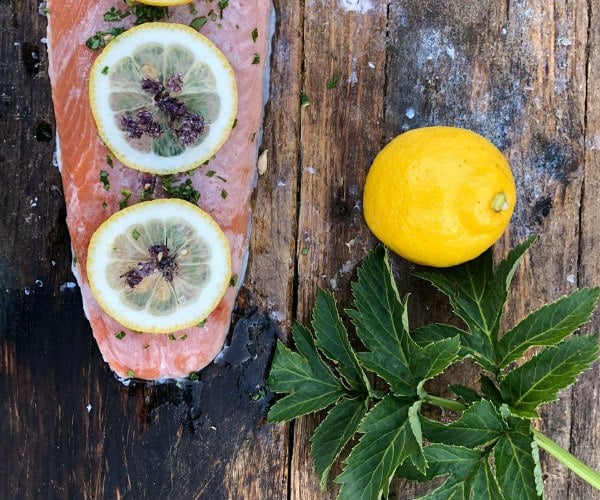 Dairy is a big part of the traditional Iceland diet with a unique yoghurt/ cheese called Skyr being a daily source of protein for many. Mixed with locally picked berries and you'll be craving this little yoghurt dish long after leaving Iceland.
Fish is another big part of the diet in Iceland, considering the fishing industry is a big part of the economy. Cod, salmon, trout and Arctic charr are the tastiest of the local catch but many restaurants will simply serve what was caught that day so be prepared to stretch your pallet to skate, dogfish, wolf fish, catfish, redfish and other fun variants.
Although many things can be grown outside in Iceland, there are limitations. This is where the geothermally powered greenhouses come in to play. The Friðheimar tomato farm for example can produce over 1 tonne of tomatoes per day, even in winter, thanks to this sustainable and cheap energy source. Strawberries, cucumber, bell peppers, fresh cut flowers and even things like bananas, cocoa beans and coffee beans are known to be grown across the country.
The weird and wonderful options are also available in certain restaurants across the country. Things like puffin, minke whale, reindeer, horse, ram's testicles and the dreaded rotted shark are all easily found in the more touristy areas of the country.
Regardless of your thoughts on eating some or all of the foods that Icelanders offer while you visit, please do keep an air of respect when turning things down. Iceland, in the past, was a harsh place with long winters. After volcanic eruptions, flash floods and super storms you would eat what you could find. So when trying to slurp down the slimy fermented Greenland shark take a second to imagine the hardship the locals may have been going through when they first attempted to eat this smelly meat.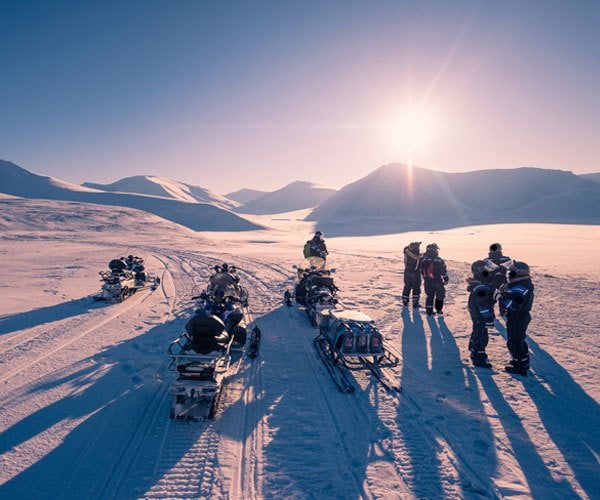 Getting around Iceland
Iceland has a 1,332 kilometre ring road that spans the entire country.
In summer, driving is fun and easy. Winding roads and single lane bridges add to the excitement of those who choose to self-drive. However, in winter I wouldn't recommend driving on your own unless you have copious experience driving on snow, ice and wind with little or no visibility. In these months, I recommend utilising private or small group tour companies to get you around safely.
Monitoring the weather is difficult due to the topography of the country with many micro-climates around the mountains and glaciers that are hard to understand if you're not a local.
In fact, using a tour guide all year round is a good idea regardless of the weather, especially if you intend to do wilderness trips like glacier hikes, ice cave exploration and longer hikes. The guides are compensated well and most consider this a life long profession.
That means you will be often interacting with knowledgeable and passionate veterans of the trade rather than a seasonal hire like in other countries. Many will likely have degrees or qualifications in the earth sciences like geology, volcanology and glaciology but have chosen a guiding career as it can be more lucrative than other jobs and gives them the chance to be outside in the elements more often. Having this type of companion by your side adds an extra dimension to your trip for sure.
There are plenty of big bus companies to choose from that leave from Reykjavik if budget is an issue. There is also a robust local bus system in Reykjavik that can get you around cheaply. Beware though, most busses don't sell tickets. You'll have to go to a local shop to pick up a bunch of tickets instead.
Taxis are expensive but plentiful. Assume that a short trip from one part of Reykjavik to the other will set you back around $30. To take a taxi from the Airport to Reykjavik will be closer to $120, though there are airport shuttle services that are much cheaper for around $40.
For those wanting to skip the long drive around the country there is a modest Icelandic domestic flight schedule that can get you to towns like Akureyri in the north, Egilsstaðir in the east and Ísafjörður in the Westfjords. The flights are understandably quick but surprisingly cheap too. You can get a single flight to Akureyri for $70 on a good day. That's less than a taxi from the airport.
When to visit Iceland
Iceland is a country of contrasting attractions. Some tourists can't believe anyone would visit in winter and others don't understand why anyone would visit in the summer. But Iceland's dynamic environment lends itself to coming back at different times of year and getting a completely different experience.
For example, September to late March is Northern Lights season which is becoming more and more sought after. And if you want to combine your northern lights hunting with discovering a big blue ice cave then you should further limit your months between November and March when it's cold enough to enter.
This is also the most likely time to get snow too. But beware, at this time of year you get less and less daylight hours as you approach the 21st of December. On this day you barely have 4 hours of direct sunlight. So if adventure is a big part of your desire to come to Iceland then avoid December and early January.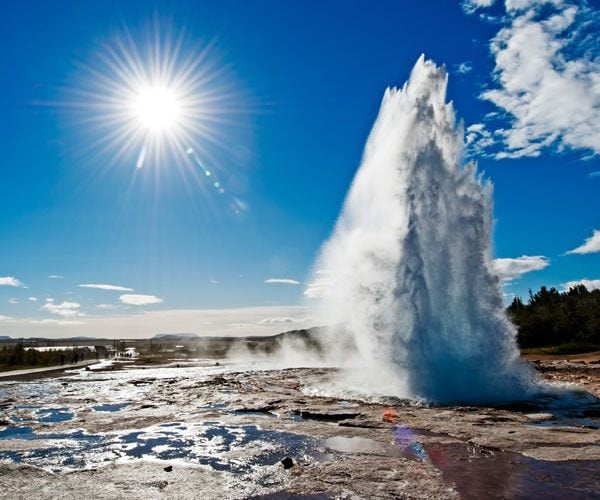 However, if a winter wonderland is what you are seeking the most then Christmas and New Year in Iceland is really quite special. Christmas markets, impressive Christmas lights and plenty of little festivals make Reykajvik and Iceland a great place to spend time with the family. Just keep in mind that on the 24th, 25th and 1st of January you will be very unlikely to find a tour guide or activity to fill the day as most Icelanders will not accept work on these days.
The Summer season (June, July and August) boasts 24 hours of daylight, known as the Midnight Sun. In fact, on the 21st of June you can watch the sun set and rise again in one fluid motion around midnight. The country is warm and bursting with life. The wild, purple Alaskan Lupine dominates the landscape. Sheep roam free and the migrating birds, including the puffins have returned to the shores.
Whales also come to Iceland to mate around the entire country and the Highland roads open up to 4×4 travel. For an adventurous time on the glacier this is the best time too as the ice takes on a crusty layer that makes walking and climbing much easier. Long hikes in the countryside take precedence at this time of year and you are just as likely to interact with a local Icelander on holiday as you are a tourist.
The shoulder months (April, May, September, October and November) are some of the best months to come in my opinion. They are very quiet and cheap compared to the winter or summer and yet have most of the same benefits.
April is often still snow covered but with longer days to enjoy daytime activities. The Northern Lights are still possible at the start of the month too.
May enjoys 24 hours of daylight and the whales and puffins have arrived by this point.
September and October are statistically the best months of the year to see the Northern Lights. September especially is much warmer than many expect too.
November is this writer's personal favourite time of the year, especially the first two weeks. You can hunt for the Northern Lights in the evening, discover ice caves during the day and enjoy a winter wonderland aesthetic without any crowds sullying the view. Also, one of Iceland's biggest festivals, Iceland Airwaves, also runs in the first week of the month. The main thing to question about November, and indeed all of winter, is the weather. It can get quite cold, which is mostly fine. But the storms that intermittently hit Iceland in winter may cause a few cancellation days. This is all part of the adventure though!
Events in Iceland
For obvious reasons, the majority of the outdoor festivals are held in the Summer but there's still plenty to see and do for the rest of the year too.
January
New Year's Day
Reykjavik International Games
Dark Music Days
February
Reykjavik Winter Lights Festival
Rainbow Reykjavik Winter Pride Festival
The Annual Icelandic Beer Festival
March
Food & Fun – professional cooking competition
Sprengidagur – Eating of salted meats and peas
Bolludagur – Sweet bun eating day
Design March – celebrating new and innovative design projects
Design Talks – extension of Design March
April
Easter Sunday
Children's Culture Festival
May
International Museum Day
Vaka Folk Arts Festival
Reykjavik Metal Fest
June
Secret Solstice – Music Festival
National Holiday of Iceland
Festival of the Sea
The Colour Run
July
Reykjavik Fringe Festival
Lunga Art Festival
The runners Festival (Westfjords)
August
National Festival (Þjóðhátíð) – multi-day music festival on the Westman Islands
Reykjavik Pride – multi-day event culminating in the Pride march
Culture Night – week long celebration of Icelandic culture
September
Réttir – annual sheep herding event across the country
Reykjavik International Film Festival
Reykjavik Jazz Festival
October
Réttir – annual sheep herding event across the country
Imagine Peace Tower – turning on the light
Cycle Music & Art Festival
November
Iceland Airwaves – multi-day music festival in Reykjavik or Akureyri
Everybody's Spectacular
December
Christmas
Yule Lad's 13 Days Gift Giving
New Year's Eve
New Year's Eve Run
Luxury travel tips
What can I say here? Iceland is a new market. Luxury travel hasn't cemented itself the same way as in other countries. 5 star hotels don't even exist yet.
However, you can gain luxury in other ways. The food you eat will have you salivating for days to come. The unspoiled attractions will be a memory to last a life time. And the service at every turn will be personalised and genuine. To me that is luxury.
But I understand that an extra level of service is desired for many coming to Iceland.
So I would therefore recommend that when you are booking tours around the country, you always ask for private. Or even ask for something bespoke.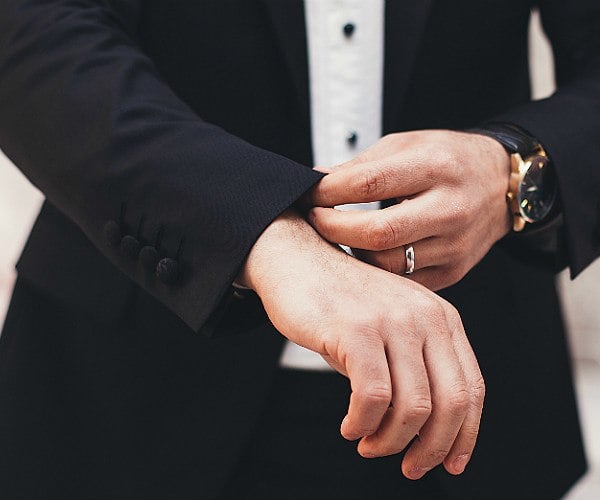 The great thing about Iceland is there is always more to see. If you want a waterfall all to yourself you may just get lucky if you ask the right questions. You want a late night tour to get a last minute Northern Lights hunt going? Then the hotel owners or tour guides are often more than willing to help. If you want the trip to be handled from airport to airport then invest in a private service from a local DMC. They will know the difference between 'promising the world' and 'genuine quality'.
I recommend starting your trip at the Retreat at the Blue Lagoon spa. Get a private taxi to the newly opened 5 Star Edition hotel. Jump on a private tour to the glaciers in the south east of the country and ride horses in empty lava fields. I also recommend visiting the 2010 Eyjafjallajokull volcanic eruption site. But the only way to do this is on a super jeep and snowmobile over the top. You want your very own blue ice cave? Then take a helicopter tour to the distant glaciers up in the mountains.
In short, there are plenty of ways to enjoy yourself in luxury but remember, Iceland's untouched and wild landscape is the main attraction here. The hotels are unique and impressive but take the term 'luxury' with a pinch of salt.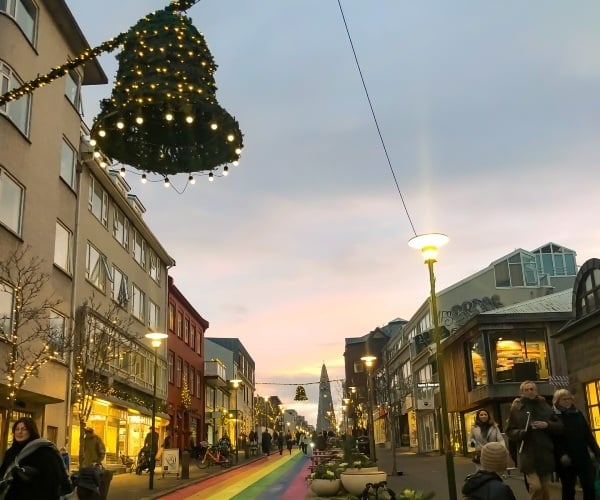 Language and culture
Iceland really is the land of the last remaining Vikings.
Despite their rough beginnings, exiled Vikings from Norway, they have found peace in this little island with a healthy standard of living and high life expectancy (83).
The locals may come across as standoffish at first but this is more a product of how their language is structured than any level of impoliteness. The majority of locals love to talk to new people. The approval rating for immigrant integration in Iceland is at 92% approval and the tourists are seen as a welcome source of income. So basically you are in safe hands with one of the local Viking descendants leading you around the country. Be prepared to learn a few stories from the chirpy locals and don't be surprised if you get invited out on an adventure or two once you've befriended the right people.
Useful phrases
þetta reddast – it will work out (pron. thetta-red-ast )
Hæ/ Halló – hi / hello (pron. hi / hah-low)
Já/ Nei. – Yes / no (pron. yow – nay)
Góðan daginn – Good day – (pron. go-than-die-in)
Ég heiti – My name is (pron. yeg – hay – tee)
Hvar er – where is? (pron. kvar – err)
Klósett – toilet (pron. close-ett)
Kvitunn – receipt (pron. kv-ih-tuhn)
Þakka þér/Takk – Thank you (pron. thakka-th-yeh / takk)
Afsakið – Excuse me/ Sorry (pron. aff-sa-keeth)
Bless – Goodbye (pron. bless)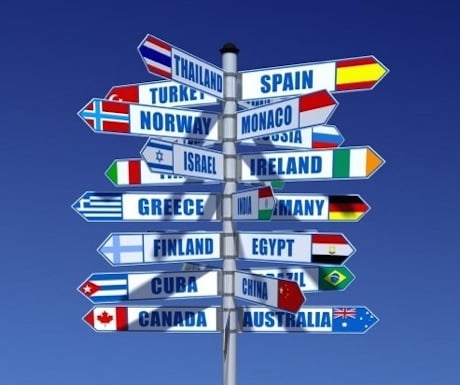 Weather in Iceland
Visiting Iceland soon? See below for the latest weather forecast for Iceland.
Despite being close to the Arctic Circle, Iceland has a temperate climate. That means the winters are warmer than they should be and the summers are a little wetter. The average temperature in winter is similar to that of New York despite being much further north, 66 Degrees compared to 40 Degrees. This is thanks to the Gulf Stream sending up warm water and air to the island year round. As long as this process continues, Iceland will have unseasonably warm winters with a mix of snow and rain. More so in the winter, but year round, one thing to consider is the wind. You might get breathless days if you're lucky, but Iceland is certainly known for its wind. So even on the warmest day of the year, if there's a stiff breeze, then it might be time to put on a cosy hat and warm sweater. Overall, in winter you should expect around zero degrees Celsius with the odd day dropping as low as minus 10 degrees, and in summer you should expect around 15 degrees Celsius with the odd day reaching plus 20 degrees.
Useful information
Currency
Icelandic króna – ISK (be aware that most transactions in Iceland can be done by card)
Power
Iceland observes the same standards as the EU wtih 230V/50Hz system and has a two-pin plug socket, identical to European plugs.
Telecommunications
Siminn, Nova and Vodafone are the main service providers with super fast broadband speed and good signal in towns and cities.
Timezone
GMT (does not observe daylight savings)
Tipping
Not mandatory but a nice gesture. No percentage is expected. 10% is a good going rate though.
A myth has been passed around for some time now that the locals get offended if you tip them. This couldn't be further from the truth. If done tastefully, tipping is a lovely way to show your satisfaction for a service. One thing that is important to note though is that tipping is by no means mandatory. A server or tour guide or bartender will not be upset at getting no tip after providing a superior service. Aside from it just being common decency, many of the people working in the tourism sector are well compensated for their efforts. So as I said, tipping is greatly appreciated but certainly not expected. When in doubt, don't tip if you didn't have a good time. Do tip if you did.
WiFi
Widely available across Reykjavik for free. Similar for small towns and restaurants in other parts of the country. Iceland boasts a 97% connectivity for its citizens.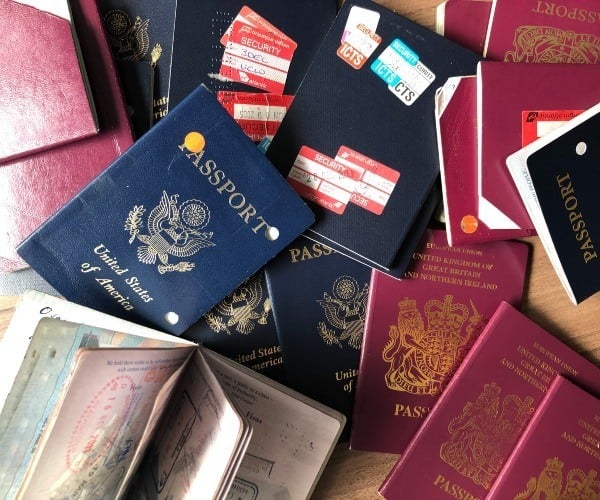 Want to contribute to our travel guides? Please contact us for details…