Home > Travel Guides > Switzerland Travel Guide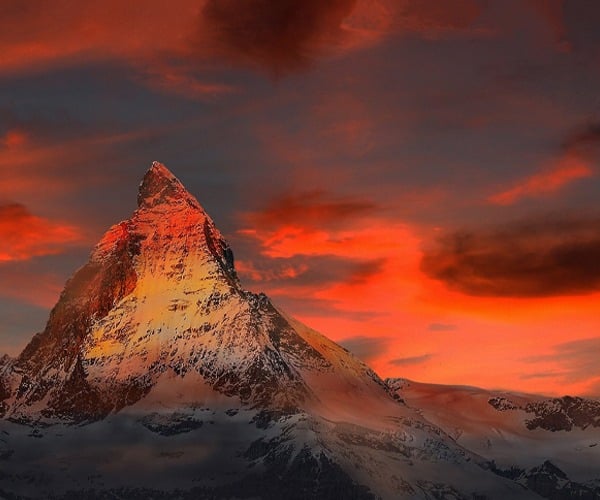 LUXURY TRAVEL
Switzerland Travel Guide
Majestic mountains, crystal clear lakes, Alpine skiing and lovely cities are the reason so many people flock to enjoy Switzerland every year. Yet despite its popularity, the country is not overcrowded, and visitors remark at the space and clear air, even in the cities. A visit to Switzerland is enjoyable at any time of the year, with warm summers and cozy winters, street cafes and twinkling Christmas markets.
Introduction to Switzerland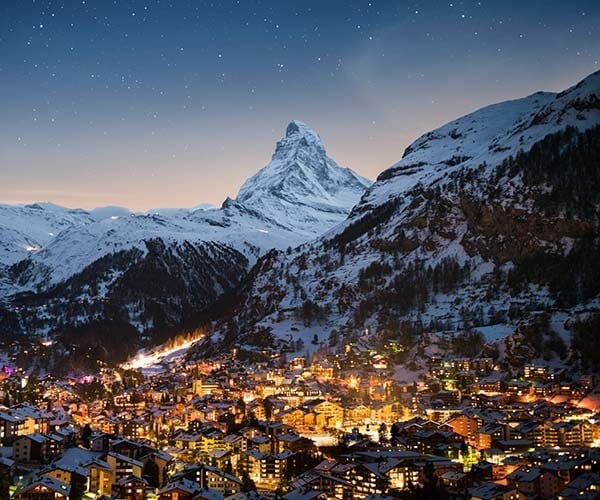 When thinking of Switzerland, there are few who would not visualise an idyllic place where majestic scenery and a relaxed way of life mix with modern cities and culture. In fact, this relatively small country nestled in the centre of Europe is incredibly adapt at maintaining its gentle, peaceful nature where both business and pleasure are abundant in equal measure.
The location of Switzerland among the highest peaks of the Alps might seem like a challenging environment. Yet this setting is one of the greatest aspects of this country. In the summer the deep, grassy valleys and pretty villages are a warm and scenic place to enjoy walking and sitting outdoors, while in the winter the ski resorts and traditional chalets are a welcoming and picturesque retreat to spoil yourself with.
Despite an image as an orderly and businesslike society, Switzerland is actually an exciting and attractive place. It has long attracted creative types like writers and artists who are inspired by its landscapes and culture, and any visitor today can enjoy its fine dining, its chocolate and luxury shopping.
The cities
Switzerland's capital is in the small city of Bern. However, its two largest cities are Geneva and Zurich where (alongside the important banking and other industries) there are street cafes, amazing restaurants, shopping and other attractions to enjoy.
With a total population of only 8.5 million, none of Switzerland's cities are big, and much of the population lives in smaller towns and villages scattered throughout the country.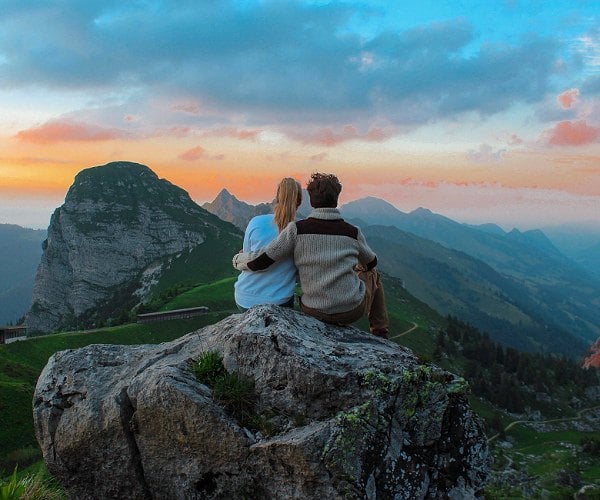 The lakes
Switzerland is a landlocked country. However, allongside its mountains, it is a land of water. There are three main lakes and many smaller ones through the central and northern parts of the country. Starting in the west, Lake Geneva (or Lac Léman) is where you'll find the cities of Geneva, Lausanne and Montreux. Further north, close to Bern, is Lac de Neuchâtel where the towns of Yverdon-les-Bains and Neuchâtel itself are found. And to the north, opposite Germany, is Lake Constance where you'll find the cross-border town of Konstanz and the port town of Romanshorn.
Other lakes include Vierwaldstättersee bordered by Lucerne, and Zürichsee stretching south from its namesake city.
In the south, Lago Maggiore briefly enters into Switzerland from Italy in its south east corner, where the town of Locarno can be found. Lake Lugano can also be found on the Italian border, with the large lakeside town of the same name a great place to visit.
Switzerland is also where the sources of both the Rhine and the Rhône rivers can be found.
The Alps
The southern half of Switzerland is dominated by the Alps – a mountain range which also stretches across parts of France, Italy and Austria. As well as its tallest peaks, like the iconic Matterhorn, the Jungfrau range, and tallest Monte Rosa, the Alps are also known for the deep valleys where little villages and rural landscapes are found.
The town of Interlaken is often seen as the gateway to the Swiss Alps. Well connected by road and rail transport (and an attractive place to visit in its own right), south of Interlaken is some of Switzerland's best views. The small towns of Lauterbrunnen, Mürren and Wengen are essential places to visit year-round, with access to many local ski runs in the winter months.
Further south, and deeper into the Alps, the towns of Brig and Sion are also essential winter destinations where friendly civilization meets the outdoors through winter skiing and summer walking.
History of Switzerland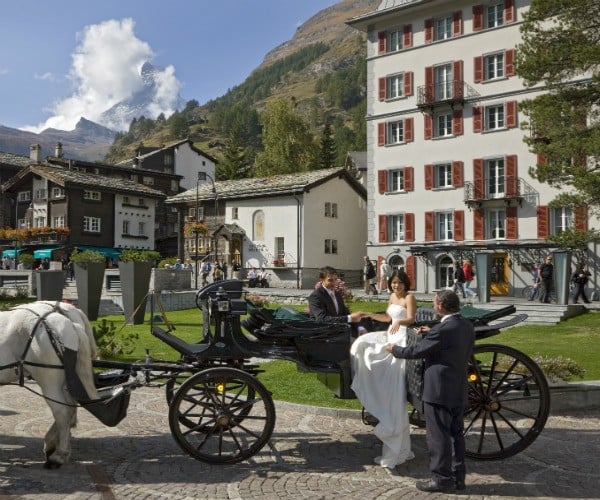 Switzerland has an enduring image as a peaceful, independent and neutral country set among an incredibly scenic landscape.
Its location is at the heart of Europe, bordered by Austria, France, Germany, Italy and Liechtenstein. The country was created out of an area of independent-minded regions, or cantons, in the 1290s. However, modern Switzerland as we know it today was created in 1848 when it adopted the constitution which still defines its people and politics today. This was the creation of a fiercely democratic nation where every citizen has a say on how the country is run, and people of all backgrounds and beliefs are embraced. It has been the cornerstone of the peace-loving and neutral country we know today, and has allowed the country to become very economically stable. This has led to the development of banking institutions, as well as important industries such as watch-making, optics and pharmaceuticals which have made Switzerland a relatively rich country.
The capital city of Bern was established in the 1190s, before Switzerland itself. It was named after the bear pits which still exist today. It is not as large or commercially important as other Swiss cities like Zurich and Geneva, or the judicial centre of Lausanne.
Owing to its location among so many other dominant European nations and peoples, Switzerland is home to a number of official languages, including French, Italian, German and its home-grown Romansh, but there are no borders between these, nor other influences like religion. It is a truly multi-cultural country which has developed its own identity, yet relies so much on the influence of surrounding nations.
Where to stay in Switzerland
Switzerland has a lot of different regions and each appeals to a different kind of traveller and may depend on the time of year you visit.
Zurich is the largest city in Switzerland and has a lot to offer throughout the year. It appeals particularly to a city break market, but it can also be tagged on to a more in-depth tour of Switzerland taking in the Alps or lakes, or the ski resorts. It has some incredible places to stay, from luxury hotels down to traditional hostels, as well as fantastic restaurants, museums, nightlife and shopping.
Thanks to its large airport and efficient rail and public transport network, staying in Zurich and getting around is easy. Switzerland has a widespread rail system which links all major towns and resorts. It is easy to take day trips from Zurich to places like Engelberg and Mount Titlis, Mount Rigi, Lucerne, or even the tiny neighbouring principality of Liechtenstein.
It is a similar story in Geneva. As a major international city, there is no shortage of great places to stay, top quality restaurants and shopping, and a wonderful lakeside location.
For more luxury, towns like Lucerne and Montreux are also high on the must-stay lists of many travellers, with their quality hotels and lake views.
If your visit takes you into the mountain regions you will find plenty of places to base yourself around Interlaken and the villages in the Jungfrau region. Places like Wengen and Lauterbrunnen are perfect both in winter and summer, and offer an authentic Swiss experience. However, there are no high-rise hotels here, so demand can be quite high.
Top ski resorts worth basing yourself at include Zermatt, Gstaad, with its designer boutiques, St Moritz and Saas Fee.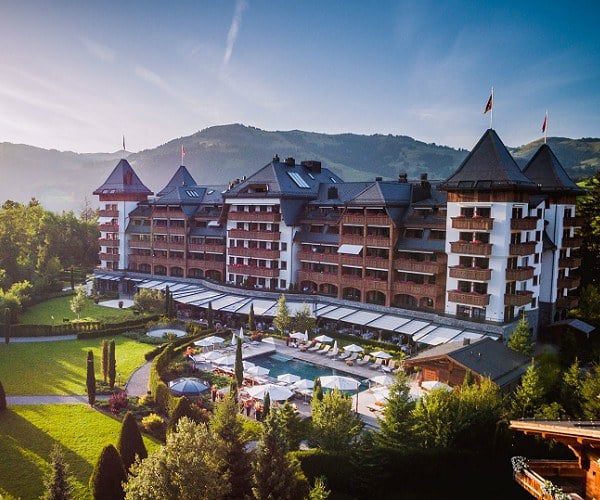 Accommodation in Switzerland
Switzerland has no shortage of quality hotels and accommodation on offer, no matter whether you're staying in the city or a rural location.
In Zurich, the famous Dolder Grand mixes the past and present in 5-star luxury with views of the city. Perfect for a honeymoon or romantic break, it is an impressive and elegant place to stay. A similarly warm and quintessentially Swiss place to stay is the Park Hyatt right in the centre, or you could try the postmodern hillside Atlantis by Giardino hotel overlooking Zurich.
In Lucerne, one of Switzerland's most famous hotels is The Palace which has stood on the lake shore since 1906. It fits the clientele of this swish town well, and offers the only fish restaurant anywhere nearby.
Lausanne also has a historic Palace Hotel. It has a simple yet stylish interior, impeccable service, with sweeping views over Lake Geneva and the Alps beyond. Further along the lake is the Fairmont Montreux Palace where the Penthouse Suite has its own rooftop terrace overlooking the lake and town. It also boasts a lovely spa, pools, sauna and gardens.
Among the ski resorts of Switzerland are some stunning Alpine hotels and resorts. Many have a traditional chalet style as you would expect. In the millionaire's ski resort of Gstaad is the Alpine Gstaad hotel with only 56 rooms and facilities like heated pools both indoors and outdoors, and ever changing art gallery. It even has a chauffeur who drives a Tesla!
In Zermatt, nothing can beat the Omnia Mountain Lodge, which has been considered one of the best hotels in the world thanks to its incredible surroundings and views of the Matterhorn, and its unique cave entrance.
The Chedi Andermatt is in a great location for using the nearby ski runs, or summer hiking, and enjoying this little town of the same name. It includes a large spa and a Japanese restaurant, with an Asian-inspired décor throughout. One of Switzerland's most scenic golf courses is also nearby.
One of Switzerland's most unique hotels is the Ascher Guesthouse. This traditional chalet lodge is perched halfway up a valley wall, with overhanging cliffs and mountains, and a deep valley below. Despite its location, it boasts a traditional restaurant and comfortable rooms. You'll need to take a cable car and walk part of the way there, however!
Places to visit in Switzerland
People come to Switzerland for scenery, culture, history and outdoor pursuits. It's hard to beat all that the country has to offer. For culture, visit the cities of Zurich, Geneva, Lausanne and Montreux, where museums, galleries, historic buildings and famed attractions can be enjoyed year-round. Even the capital, Bern, is one of Europe's most attractive old towns completed with medieval buildings, like the Zytglogge city gate, hanging over the flowing river.
The mountains are also essential places to visit in Switzerland. In the winter the ski resorts like St Moritz, Saas Fee, Zermatt and Gstaad come alive, but you don't need to be a skier to enjoy this landscape. In the summer the highest peaks are still snow-capped, and you can enjoy incredible views of the Matterhorn – the most famous Swiss mountain which ascends to a sharp point nearly 5,000 metres above sea level. A train from Zermatt to Gornergrat climbs to a vantage point.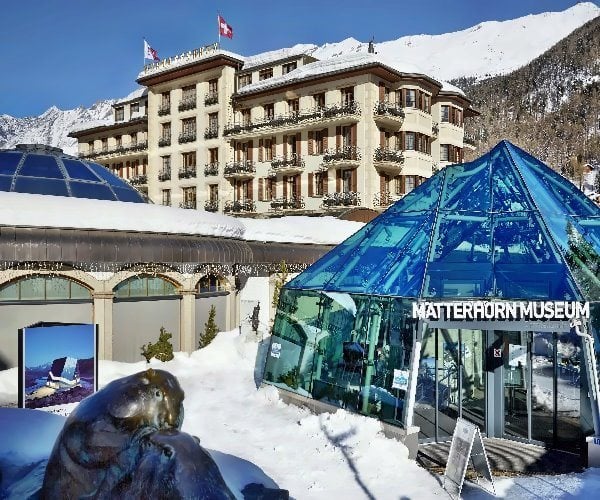 The Jungfrau are another set of peaks which really show off Switzerland's mountains. You have great views from the Lauterbrunnen valley, south of Interlaken. Or visit pretty Grindelwald where you can take a train journey on Europe's highest railway to Jungfraujoch where you can take an elevator to the "Top of Europe" observation terrace near the summit of Mönch. Jungfraujoch is also the start of the Aletsch Glacier – the longest in Europe. The Ice Palace and Sphinx Observatory are great places to view the glacier from.
Interlaken, Wengen and Lauterbrunnen are themselves perfect little Swiss towns which are great to visit in the summer. There are lovely walking routes with stunning vistas in all directions, and are easily reached from Zurich by train.
Also near Zurich are the Rhine Falls on the German border, which are Europe's largest. You can take a boat ride close to them in summer, and see some of Switzerland's historic castles and lowland farming areas in the surrounding region.
The medieval town of Lucerne is also an easy trip from Zurich. Its historic buildings, like the town hall, Chapel Bridge and Lion Monument nestle the shore of Lake Lucerne. From here you can also visit which is to the south of the lake and has a death-defying cliff-walk and fun snow slide in Glacier Park.
Also near Lucerne (or an easy train trip from Zurich) is Mount Rigi, which has a cog railway to the summit running from Vitznau and Arth-Goldau. Enjoy views of the surrounding lakes and villages.
Of Switzerland's museums and cultural attractions, top of the list are the Zermatlantis Matterhorn Museum in Zermatt, Oberhofen Castle near Thun, the Museum Rietberg in Zurich, the Museum of Ethnography and the Jet d'Eau fountain in Geneva, and the Vaud Museum of Fine Arts in Lausanne.
Families will love Zurich Zoo, Lucerne's Verkehrshaus der Schweiz transport museum, or even a visit to the scientific wonders of CERN near Geneva.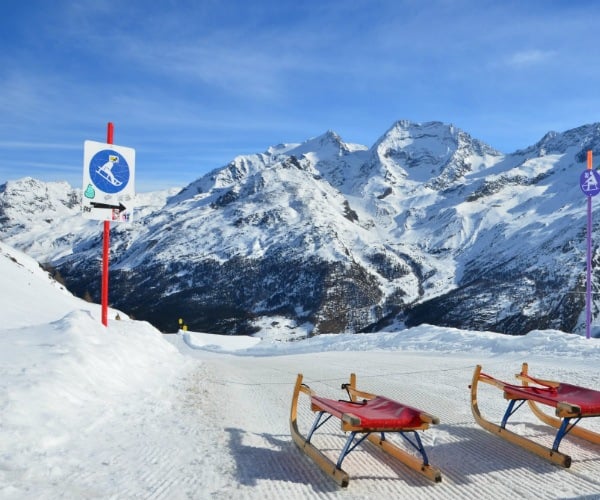 Things to do in Switzerland
For such a small country, Switzerland really packs a punch. It also manages to a year-round travel audience, despite its obvious attraction as a winter ski resort. As a result, you will always find something interesting to see and do.
Switzerland's top attractions include its main mountain peaks in the Alps – namely the unique shape of the Matterhorn on the Italian border, and the Jungfrau range, affectionately dubbed The Top of Europe. These peaks are all quite easy to visit year-round, and you don't need to be an experienced mountain climber to enjoy them thanks to accessible infrastructure like cable cars and mountain railways.
In the summer months, the Alps provide a haven for walking and hiking in the often warm weather and clear air. The grassy valleys become a canvas of mountain flowers and often the only sound you'll hear is the tinkle of a cow bell or waterfall.
Of course, in the winter the Alps attract people to enjoy skiing at the many resorts and ski runs, like those at Zermatt, St Moritz, Saas Fee or Verbier, which is one of the largest lift-linked ski areas in the world. Each of these towns and regions offer world-class resorts, often in quaint chalet-style buildings, with spas, restaurants and bars to make the most of your evenings after a long day on the slopes.
Switzerland's outdoor regions are not only about skiing, however. The Swiss National Park is one of Europe's greatest outdoor regions, which was designated in 1914 and encompasses the Engadine Valley with its valleys and rivers, forests and mountain peaks. Outdoor lovers can explore its trails and see its wildlife, and find out more at the National Park Centre in Zernez.
Also worth a visit in the warmer months is the town of Interlaken, where two lakes meet and a whole range of outdoor activities are on offer – or simply enjoying the mountain views and clean air in the town's Höhematte. South of the town is the deep valley leading to the Jungfrau mountain range, where the villages of Lauterbrunnen, Wengen and Mürren are worth visiting. Their cable cars run all through the year, so you can enjoy the views from the top of the mountains outside of ski season.
Not far from Zurich are the Rhine Falls, one of the largest waterfalls in Europe which can become quite spectacular during the early summer months when the snows are melting. For the best views take a boat tour up the Rhine to the falls.
Of Switzerland's lakes, there are some stunning towns to visit which have a wonderful setting. Lake Maggiore and Lake Lugano near the Italian border have a warm climate and a feel of Italy thanks to the food and sunshine, and nearby are three UNESCO World Heritage Sites in the Bellinzona canton.
Lake Geneva is home to the lovely town of Lausanne and its scenic views across the lake towards the Alps. A little further around is Montreux with its famous summer Jazz Festival.
Lucerne is a magnificent lakeside town with a car-free old town and some very historic buildings to explore, like 14th century Chapel Bridge, as well as a large concert hall and the Swiss Transport Museum.
Zurich is one of Europe's great cities with lots on offer for the visitor. Its old town reaches the shore of the Zurichsee, offering narrow old streets, cafes and restaurants. If you want to treat yourself to some luxury products like watches or jewelry, take a stroll along the Bahnhofstrasse which runs for a mile through the city.
The city's top attractions include the Swiss National Museum, the Rietberg Museum, Zurich Zoo, and Kunsthaus Zurich art gallery. Just outside Zurich is the Uetliberg mountain with views over the city.
A big attraction for any visitor to Switzerland is the chance to sample its famous chocolate. Zurich is home to Lindt with its chocolate shop and museum. Or in Broc, you'll find the Maison Callier chocolate factory and visitor experience.
Another staple of Swiss cuisine is cheese. In Gruyères, a medieval town north east of Montreux, the town's little shops sell the famous produce, or visit La Maison du Gruyère to discover how it is made.
Food in Switzerland
Switzerland's food is influenced by its neighbours – namely France, Italy and Germany. The cultural cuisines of each of these countries is often reflected in the food you'll see in Switzerland, particularly in the regions bordering these neighbours.
However, there are some Swiss dishes and foods that are their own and you should look out for on your visit for a tasty treat.
First is Swiss cheese. Emmental, Gruyere and Mont d'Or Vacherin (made between September and April) are popular types made here, and most Swiss people love a cheese fondue. Raclette is another local cheese which is grilled over a fire and sliced onto potatoes or onions.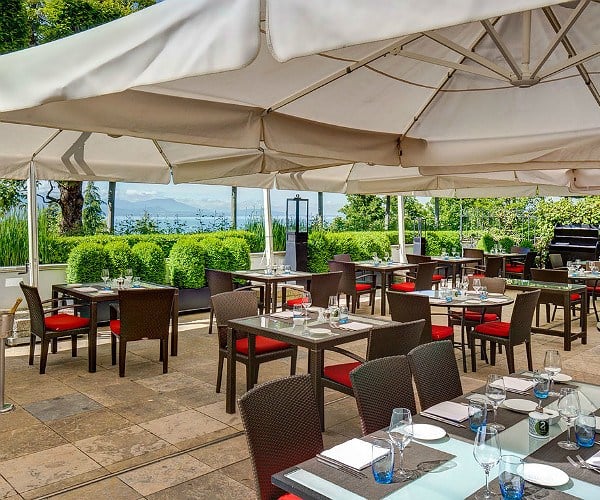 A national dish in Switzerland is Zurcher geschnetzeltes, which is veal with mushrooms and kidneys in a cream sauce and loved by everyone, particularly in the north and west parts of the country.
Rosti is another popular dish, which is made from grated potatoes fried in a pan. Often bacon or raclette cheese are added.
Chocolate is an important sweet made in and enjoyed widely in Switzerland. While it is something geared mostly to tourists, it's important to sample some while visiting (and not just a bar of Toblerone at the airport!).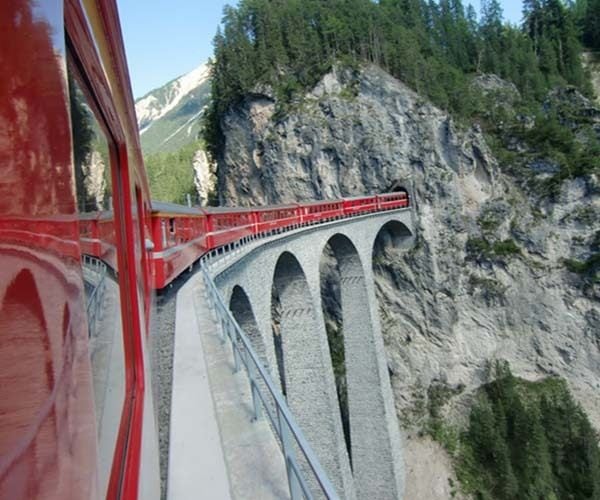 Getting around Switzerland
The Swiss road and rail network is extensive, with a number of scenic routes to enjoy, and easy transit between the country's main cities.
Its main airports are at Geneva and Zurich, with smaller regional airports at Basel, Bern, Lugano and Sion.
Within cities there are public transport and taxi options. Zurich, Basel and Bern all have tram systems, while local buses can be found everywhere. Postautos are the yellow buses which operate in most towns, cities, suburbs and tourist areas.
The fastest way to get around Switzerland is by train. There are main stations in all cities, and lots of towns and villages are covered by the network. Tickets should be bought in advance before boarding.
Most of Switzerland's larger lakes have ferry services which cross from one side to the other and link and major towns around the shore.
And of course, in mountain valleys and ski areas in particular, cable cars and funicular railways are common ways to get around and ascend mountains and ski runs.
Perhaps one of the most relaxing and popular ways to get around Switzerland is on one of the special scenic rail routes open to tourists. The GoldenPass Line runs between Lucerne and Montreux through mountain passes, valleys and traditional villages. It takes a leisurely five hours.
Meanwhile, the Albula/Bernina rail line is so scenic that it has been awarded UNESCO World Cultural Heritage status. It winds its way through some of Switzerland's finest scenery, crossing nearly 200 bridges over its 122km length. The panoramic train cars afford the best views, and it runs year-round.
Finally, the Glacier Express runs between Zermatt and St Moritz. It takes 8 hours and passes through some of the remoter parts of the country, with close-up views of mountains and valleys. Along the way you'll see snow-capped peaks – even in Summer – an cross the Oberalp Pass at over 6,500ft above sea level. There are many stations along the way where you can break up your journey and stay in some of the high quality hotels, like the Chedi Andermatt and Grand Hotel Zermatterhof. This train runs between May and October.
When to visit Switzerland
Switzerland can be warm and sunny in the summer, and very cold and snowy in the winter. However, these are the two reasons people love the country so much as each season enhances its scenery and attractions.
In the summer, it's the best time to explore Switzerland's main cities, as well as its lake regions. The towns along Lake Geneva, Lake Maggiore, Lake Lugano and Lake Constance, like Lucerne, Lausanne, Montreux, Lugano, Locarno and Geneva are lovely in the summer, with outdoor cafes, parks and other spaces to enjoy, plus the many visitor attractions.
The Alps region in the south of the country is great at any time of year. While the winter is perfect for enjoying the ski resorts, the summer is great for the views, walking and exploring the picture-perfect villages and outdoor areas.
Switzerland has many great annual events, as well as important conventions and business events, which draw people to the country throughout the year. It's best to check whether any will be in town when you visit as it can mean hotels are fully booked. The highest number of tourists tend to visit during the peak summer and winter seasons, which can mean hotels and visitor attractions are busy.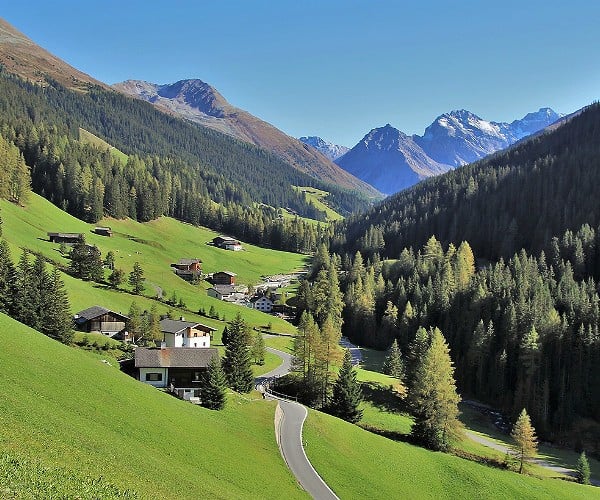 Switzerland has many great annual events, as well as important conventions and business events, which draw people to the country throughout the year. It's best to check whether any will be in town when you visit as it can mean hotels are fully booked. The highest number of tourists tend to visit during the peak summer and winter seasons, which can mean hotels and visitor attractions are busy.
Events in Switzerland
Switzerland loves to celebrate its history, folklore, produce and mountain locations. There are festivals throughout the year to enjoy. Here are some well known examples.
January
Swiss Carnival Celebrations, nationwide
Lauberhorn ski races, Wengen
World Snow Festival, Grindelwald
Inferno ski races, Mürren
St. Moritz Gourmet Festival
International Balloon Festival, Château'd'Oex
February
Lucerne Carnival
Art On Ice, Davos
Basel Carnival
March
Camellia Festival, Locarno
Engadin Ski Marathon
Fuchstival ski festival, Grüsch-Danusa
April
Easter Celebrations, nationwide
Basel World Watch & Jewelry Show, Basel
Spring Festival, Zurich
May
Gruyères cheese festival, Montreux
Lavaux Wine Fest, Epesses
World Rowing Cup, Lucerne
Ascension Day Procession, Beromünster
June
Greenfield Festival, Interlaken
Street Arts Festival, Ascona
Prätti-Ziller Folk Music Fest, Seewis
Eidgenössisches Jodelfest (Yodelling Festival), Zug
July
Montreux Jazz Festival
Rosen Fest on Lake Lucerne
Jazz Days, Lenk
Les Médiévales – A Medieval Festival, St Ursanne
Summer Musical on the Lake, Lake Thun
Verbier Festival, Verbier
International Alphorn Festival, Nendaz
Winegrowers Festival, Vevey
National Costume Festival, Jungfrau Region
Big Bang Festival on the Lake, Biel/Bienne
August
Swiss National Day, nationwide
Locarno Film Festival
Folklore Festival, Zermatt
Triftalp Alpine Fest
Churer Fest, Chur
Zurich Street Parade
September
Jungfrau Marathon, Interlaken
Oktoberfest, Lucerne
VINEA Wine Fest, Sierre
Wii-Grill Fäscht – Wine Fest, Visp
Spiezer Märit (Fall Fair), Spiez
Breitling Air Show, Sion
Alpine Cheese Fest, Grindelwald
October
Lucerne Cheese Festival
Lausanne Marathon
November
Nidwaldner Alp cheese Market, Beckenried
Alpine Cheese Market, Seedorf
December
St. Nicholas Parade, Küssnacht an Rigi
Christmas Markets, Bern, Basel, Lucerne, Montreux
New Year's Eve celebrations, Zurich
Luxury travel tips
There are so many great luxury options in Switzerland. Wherever you go and whatever time of year you visit, there are hotels, resorts, spas, restaurants and tours geared to those who enjoy a touch of class.
From some of Europe's classiest hotels in cities like Zurich, Geneva, Lucerne, Lausanne and Montreux, to fine dining experiences, you can be sure of star treatment. In fact, many stars and celebrities choose to spend vacation time in these regions and can often be spotted shopping or relaxing at a café in some of Switzerland's most prestigious areas.
Tours like the Glacier Express – running between luxury resorts like St Mortiz and Zermatt – are geared to the experience of the journey. While it may be cold outside, inside there are fine foods and Champagne on offer to accompany the views.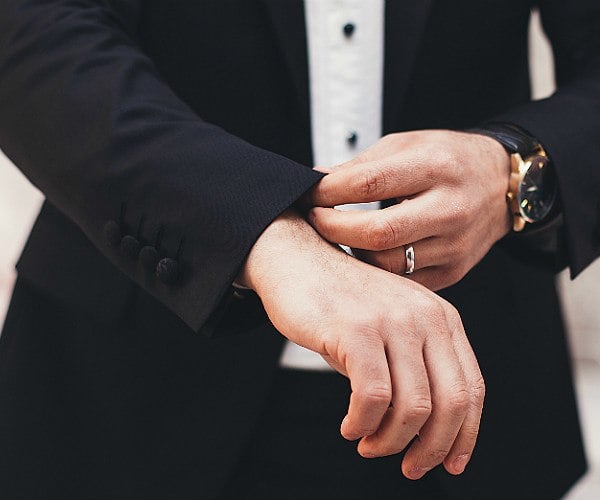 For a luxury ski experience, some of the resorts are more geared to this than others. Saas Fee is where many investors buy Alpine bolt holes, and The Alpina in Gstaad offers a 5-star accommodation experience with some of the finest dining experiences in the Alps, not to mention access to fantastic ski runs and great service.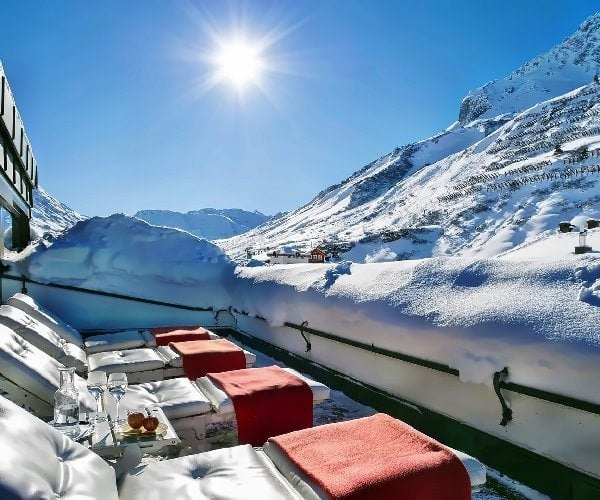 Language and culture
Switzerland has a multi-ethnic background and its languages and culture are very much influenced by the surrounding countries. As a result, there are five main languages spoken. These are: French, German, Italian, and the local Romansh language. While there are no set rules about where these languages are spoken, you'll typically find French spoken in the west of Switzerland, German in the north and east, and Italian in the south. In addition to this, English is widely spoken and you should not worry about conversing in any city, town or tourist area.
The Swiss are often seen as serious, businesslike people. However, you'll soon realise they are very friendly and welcoming to visitors and keen for you to enjoy your country. In hotels and restaurants you will be treated with respect and courtesy. However, Switzerland also has a fun side. Its people love to enjoy music festivals and carnivals, bars and nightclubs, and taking advantage of the great outdoors.
Switzerland is a very safe country which fiercely defends its neutral stance.
Useful phrases
Since there are four main languages used in Switzerland, here are some basic words and phrases in French, German and Italian (the most common).
Guten Tag (G), Bonjour (Fr), Buongiorno (It) – Hello
Grüezi (G), Adieu (Fr), Ciao (It) – Goodbye
Danke (G), Merci (Fr), Grazie (It) – Thank You
Bitte (G), S'il vous plait (Fr), Per favore (It) – Please
Wie gehts? (G), Comment allez-vous? (Fr), Como stai? (It) –
Entschuldigung (G), Excusez-moi (Fr), Scusi (It) – Excuse Me
Sprechen Sie English? (G) – Do you speak English?
Parlez-vous Anglais? (Fr) – Do you speak English?
Parla Inglese? (It) – Do you speak English?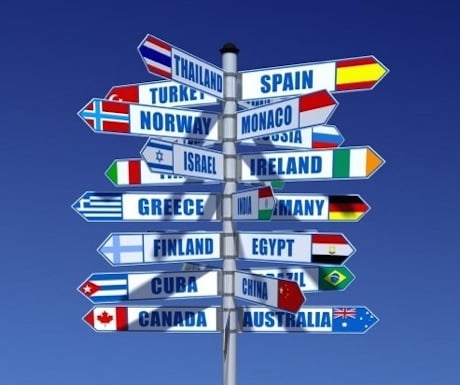 Weather in Switzerland
Visiting Switzerland soon? See below for the latest weather forecast for Switzerland.
SWITZERLAND WEATHER
Useful information
Timezone
UTC +1 Central European Time
UTC +2 Central European Summer Time
Currency
Switzerland's currency is the Swiss Franc. The country has not adopted the Euro. See www.xe.com for current exchange rates with the British Pound and the American Dollar.
Power
Switzerland operates on 230V/50Hz system. It uses type C (2-pin) and Type J (3-pin) plugs (Type C 2-pin plugs also fit J sockets). Appliances with a voltage of 220-240V can be used here with the correct adapter. UK appliances would need a standard two-pin to three-pin adapter.
WiFi
Free Wifi can be found in many restaurants, cafes, museums, parks and on public transport. Under Swiss law you must register your details in order to use free public WiFi
Tipping
Telecommunications
There are three main network providers in Switzerland. They are Swisscom, Salt, Sunrise. GSM/GPRS compatible SIM cards are needed and can be bought in some smaller, and most of the larger, mobile phone network stores. UK phones can be used here but if you wish to use a Swiss SIM card, you will need to have your phone unlocked in one of the smaller, independent phone shops.
The Swiss telephone country code is +41.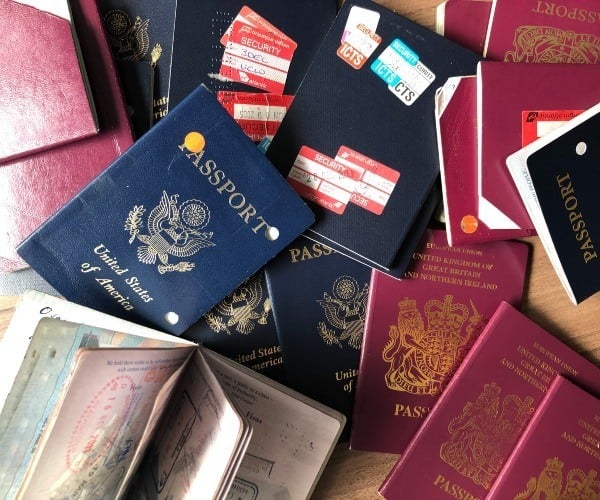 Want to contribute to our travel guides? Please contact us for details…