Suite of the week: De Luxe Lake Tower "Honey Room" at L'Albereta, Italy
Suite name:
 De Luxe Lake Tower "Honey Room"
Hotel:
L'Albereta
, Erbusco, Italy
Size of accommodation:
30 sq m
Cost per night:
 390-500  Euros
What makes it special?
 It has  an opening roof and a view over the lake from the bed.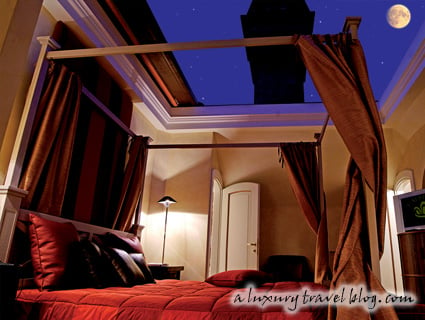 The room is in Torre del Lago, a new building which was erected in 2002 within the park itself in order to capture the best possible views afforded by the local scenery. Facing the Lago di Iseo and the Vigna Leone, the building is designed to guarantee absolute privacy for visitors to Henri Chenot's Espace Vitalité and to bring about a profound sense of calm, with its large, bright spaces that help to envelop the visitor in reassuring and protective surroundings. Even the décor is in tune with the architectural philosophy. The furnishings are suffused with peaceful colours and soft tones, and the forms and shapes are kept to a minimum to allow the large windows to admit more light. The parquet flooring alternates with large flagstones of Italian and Irish marble – the latter, with its delicate, relaxing emerald tones, is the same that is used in Buckingham Palace. Even the bathrooms are true oases of wellbeing, with large windows, generous Jacuzzi tubs and multifunction showers equipped with Turkish bath and waterfall shower.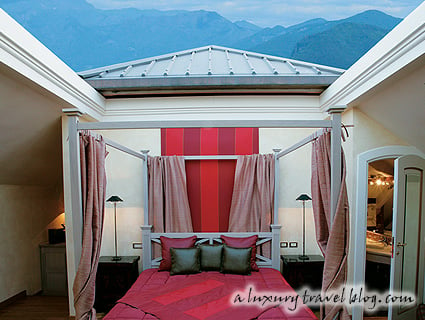 The garden at the Torre is really an open-air lounge complete with grand sofas with canopies, and it is next to the Fitness House and the swimming pool at the spa. This layout is ideal for guests who come here for the revitalising treatments at Henri Chenot's Espace Vitalité, which occupies the first two floors of the Torre.
Did you enjoy this article?
Receive similar content direct to your inbox.