Suite name: The Chedi Club Suite
Hotel: The Chedi Muscat, Oman
Size of accommodation: 62.5 sq m
Cost per night: RO 360++ inclusive of breakfast for two persons and subject to 17% tax and service charges
What makes it special? This beautiful accommodation is on the stunning Boushar Beachfront in Oman, where crystal Gulf waters mirror images of glorious mountain ranges, in an oasis of mysticism and luxury.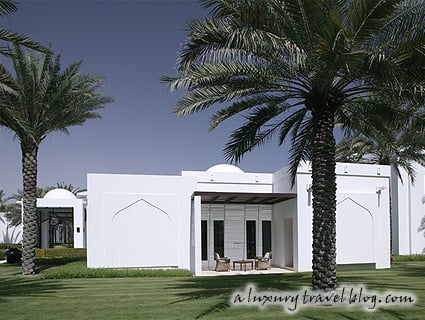 The 36 suites mostly surround a water garden with palms trees and water features, and comprise either a two storey or single storey villa. The single storey suites break away from the flat roof building concept with its dome-shaped ceiling.   Each suite consists of a large bedroom with a King-size bed, a separate living room and an outdoor balcony or terrace. The stylish windows of the sitting room allow guests to enjoy the view of the tranquil ponds or the garden grounds. Two Apple iPod minis with Bose ® SoundDock ® digital music system, preloaded with 1,500 pieces of music, are provided in each suite.
Chedi Club Suites accommodate up to two adults or two adults and a maximum of two children below the age of 14 years. The children can be accommodated on the existing sofa benches in the sitting room of the suite. The bathroom features a terrazo sunk-in bath tub, an impressive separate shower featuring a rain forest shower head and hand held shower attachment. A separate toilet and bidet, two hand wash basins and two closets with drawer space complete the open plan bathroom.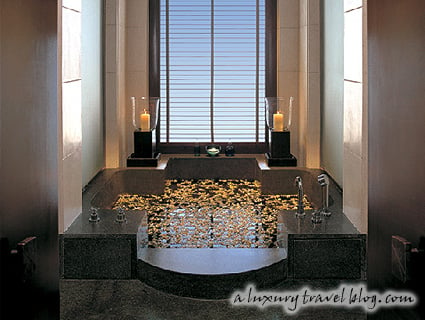 Suites are inclusive of two-way airport transfers, free mini-bar, laundry services (except dry cleaning), daily newspapaer and access to The Library. At The Library, suite guests can enjoy Continental Breakfast, morning/afternoon tea and evening cocktails and cánapes and free Internet access.