Suite name: The Ritz-Carlton, Bahrain Villas & Spa
Hotel: The Ritz-Carlton, Bahrain Hotel & Spa
Size of accommodation: 4,850 sq ft
Cost per night: BD 1800 (USD 4,690)
What makes it special? The Villa offers a redefined tranquility and privacy by the Azure waters of the Arabian Gulf.
The Ritz-Carlton, Bahrain Villas & Spa exude relaxed elegance throughout. Low lying, surrounded by azure waters, each has a distinctive identity and allure. Designed for heads of state, royalties and celebrities, the villas help you escape the ordinary world and enter a world where idyllic stretches of sand slope gently into warm waters of magnificent turquoise blue.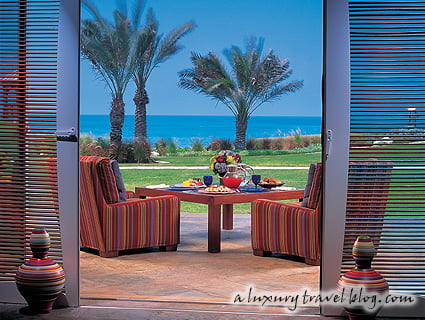 Furnished with some of the world's most stylish accommodation, the villas introduce a Caribbean-style exterior and an infusion of contemporary and Asian touches within the interior design. The 3-bedroom hideaways are housed within 23 villas and their warm, refined atmosphere is characterized by the simplicity of their earth-tone rooms.
Each villa measuring up to 450 square meters is at least 20 meters from the next, so guests have a measure of privacy. Guests of the villa enjoy the services of a Private Lifestyle Butler who provides a sophisticated blend of knowledge pertaining to the destination and the resort facilities. It is impossible not to relax with such attention and in such a tranquil haven where you are never far from a breathtaking view over the Arabian Gulf.