Suite name: Room 211
Hotel: Hotel Claris, Barcelona, Spain
Size of accommodation:  45-50 sq m
Cost per night: 1,096 euros
What makes it special? It is a split-level room and has a sauna, a Jacuzzi, and  several works of art.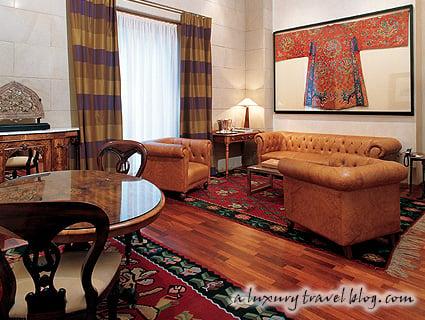 Room 211 is a  Large Duplex  in a  split-level style, completely soundproofed and including a high degree of personal detail  such as  toiletry cases, hair dryers, and bath robes in the marble bathrooms. You can find anything from a Hindu Goddess whose antiquity is of more than 1600 years, original 1812 etchings belonging to Napoleon, 17th Century English furniture, or the modernism of Guinovart. It is equipped with a mini bar, individual air-conditioning and heat, direct dial telephone, internet connection, satellite TV, hi-fi system and inroom safe.