I'm often being emailed for tips by people starting out with a travel blog, but replying to those emails can be a little time-consuming. For this reason, I've decided to jot down my thoughts in a blog post – this way I can simply refer any future similar enquiries here, and hopefully some aspects of this post may also be useful to already-established travel bloggers.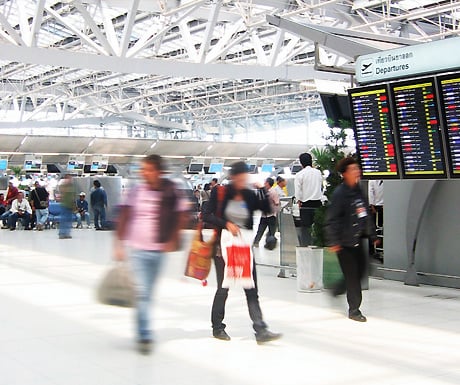 Running a travel blog sounds quite a glamorous job. You travel the world and write about it… what is there not to like? Of course, the reality is somewhat different. Running a travel blog that's truly successful – to the point of making it your job – is a much harder proposition and one that only a very, very small minority of travel bloggers ever actually achieve. So, with so many travel blogs out there, how do you go about running a successful one? Here are my 7 top tips to running a successful travel blog.
1. Work first, monetise later
For the first year or two, the likelihood is that your travel blog is going to be nothing more than a labour of love. When you first start your blog, nobody knows about it but you. With time, you'll no doubt tell your friends, get indexed by Google and – slowly but surely – you'll get the word out to more and more people. But don't expect to make money from your blog right away – in fact, don't even try to. Focus at first my next two tips… finding a niche and content.
2. Find a niche
Don't just be any old travel blog – focus on a particular niche within travel. That might be a particular geographical region or a particular type of travel. Decide on your niche and stick to it.
3. Write engaging content
It probably goes without saying but write articles that you think your readers will be interested in. Use a title for your blog posts that is 'catchy' and stands more chance of being shared and re-tweeted. Don't be tempted by the option of just re-gurgitating press release after press release – invariably, they're not very interesting, but rather just thinly-veiled advertisements. Record personal experiences, or interesting events related to your niche.
Maybe even invite guest bloggers on to your site if they have an expertise in your particular field of travel. If you do go down this route, be wary of allowing them to place unnatural links in their posts – this is something we categorically wouldn't accept as, in so doing, you could risk a Google penalty which would undo a lot of your hard work.
4. Use great – not just good – photography
If there's one thing a travel blog needs besides great content, it's great photos. Invest in a good camera, go on a photography course and try hard to hone your skills. If your budget allows, buy photographs in. If it doesn't, there are resources out there that offer free images but check the smallprint on the exact terms of use.
5. Be active on social media
Engage with people on social media Not in a spammy way, but in a way that enables you to interact with others in the same field, and thus become more widely known. Be nice to people… share their Facebook posts, thank them if they re-tweet you, and so on and so forth. Of course, there are lots of other tools at your disposal besides just Facebook and Twitter – Google Plus, Pinterest, YouTube and more. Find what works for you and use them regularly.
6. Persevere
If you're going to make money from blogging – to the point of making a living from it – you're going to need to work hard. Keep posting on your blog… and keep as active as you can on social media. Be hard on yourself and understand that it's not going to be easy. If you're away and happen to be without internet access, that's no excuse. Plan ahead and do some scheduled posts so the blog keeps ticking over even when you're not at the computer. You don't want to risk losing that loyal reader that keeps coming back day after day just because you decided to have a week's break.
Remember, there are probably hundreds of thousands of travel bloggers out there all looking to get noticed. If you give up too soon, you'll just become yet another travel blog. Blogs need you to post frequently, not only to keep your readers coming back, but also to provide Google with plenty of fresh fodder to index.
7. And finally… monetise, but don't sell yourself short!
Only when you've really become an established travel blogger should you contemplate trying to make money from your blog. There are lots of ways you can go about doing this, be it through affiliate opportunities, advertising (contextual or direct), merchandise and more. But don't sell yourself short. You should say a resounding "NO!" to anyone wanting to place a link on your site for a measly $10 a month. You haven't done all this hard work just to be insulted!
Look at other avenue streams away from your own site also. For instance, as a respected member of the travel blogging community, people may want to hire you to write for travel sites besides your own, you may be asked to be a speaker at travel conferences or hired on a consultancy basis due to your particular area of travel expertise.