Experience the Africa of storybooks and documentaries. Wide open savannahs, herds of wildebeest in search of water and big cat predators tracking them down. Elephants, zebras, lions. This is the great migration in all its glory, in the pristine wild Serengeti. In this particular safari, you'll be staying in two remote regions of the Serengeti.
Singita Explore is a mobile luxury tented camp on a private reserve in the western Serengeti called Singita Grumeti Reserves. It's a premier wilderness area that provides guests with an off-road safari experience in open vehicles. Singita Explore is positioned ideally for the great migration and will often make you feel like you're the only one on the planet. Alone to experience Africa's vastness.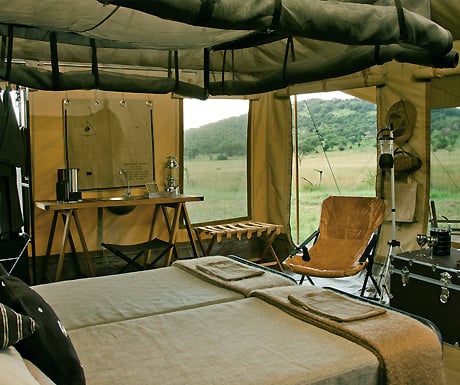 Singita Mara River Tented Camp in a bend of the renowned Mara River speaks for itself. See a photo and you'll be instantly transported. The river filled with crocodiles and hippos is the famous river crossing of the wildebeest so well depicted in documentaries. Newly opened, it exudes access and luxury. Walking Safari, open vehicle game drives, and spot lit night drives will spoil you.
It's the perfect luxury safari. Wake up and place your bid on this African safari trip by 26th March 2013. Donated by Singita Game Reserves and Epic Road, proceeds benefit The Explorers Club, an incredible charitable organization dedicated to the advancement of field research.