The perfect time to explore Ménilmontant and Belleville in east Paris
This colourful, multi-cultural neighbourhood in east Paris, with its ethnic restaurants and thriving art scene, has many parallels with east London.  Once a wine making village outside the city's walls, it was absorbed into central Paris in 1860, first housing people from rural France moving to the city,  and later, immigrants escaping Eastern Europe after the war, or from former colonies in North Africa.  In the 1980s, a large Chinese population moved in and Belleville  is now home to Paris' second  Chinatown, with a great selection of Chinese restaurants, food and other speciality shops.
By the 1990s, the area was attracting many young artists who, drawn by the lower rents,  moved in and set up workshops in old factories.  Today, added to this mix, are many young French professionals ('les bobos' or 'bourgeois bohemians'), also enticed by less expensive housing, as well as the alternative vibe, cosmopolitan energy, and a dynamic art and music scene.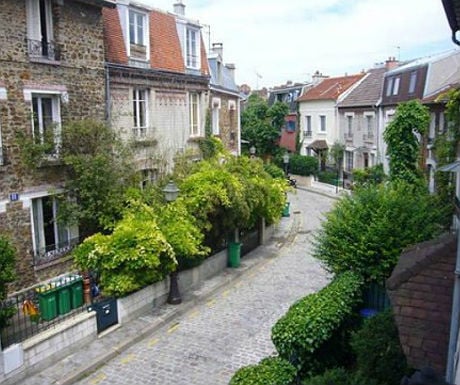 The area also offers some unexpected surprises.  Last year, while visiting a property owner in Ménilmontant, we stumbled upon a small area of Paris I hadn't known existed,  La Campagne à Paris. As its name suggests, it is a little oasis of almost rural calm and beauty in this lively, cosmopolitan area, and a reminder of its countryside origins.  It can be reached via a short walk from the busy Place Gambetta roundabout, to a pathway leading up a hillside to  small cobbled streets lined with charming pastel-coloured houses, many with wisteria vines and small private gardens.  On the way, you can pass by the Place Edith Piaf, named in honour of her in 1978.  The statue of the diminutive singer in the square was unveiled only in 2003, 40 years to the day after her death. Also close by, on the other side of the Place Gambetta  is the entrance to the  Père Lachaise cemetery, which is well worth a visit, and fascinating to discover the memorials to so many famous figures, including  Proust, Colette, Piaf, Oscar Wilde and Jim Morrison.  The park-like cemetery is immense and rather beautiful with its hills, paths and thousands of trees –  quite easy to get lost without a plan of the cemetery to guide you!
At the north-west of the cemetery is the junction of Boulevard de Ménilmontant and Boulevard de Belleville, and a just a short walk to the rue Crespin du Gast, which houses the Musée Edith Piaf.  The museum is in an apartment where Piaf lived at the age of 18, when she sang on the streets of Ménilmontant, and consists of two red-painted rooms filled with pictures, framed discs and objects belonging to the singer. It is open by appointment only from 1 – 6 pm, Monday to Wednesday.   The legendary singer is said to have been born under a streetlamp on close by rue de Belleville, and there is a commemorative plaque at no. 72. From here it is about 15 – 20 minutes walk (or two métro stops from Ménilmontant to Belleville) to the Belleville quartier. 
The Artists' Open House event
 is an annual four day event in May which has been taking place since 1990.  This year's dates are 24th to 27th May 2013.  The Artists' Open House event represents over 200 artists who open their doors to the public from 2pm to 9 pm for the four days, free of charge.  All art forms are represented, ranging from painting and sculpture to photography and videos to street art and performance art.
As well as the obvious attraction for artists and art enthusiasts, visitors are invited to join in the conviviality such an event brings, as well as see the interiors of some of the artists' studios and homes, many of which have been converted from former industrial spaces.  Belleville also boasts its own charming park on a hillside with magnificent views over Paris.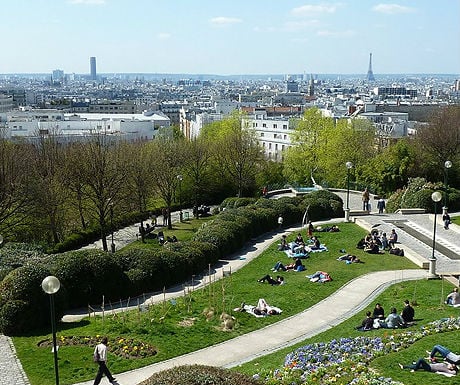 Recommended restaurants close by:
Le Baratin
A favourite local restaurant and wine bar for many years.  The Argentian cook prepares, simple and fresh, yet inventive menus, and there is an excellent wine list, serving organic wines, all at very reasonable prices.  Booking essential.
Address: 3 rue Jouye-Rouve, 75020 Nearest Métro: Pyrenées or Belleville (11) Hours: Closed Sunday and Monday Telephone: 01 43 49 39 70
Le Chapeau Melon
Olivier Camus, co-founder of Le Baratin,  runs one of the most respected caves of natural wine in Paris.  In the evenings, it becomes a table d'hôte. Sunday nights are à la carte, the rest of the week it's a diverse and creative four course fixed menu, with a choice of wines to suit all wallets.
Address: 92 Rue Rebeval, 75019 Nearest Métro:  Pyrenées Hours: Closed Monday and Tuesday Telephone: 01 42 02 68 60
Le Vieux Belleville
This quirky and very authentic Parisian restaurant/ bar, operating since 1992, encompasses music, entertainment and a traditional French menu, where everyone can join in. Of an evening you will be able to enjoy all a traditional repertoire of French favourites, including Yves Montand and Edith Piaf, with song sheets distributed, and accompanied by a singer and piano accordion.  Very popular with regulars and necessary to book!
Address: 12 rue des Envierges, 75020 Nearest Métro: Pyrenées Hours:  Closed Sunday Telephone: 01 44 62 92 66
Susie Marquis is Owner of The City Apartment Book Ltd.
If you would like to be a guest blogger on A Luxury Travel Blog in order to raise your profile, please contact us.
Did you enjoy this article?
Receive similar content direct to your inbox.