By
Lesli Peterson
on May 29, 2013 in
Accommodation
,
Antigua and Barbuda
,
Asia
,
California
,
Canada
,
Caribbean
,
Central America
,
Europe
,
Family Travel
,
France
,
Hotels
,
Mexico
,
New York
,
North America
,
Panama
,
Regions
,
Resorts
,
Singapore
,
Speciality Travel
,
USA
,
Western Europe
,
Worldwide
,
Wyoming
Even the newest members of the family can enjoy the art of fine travel in exotic locations. Baby can enjoy such pleasures as freshly prepared organic baby food, plush crib linens, Maclaren strollers and GUND teddy bears. Mom and Dad will appreciate diaper services, bottle warmers, childproof kits and even a personal butler to help with the new addition. Below are 10 of the most luxurious baby-friendly hotels in the world.
The Ritz-Carlton, Cancun, Mexico
This AAA Five Diamond Award winner provides Itzy Bitzy Baby Rooms to parents with the littlest guests. These specialty rooms include a crib, changing table and miniature hangers, with a TV armoire positioned as not to disturb baby during naptime. Telephones can be programmed to light up rather than ring and "shhh, baby is sleeping" signs let others know to keep voices down. The Protect Our Little Ones Program (POLO) provides guests with tub spout covers, electric outlet covers, and baby-friendly toiletries. Need adult time? Babysitting services can also be arranged.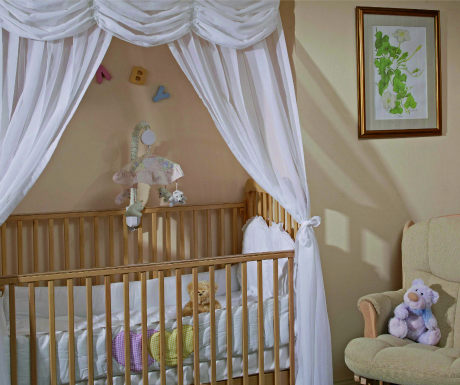 The St. Regis Monarch Beach, California, USA
This Forbes five star resort offers new parents a St. Regis Butler to make traveling with baby as relaxing as possible. Your Butler can assist in carrying baby gear, making coffee for those late nights, and running errands like purchasing organic baby food or laundering diapers. Cribs, high chairs and baby floaties available on request; just text the Butler!
Wander with baby through Central Park, or take her as you shop Madison Avenue sporting a custom designed Maclaren stroller provided by the hotel. Additional baby amenities include a tote bag from Zittle's, the Upper East Side toy emporium, complete with GUND teddy bear. After an afternoon in the city, relax in a family suite with a connecting room as baby naps. Suites contain two full baths, complete with deep-soak tub for mom and the little one to enjoy. Finally, for a night on the town, babysitting services are available.
Imagine opening the door to your suite to find your little one's cot already waiting, complete with a tiny bathrobe and slippers. Bottlebrushes and sterilizers are available if needed. Do you want to relax on the balcony or terrace while the little guest is sleeping? Monitors are available. Don't worry about managing laundry; baby clothes are always laundered free of charge. Should you run out of supplies, the hotel shop offers diapers, wipes and formula. For infants on solid foods, the staff is eager to puree the island's fresh fruit and veggies. Babies over six months can be cared for through the certified "Crèche" program.
Imagine enjoying your new baby in a suite or apartment-style room overlooking the Eiffel Tower. Your private housekeeper will arrive each morning to prepare breakfast so that you and the little one can soak up the sun in the private garden. She will also help with running errands for baby, if needed. You will have no need to worry about a crib, highchair, stroller, or baby monitors; they are all provided. Changing mats and baby toiletries are available when you arrive.
Arrive to the beautiful Santa Catalina via chartered helicopter or rental car, and travel to Hotel Santa Catalina -the most luxurious accommodations in the area. This boutique surf lodge frequently hosts world-class surfers and their families, but also welcomes those who enjoy diving and fishing, and families who come to relax and enjoy simple contact with nature. While some requests must be made in advance, your little one will enjoy the use of pack n plays, running strollers, in-room highchairs, and swings with a view of the Pacific Ocean. Should you need a break from the sandy beach, a baby inflatable pool and selection of baby toys are available. The staff can prepare homemade organic baby food, as well. When you are ready to catch the surf, babysitting or nanny services can also be arranged.
Trump International Hotel & Tower, Toronto, Canada
This five star icon of luxury towers 65-stories high and boasts the mantra, "There are some things you just can't overdo." This philosophy extends to the care and convenience of your little one. Baby will feel at home in a crib with plush linens. Mom and Dad will enjoy the use of a rocking chair, shaded stroller, and pack-n-play. For care that feels like home, take advantage of baby monitors, humidifiers and a Diaper Genie. Trump Baby Attache™ includes complimentary services such as pre-stocking supplies and baby proofing the suite, reserving a nanny, and providing baby-friendly activity ideas such as children's museums and mommy-an-me classes.
Swissotel Merchant Court, Singapore
Mom and Dad unwind in their suite, knowing that baby is safely slumbering in the adjoining Kids Room. Catering to children infant to four-years old, Kids Room amenities include a baby crib with linens, and play corner with age-appropriate toys. You will feel at home with a changing station and diaper disposal system. Cater to your munchkin with baby bath products and towels, bottles and bottle warmers, and soothers and bibs. Upon your request, take advantage of strollers, high chairs and portable baby monitors.
Ixtapa Pacific Club Med Resort, Mexico
Enjoy all-inclusive luxury at the beach with a view of the mountains on the horizon. Club Med's Baby Welcome Program provides guests with highchairs, cribs, and strollers. Bottle warmers and baby bathtubs are also available. Restaurants provide a Baby Corner with foods for baby, as well as a microwave and mixer. During the day, Baby Club Med provides love and care – and regular naps – for your baby over four months. Certified babysitters can continue watch over you little one during the nighttime hours with the Pajama Club program, giving mom and dad a carefree night on the town.
Four Seasons Resort Jackson Hole, Wyoming, USA
It is possible to enjoy an adventurous vacation with a new baby. You can snowshoe with a baby in your backpack, or ski with a baby chariot trailer; backpack and chariot are available for rental. Wild safaris in a Mercedes SUV are perfect for baby since they are warm inside the vehicle. In summer months, include a gourmet picnic stop on your adventure so the little one can enjoy the mountain air. Back at the resort, take advantage of cribs, baby baths, child-proofing equipment, highchairs, strollers, and baby hangers. You will also find complimentary diapers, formula, bottle warmers, baby toiletries and other necessities. Finally, the concierge can arrange for breast pump rental, and freeze milk, helpful to nursing moms while using the childcare services.