The top 10 priciest private jets owned by wealthy Nigerians
It is ironically easier to connect Africa to other continents of the world as opposed to connecting Africa with Africa using commercial airlines. There are many factors that hinder the smooth running of this process. Some of these factors include the massive size of the continent, the geo – political factors and the developing infrastructure. Due to these factors
private jet
travel is now more of an investment, rather than a symbol of status. Even though the private jet industry has seen a downturn in sales due to the global economic and financial crisis, surprisingly the number of private jets sold in Africa has escalated considerably.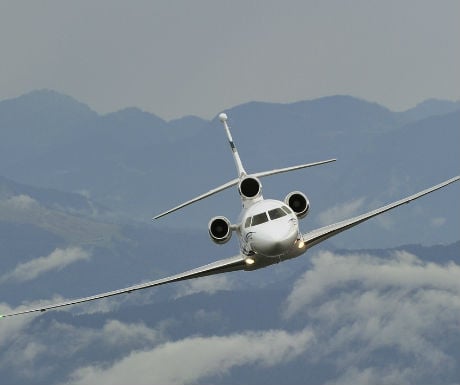 Currently, there are 400 jets in the country. According the African Business Aviation Association this figure could rise to a significant 600 if you have to consider jets that are registered offshore and leased back to their owners. A large part of this situation is the fact that Africa has become quite an appealing market for investors, especially those in Asia countries. Experts comment that the country is rich in size and resources making it the ideal emerging market. Economic growth in both the telecommunications, energy and minerals field is the reason why people see a need in flying to and from the continent. Huge corporations are willing to pay the extra costs involved in private jet flying as the convenience of fast and secure travel outweighs the travelling costs involved. The benefit of travelling by private jet for businesses are unlimited, however there are a few concerns with this.
South Africa
is a dominant player when it comes to private jet ownership, however, lately it appears that Nigeria is competing for this title. The number of private jets owned by Nigerians amounts to a whopping 6.5 billion dollars as stated in the Nigerian national newspaper punch. A survey conducted in 2007 showed that there were 20 private jets owned by Nigerians, but a recent survey conducted shows that there are now 180 private jets in Nigeria. Nigeria has also recently reviewed its National Civil Aviation Policy and it is decided that jets registered abroad will only be allowed to stay in the country for a maximum of 15 days. Other regulations have come about from this review and one of them states that jets will not be used for commercial purposes. Nigeria is also a booming and fertile ground for private jets. The country is second only to
China
in this regard. However, if private jet sales continue to flourish in Nigeria, they may very well blow China's ship out of the water. According to the Encomium magazine in 2012, the top 10 wealthy private jet owners are as follows:
Mike Adenuga who owns a Dassault Falcon 7X worth 51 million dollars
An unknown person who owns a Bombardier Global 6000 worth 45.5 million dollars
Aliko Dangote who owns a Bombardier Global Express 5000 worth 45 million dollars
Bishop Oyedepo who owns a Gulfstream G550 worth 40 million dollars
Bishop Oyedep & Pastor Adeboye who own a Gulfstream V worth 30 million dollars
Mike Adengua who owns a Bombardier Challenger 604 worth 30 million dollars
Ifeanyi Uba who owns a Embraer Legacy 650 worth 30 million dollars
Dr Kashim & Sir Aremu Johnson who own a Hawker 900XP worth 20 million dollars
Bishop Oyedepo owns a Gulfstream G450 worth 15 million dollars
Bishop Oyedepo & Dr Kashim own a Learjet worth 13.3  million dollars
Many newly registered private jet owners are looking to finance their jets by providing air charter services and this means bad news for charter companies and their staff. For Nigerians this is good news because the country already has a vast number of multinationals who operate in various remote locations, creating a need for aircraft charter services. Africa will remain the predominant battleground for jet manufacturing companies in future years.
Jack Lockyer is Digital Marketing Manager at Chapman Freeborn.
If you would like to be a guest blogger on A Luxury Travel Blog in order to raise your profile, please contact us.
Did you enjoy this article?
Receive similar content direct to your inbox.