Recipe of the week: Chicken and shrimp curry
'Kari' means sauce in Tamil. In English we call it 'curry'. In Mauritius, they call it 'cari'. The Mauritian cari can be done with various ingredients: game, fish, lamb, chicken, seafood or vegetables. The preparation of cari involves two steps: the first step is to prepare the garam masala which is a mixture of cinnamon, clove, cumin, cardamom and pepper. This mixture of spices is grilled to enhance its flavour and then crushed. You can keep them in a sealed jar. The second step is to mix the dry spices to the fresh seasoning; for example, turmeric, coriander leaf, garlic, ginger and fresh curry leaf. This mixture of fresh seasoning will give any dish a unique taste. Now that the spices are ready, you are now ready to follow the next recipe or create your own culinary creation. This recipe serves just one person.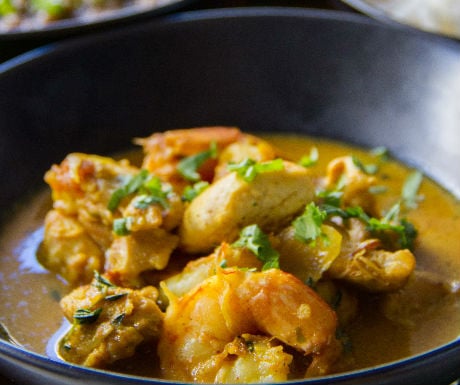 Ingredients
1 piece of chicken leg (without bone and skin) 30g shrimps (head and skin off) 1 piece of onion 2 pieces of chopped garlic 1 piece of chopped ginger 4 stacks of chopped coriander 4 stacks of thyme 1 piece of diced tomato 1 tablespoon of curry powder ½ coffee spoon of turmeric powder Red chilli powder to taste ½ coffee spoon of cumin powder 5cl fresh coconut milk 5 pieces of curry leaves Salt and pepper to taste
Directions
Cut chicken into 4 pieces, season and then pan fry for 5 minutes in a hot pan. Reserve. Cook with oil: onions, garlic, ginger and spices for 10 minutes. (Lightly brown colour). Add diced tomato, thyme and curry leaves. Cook on a low heat for 5 minutes. Add coconut milk. Add chicken, then cook on a low heat for 15 minutes. Add water or chicken stock if necessary. Add shrimps then cook for another 5 minutes and add fresh chopped coriander. Serve hot with plain rice.
Thank you to Jacques Ledu, Head Chef at Sofitel So Mauritius, for the recipe.
If you have a recipe you would like to share with  A Luxury Travel Blog's readers, please contact us.
Did you enjoy this article?
Receive similar content direct to your inbox.