5 of the best luxury family holiday destinations
Planning the perfect family holiday can be difficult at the best of times; choosing where to go, where to stay, what to do, and so on and so forth. We've picked our top five luxury holiday destinations packed full of adventure and perfect for a family trip, guaranteed to tick all the right boxes.
South Africa
What better place to take your family than on a real adventure to South Africa, the safari capital of the world. A whirlwind expedition to the breathtaking  African plains takes you to some of the most incredible places to experience the diverse wildlife – keep an eye out for white rhinos, giraffes, zebras and cheetahs to name but a few.
Samara, one of the country's largest luxury private reserves has everything to guarantee you have a truly authentic safari experience. One of our favourite trips is a ranger-led drive through the mountain pass to stunning panoramic views of the grasslands and the abundant wildlife they hold. Quad biking through the plains is the best way to explore the landscape and get the adrenaline pumping, and world class polo facilities at your feet is a sure winner.
The Elephant Sanctuary
is a must – nothing will warm your heart quite like a baby elephant. And for the more intrepid explorer, some of Africa's deadliest snakes can be found in the snake sanctuary, albeit behind glass (thankfully).
Isles of Indonesia
With some of the most beautiful and untouched islands across the globe, an island hopping trip to Indonesia is sure to satisfy your inner Robin Crusoe. Think white powdery beaches, azure blue waters and luscious jungle covered mountains, these beautiful islands are bursting with quirky trinket ridden markets, delicious cuisine and a laid back vibe; perfect for unwinding. Of course with its many islands you'd never be spoilt for choice in Indonesia, but we've selected some gems. Our pick of Indo's Isles starts with Bali – of course. A winning combination of Balinese culture, boho-beach atmosphere and the impressive surf makes for the perfect island getaway, and top it off with a ride on a majestic Indian elephant.  Nestled in-between Bali and Lombok are the Gili islands, a more remote island destination with a stunning diversity of marine life. This, in our humble opinion, is one of the best places for snorkelling, or
scuba diving
, for the more intrepid sea goer. You'll have three tiny islands at your fingertips, so hop on a ferry to lose yourself on a deserted beach.
Last but by no means least, is Lombok, and stunning luxury boutique hotel Tugu which is well worth a stay. We highly recommend a trip up to Mt Rinjani – Indonesia's second highest volcano – to explore the depths of the caves, wallow in the hot springs of the deep blue Crater Lake and for incredible views across the Wallace line to neighbouring isles Bali and Sumbawa.
Sri Lanka
Beautiful tea estates, incredible national parks and historical fortress towns, Sri Lanka is bursting at the seams with things to discover. A recent find of ours is
luxury hotel
Kahanda Kanda
– a short trip inland from Colombo and overlooking Koggala Lake in a 12 acre tea estate. This charming hotel is immersed in tropical flora and fauna, blossoming gardens and has superb views of rolling tea-covered hills. Learn about the origins of your morning brew and absorb the nearby cultural hot spots, before taking a dip in the Indian Ocean. The nearby fortified town of Galle boasts impressive beaches, not to mention breathtaking views of the sun setting over the sea – you might even spot a migrating whale.
A luxury mobile tent safari is a top trip and you're guaranteed to spot much of the diverse wildlife inhabiting Sri Lanka's national parks. Ten percent of the world's wild elephants call this country home, along with leopards, iguanas, monkeys, crocodiles and abundant birdlife, along with many more. Dining under the stars doesn't get much better than this.
USA
For a real American experience head to the south western states. Where better than to begin your trip dazzling at the bright lights of Las Vegas – get a taste of the American dream and indulge in all that the brightest city on earth has to offer. After a stint in the city of lights we recommend you pay one of the seven natural wonders a visit. 277 miles long and over a mile deep, the Grand Canyon (even grander in real life) possesses some of the most awe-inspiring views you could ever imagine. A spectacular bolthole and a favourite of ours is
El Tovar
, which has been sitting right on the Canyon rim since 1905. Beautifully rustic, this really is the perfect place to immerse yourself in the wondrous settings.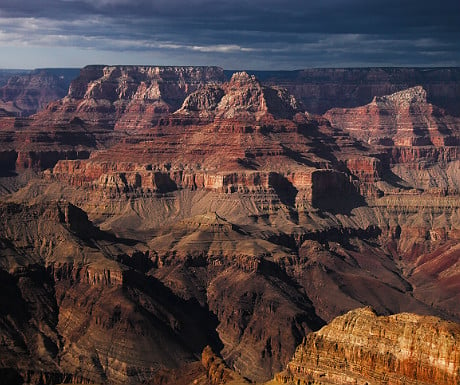 Whether you choose to explore the canyon by bike, helicopter or on the Colorado River, perfect for white water rafting, you'll be blown away by the vastness and beauty of the Grand Canyon. Discover the land of the Native Americans at Lake Powell in Utah – situated on the border of Colorado, New Mexico and Arizona. Take a scenic helicopter flight over the Vermillion Cliffs and Navajo Mountain, hike through Boynton Canyon to discover the medicinal properties of local plants and make like a real cowboy and take a guided horseback ride through mountain passes to hidden glassy lakes.
Costa Rica
A holiday that ticks all the boxes is Costa Rica; Central America's adventure playground, and you won't be disappointed. Turtle spotting in the Caribbean, zip lining through the rainforest, surfing in the pacific and exploring Costa Rica's most active volcano, this often forgotten country is action packed to say the least. Get back to nature and cruise the meandering rivers, discover the rainforest and its inhabitants – look out for toucans, sloths, monkeys, and witness the beautiful endangered green turtles nesting on the shores of Tortuguero. Our favourite luxury eco-retreat,
Pacuare Lodge
finds you immersed in the jungle, with the sounds of the river and candlelit cuisine to ensure ultimate relaxation.
For a real adrenaline kick, jump on a zip wire above the jungle canopy and rush through the rainforest, with remarkable views of Lake Arenal and Arenal Volcano or get canyoning – hike and rappel a slot canyon beneath the mighty volcano. From white water rafting and surfing the pacific waves to pristine beaches and lush rainforests, Costa Rica really does have all you need for a memorable family getaway.
Tom Marchant is Co-founder of Black Tomato.
If you would like to be a guest blogger on A Luxury Travel Blog in order to raise your profile, please contact us.
Did you enjoy this article?
Receive similar content direct to your inbox.