The longest commercial flight to date is courtesy of Singapore Airlines from Newark to Singapore, which lasts an unbelievable 18 hours and 50 minutes. For some, the idea of spending almost an entire day in the air sounds absolutely miserable, but if you're armed with the right products, you may actually enjoy yourself! Here are five of the best products to leave you feeling rested and refreshed after 12-plus hours in the sky.
Cashmere travel set
Airplanes are notoriously cold, and there's nothing worse than shivering for eight hours when all you want to do is sleep. Why place your trust in a thin blanket from an airline (and let's face it, some airlines aren't even providing them anymore) when you can invest in this cashmere travel set from Ralph Lauren? The luxurious Cabled Cashmere Travel Set contains a blanket and eye mask which come in a zippered bag that doubles as a pillow. The set comes in grey, navy blue or black and can be personalized for free. $395.00.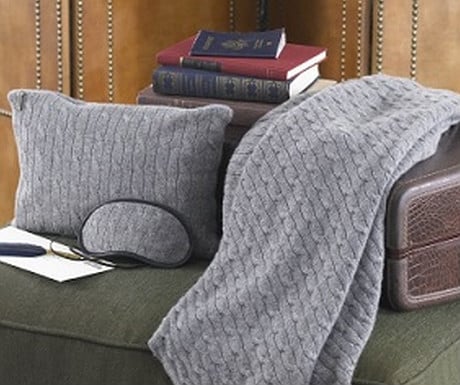 Noise-canceling headphones
The brand new Studio headphones from Beats by Dre are a traveler's dream. Lightweight, durable and comfortable, the Studio headphones are built for the most active road warrior. Frequent fliers will love the precision sound and Adaptive Noise Canceling capabilities, but what makes these headphones a requirement for long haul flights is its 20-hour rechargeable battery. The Studio headphones are compatible with all cell phones and feature inline remote control, allowing the user to adjust volume, play/pause, skip forward/back, change playlists, as well as answer/end phone calls and switch between calls on an iphone. Beats Studio headphones are available in black, white, red and blue. $299.95.
Moisturizing skincare
The humidity in airplanes is at a super low 10 percent, which can wreak havoc on your skin on a long flight. In addition to staying hydrated with water and juice throughout your flight, it's a good idea to invest in moisturizing skincare products like the hypo-allergenic Boots No7 brand. Before departure, use the No7 Beautiful Skin Quick Thinking Wipes with vitamin B5 and Witch Hazel to cleanse and remove impurities all in one step. On board, dab on the No7 Beautiful Skin Rich Hydrating Eye Cream with vitamin E, vitamin C and Shea butter to prevent puffiness, as well as No7 Protect & Perfect Night Cream for intense hydration. Finally, upon landing at your destination, use the No7 Beautiful Skin Vitality Eye Roll-On to instantly eliminate puffy eyes and brighten dark circles. Products range from $6.99 to $20.99.
Sleep aid
Sleeping on a plane isn't the easiest task in the world, so you may need the help of a light sleep aid. ZzzQuil is from the makers of Vicks NyQuil, but does not contain cold medicine and is meant to treat occasional sleeplessness. The ZzzQuil LiquiCaps are the best for traveling (no mess!), work quickly, are non-habit forming and best of all, don't leave you feeling groggy when you wake up. If you prefer a holistic approach, try caplets of the Melatonin hormone to help regulate your sleep cycle. $4.49.
Pajamas
Speaking of sleep, one of the best ways to get as much of it as possible is to be as comfortable as possible. If the idea of wearing the same clothes for 24 hours grosses you out, consider packing a pair of lightweight pajamas. The loose fit of sleepwear will help with your circulation, as well as help stabilize your body temperature so you can fall into a deep sleep. We love the classic look of the J.Crew Vintage Pajama Set for women, and the Cotton Poplin Pajama Set for men. $79.50 and $69.50 respectively.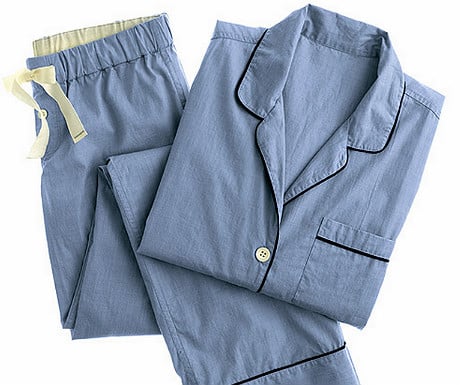 Dr. Fresh Toothbrush Travel Kit
Having fresh breath is directly related to feeling refreshed. Toss one of these handy Dr. Fresh toothbrush and toothpaste travel kits in your bag so you can brush before and after sleeping and you'll feel much better. We're sure your seatmate will appreciate it too! $3.50.