By
Paul Johnson
on Sep 06, 2013 in
Accommodation
,
Europe
,
Food and Drink
,
Going Out
,
Hotels
,
Italy
,
Regions
,
Restaurants
,
Travel Miscellany
,
Western Europe
Whilst Italian cuisine is one of the most popular in the world, doing it well remains to be a rare art form. This authentic Italian recipe may not be the easiest, but this recipe for ravioli all'amatriciana is a must-have for all foodies with a taste for il Bel Paese. Rich with traditional Italian cheeses, sweet from the balsamic vinegar and crispy from the sautéed pork cheek, your ravioli all'amatriciana will be sure to impress. Enjoy!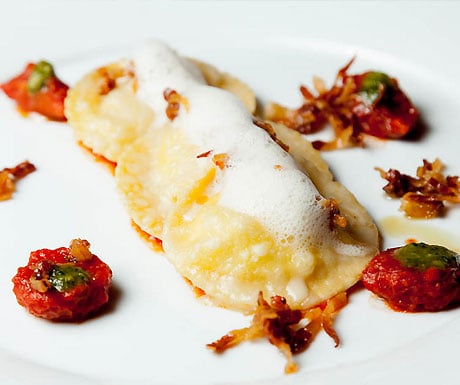 Ingredients
Ravioli
300g corn flour, plus extra for kneading and dusting
3 large eggs
Filling
300g Burrata Cheese
100g Ricotta Cheese
100g Parmesan
20g Salt
2 egg yolks
Amatriciana sauce
3 tablespoons of extra-virgin olive oil
115g guanciale or unsmoked bacon, cut into 1×1/4-inch strips
1 inch of dried peperoncino or 1/4 teaspoon dried crushed red pepper
2 tablespoons balsamic vinegar
454g (1 pound) of cherry tomatoes
40g pecorino romano
Directions
1) For the filling, put the cheeses, salt and pepper in a blender and pulse. Add the egg yolks and pulse until smooth.
2) For the pasta, place the flour and a pinch of salt in a food processor and crack in the eggs. Pulse until mixture forms sticky-looking crumbs. Turn the mixture out onto a lightly floured surface and bring together to form a firm dough. Knead for 5 min until the dough feels smooth, wrap in cling film and chill for 30 min. To make by hand, shape flour into a 'ring' on a work surface, crack eggs into the middle, then gradually work the flour into eggs using your fingers.
3) Cut the pasta into quarters, then roll out each piece using a pasta machine. Dust with flour as you go and move it down a notch onto a thinner setting every second roll. Continue until you get to the penultimate setting. If you like your pasta very thin and delicate, you can go for the thinnest setting. If you don't have a machine, use a heavy rolling pin to roll the dough as thinly as possible.
4) Cut out circles using a ravioli cutter – work quickly so the pasta doesn't dry out. Lay the circles on a semolina-dusted surface and cover with cling film as you cut the rest.
5) Place a small table spoon of filling in the centre of each circle. Dampen the edges with water, then sandwich another round on top. Use your fingertips to seal the edges, trying to expel all the air as you go. Lay the ravioli on a semolina-dusted tea towel to dry for a few min.
6) Cook ravioli in a large pan of gently boiling salted water for 4-5 min. Do not use a full rolling boil as it is likely to make ravioli split. Drain and serve with Amatricia sauce.
7) To make the sauce heat 1 tablespoon oil in heavy large saucepan over medium heat. Add half of guanciale and sauté for about 5 minutes until crisp. Transfer guanciale to paper towels to drain (do not clean the saucepan). Reserve the meat for garnish.
8) Add 2 tablespoons oil to same saucepan over medium-low heat. Add pepperoncino and sauté until darkens for about 2 minutes; add the remaining guanciale cook for about 10 minutes until its fat has rendered. Stir in balsamic vinegar and cook 1 minute. Add tomatoes and simmer 6 minutes. Season sauce with salt and pepper and sprinkle with pecorino romano.
9) Enjoy!
Thank you to Antonio Vitale, Head Chef at the Café Romano Restaurant at the Hotel d'Inghilterra in Rome, for the recipe.
If you have a recipe you would like to share with  A Luxury Travel Blog's readers, please contact us.