By
Paul Johnson
on Sep 17, 2013 in
Accommodation
,
Air Travel
,
Eastern Europe
,
Europe
,
Family Travel
,
Featured
,
Food and Drink
,
Going Out
,
Lithuania
,
Regions
,
Resorts
,
Restaurants
,
Special Features
,
Speciality Travel
,
Travel Miscellany
When we told friends that we'd be going to Lithuania this Summer, they invariably looked at us with surprise. Not only had we never visited the country before, but it soon emerged that we didn't know anyone who had, either. Lithuania, of course, is a relatively new country, and one where tourism hasn't yet fully developed, but we're glad that we didn't let that deter us. We also hope that this account or our own personal visit might inspire others to make a similar trip.
On arrival at Vilnius Airport, we made a 45 minute transfer to IDW Esperanza Resort, with a brief detour en route to take in Trakai, the former capital of Lithuania. Here we got a glimpse of the impressive Trakai Castle, situated on an island in Lake Galvè, as well as the World Rowing Junior Championships which were taking place at the time of our visit.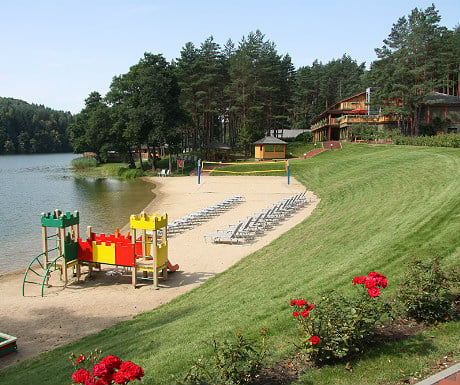 Our final destination, IDW Esperanza Resort, a member of Small Luxury Hotels of the World, was just 10 minutes further on, and consists of eco-friendly buildings of Canadian cedar wood construction. (The resort gets its name from IDW Global – the main family business of making mannequins for the likes of Chanel, Christian Dior, Louis Vuitton and other well known luxury brands.) We were shown to our room (number 212) which was a spacious two bedroom, one bathroom, family suite, on the second floor with views towards the pine forests that dominate the region. (Incidentally, did you know that around 30% of Lithuania is covered in forest?)
Before unpacking, we went for a little explore and were casually informed that there was an opportunity to see the resort from the sky. Moments later, we were in a helicopter, soaring above the resort and taking a short journey out towards Trakai which we'd passed earlier (which, by helicopter, was just 5 minutes away).
As you can see, the view over Trakai was impressive!
As we returned, the sun was getting lower in the sky and it proved to be a great opportunity to capture a few more dramatic shots.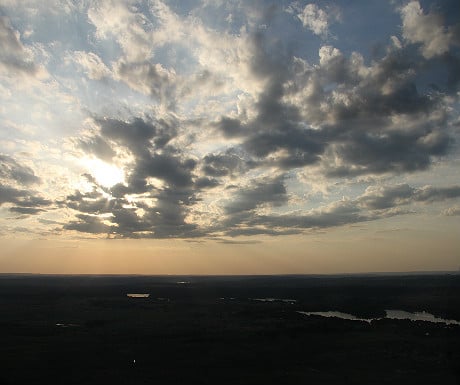 That evening we were able to dine al fresco at the resort (at La Esperanza). Temperatures were very pleasant, rising to a high of 34 degrees Celsius (93 degrees Farenheit) one day, meaning it was still very pleasant outside come the evening. It was only on our final night when a storm was brewing that we moved inside to the bar and restaurant.
The menu consists of a wide variety of dishes with a handful of Lithuanian options. Try the cold beetroot soup served with boiled potatoes for a light lunch and to sample a traditional dish.
A refreshing glass of Švyturys – a Lithuanian beer brewed in Klaipėda – is recommended also.
There was also a wide choice of salads in the restaurant, a commendable choice of fish given Lithuania only has a limited amount of coastline, and plenty of meat options. To give you a feel for what to expect, here's an array of dishes that we particularly enjoyed during our stay:
Canadian wild harvest lobster served with a green salad, homemade tagliatelli and a Perigord tuffle butter sauce
Kamchatka king crab from the Bering Sea au gratin, served with fresh green herbs and garlic butter, and fresh salad leaves
Whole organic roasted wild Nantaise duck with roasted Amandine potatoes, apples and a Burgundy red wine sauce with thyme (serves 2)
Snails helix pomatia 'a la Bourgogne' (baked snails in a garlic and herb butter), with garlic buttered toast and salad leaves
Fish tempura with a classic tartare sauce
The resort's website describes the food as "a fusion cuisine which combines elements of French, Italian, Mediterranean, Chinese, Korean-Japanese, Western and Lithuanian traditions". Of course, the pictures only really convey the presentation and not the taste, but I can tell you we thoroughly enjoyed all our meals there. At the weekends during the Summer, there is an additional dining option closer to the lake, at La Costa – a grill bar serving steaks, fish, ribs and seafood. On our last evening, we also got to have a peek at the wine cellar where more than 700 wines are stored.
In addition to the excellent dining options, there is lots to see and do. As far as families are concerned, you needn't even venture out of the resort (although we did – more on that later). We went rowing on the lake and borrowed a fishing rod. We were out of luck when trying to fish from the boat but quickly caught a couple, using sweetcorn as bait, when trying from the jetty. For the keener fisherman, there are much larger fish – such as pike and carp – and you can even take your catch to the restaurant if you so wish. Our catch was rather modest so was thrown back in!
In the grounds of the resort, we also went running and cycling. There are good paths within the woodlands for this, and a small aviary there too, housing all sorts of exotic birds. Also outside, there is tennis, volleyball, a football pitch, and plenty of water-based activities, whether it be swimming or passing the time of day on a pedalo.
At the resort itself, we took advantage of the gym, whilst our children played in the games room next door.  The latter included table tennis and even two 10-pin bowling alleys which we played on together.
Perhaps one of the highlights of our stay was experiencing a Russian banya – a kind of a cross between a bath and sauna. For this, we wore special felt hats (designed to protect your head from the heat) and were thrashed with venniks (bunches of leaves – in our case, oak, but often also made of birch), interspersed with occasional dips in the lake to cool off.  You'll have to excuse the photograph due to the high humidity, but hopefully this gives a small insight into the experience!
If you visit, I'd highly recommend it.  We were fortunate to be there in the Summer – if you visit in Winter, you still cool off in the lake, only they cut through the ice to allow you to do so!
If you are seeking something more familiar, then the resort has a spa offering a host of spa and beauty treatments.  I had a Thai massage, the benefits of which I continued to feel for weeks afterwards, whilst my wife enjoyed a facial, manicure and pedicure which was carried out meticulously.
On our final day, we visited Trakai and Vilnius. Of course, we had already seen the castle at Trakai on our arrival – it is a red fortress with a largely Gothic style, made of clay, rather than stones or rocks. There have been five periods of re-building at Trakai due to various wars over the ages. In the eighteenth and nineteenth centuries, it was largely neglected but has since undergone a period of reconstruction (from 1929 to 1987) to bring it to its current glory.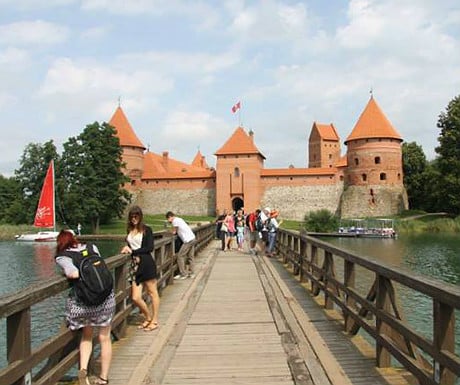 In the castle's reception hall there is a picture of people in traditional Lithuanian dress and, hidden within the image, is a picture of a Trakai Castle; legend has it that if you can spot the castle within the picture, then it will bring you happiness for the rest of your life.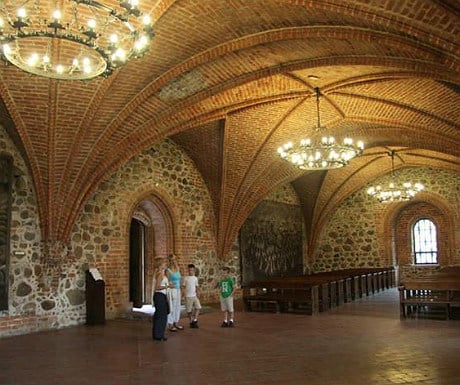 Back outside, we were fortunate to catch a glimpse of some people in Lithuanian dress since our visit co-incided with a traditional festival.
After Trakai – and a quick taste of kibinai (a Lithuanian food much like a Cornish pasty that we have here in the UK) – we went to Vilnius where it soon materialised that a day was never going to do it justice. In the capital, there is just so much history and so many places of interest. We learnt all about the city's history and how it was first established by Gedimenus, Grand Duke of Lithuania. On the way in, we took in Vilnius University Library (where there are 7 million books, so more than two per head of the entire country's population) and the financial district. We then followed the River Neris for a short distance and saw the White Bridge which the acrobatic pilot Jurgis Kairys famously flew under back in September of 1999 (you can see the footage here on YouTube.
We stopped at the Church of St. Peter and St. Paul, widely considered to be one of the most beautiful buildings in Vilnius. It took 8 years to build, but then a further 30 years to finish the inside.
The interior of the church had extensive, detailed plastering throughout – apparently one of many key ingredients for this stucco mix was egg whites (used to help with the binding), and the scale of the work is such that whilst the interior was being completed, it wasn't possible to buy eggs anywhere in the nearby vicinity! The details, as you can see, are impressive and, if you look closely at the top of this cupola, you can see the face of God.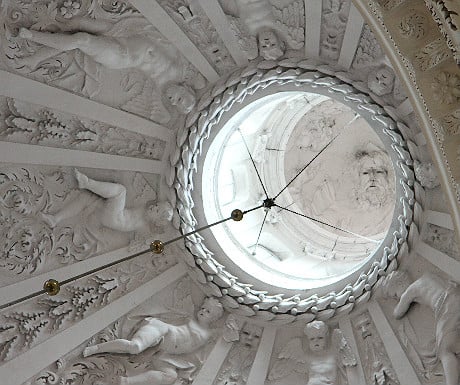 After a visit to the Old Town, the Amber Museum-Gallery and a viewing point on the outskirts of the city, it was back to IDW Esperanza Resort where we rounded the day off by jumping off a jetty and into the lake – a relaxing end to a busy day! The trip had been a great introduction to Lithuania for us.  If you haven't yet visited the country for yourself, we recommend that you do so – there is so much to see and do, and the Lithuanian people are fiercely proud of their country so only too proud to show it off to you.