The quintessential British ambiance of an afternoon tea at sea epitomises luxury in every sense of the word. Although the grandeur of today's modern day cruise vessels is undeniably attractive, the heart and soul of this wonderful method of seeing the world still lies in the age old traditions. Imagine white gloved waiters with a smile from ear to ear, meandering the dining room floor, ensuring that every little detail is pristine. Dainty teapots, fine china trays, immaculate floral arrangements and superb selections of sandwiches and sweets are just a few examples of sights to behold when the clock strikes 3pm on board.
The afternoon tea tradition derives from the 1840s when at the time, Anna; Duchess of Bedford began to find the wait for an 8pm dinner hour a bit of a struggle and so requested that a cup of tea and small piece of cake be provided at 4pm each afternoon. This request became a regular occurrence before spreading into the surrounding areas, soon to become a British institution that would go on to influence many a day at sea.
The tradition has struggled to maintain its prominence and routine in the modern lifestyle but has never lost its appeal on board. The aristocratic pleasure is loved by all who sail as a testament to a custom that despite being somewhat lost on land, remains a wonderful occasion to enjoy at sea. Even passengers who are usually not a fan or would not consider taking the time to enjoy afternoon tea find themselves captivated by the sense of occasion when on board a cruise ship. Not many passengers will turn down the chance to enjoy the ritual and simple pleasures of sipping a tea and tasting a collection of bite-size treats.
Cruise lines put their own spin on the tradition of afternoon tea in many different ways. Some believe the ritual has lost its elegance at times and refer to the occasion as more of a DIY buffet rather than luxury offering but this is certainly not the case with all cruise lines. Hence our desire and attraction to discuss the best luxury cruise line afternoon teas. Some cruise lines are better than others but often these spectacular services are true highlights of a cruise. Below are ten afternoon teas to light up your luxury cruise holiday.
Cunard provide an exquisite afternoon tea experience and are somewhat masters in refining this timeless tradition. The cruise line earns its place in our top ten thanks to its charming British heritage. Teatime aboard the Queens really is legendary and can be enjoyed each day from 3.30pm to 4.30pm in various locations on board.
The locations vary depending on the ship you are sailing aboard but one thing remains the same and that is the sublime thought and precision put into serving up a true masterpiece. Without a doubt, the two best places to head for are the enchanting crystal chandelier-clad ballrooms and the intimately captivating Grill lounges. Due to the popularity of these events, be sure to arrive a little early as this will ensure you avoid the queues that will undoubtedly form when the aromas of the cakes begin to float around the ship.
The on-board tea sommelier will assist you with deciding on the perfect choice for you. Twinnings and Wedgewood are popular choices with Cunard as well as the options of mint, celon, jasmine nd orange pekoe. If you simply cannot last till dinnertime then never fear as you will also have the chance to enjoy an excellent array of sandwiches followed by scones with clotted cream and jam, doesn't sound too bad does it? When combined with a delectable atmosphere and the elegance of the white-gloved waiters, Cunard really do serve up a treat.
Next on our list is the ever popular Regent Seven Seas with their own glamorous take on this loveable ritual. All three ships in the fleet will provide an afternoon tea service from 4pm onwards and the events are held in various lounges on board. Alongside the fabulous sweet creations, Regent include a "signature" musician in the programme of the daily event. The musician is often a pianist or guitarist to help set the mood for the afternoon and promote relaxation. Regent prefer to offer a more overall experience and so as well as the musicians, the cruise line also create a friendly competition in the form of trivia sessions during the afternoon tea service.
The spread is always fantastic and includes tantalising features such as a glorious selection of finger sandwiches, pastries and of course an excellent choice of teas and coffee. Regent once again enhances the experience for guests however by also incorporating theme days and specific theme delicacies into the events. Theme delicacies include sumptuous offerings such as crepes whilst theme days will include a cupcake buffet and Regent's chocolate teatime, famous for its tremendous choice of chocolate desserts.
An absolute must when cruising with Seabourn, afternoon tea is a special occasion on board and as such the cruise line goes all out. Commencing at 4.00pm each day, except for embarkation days, guests are invited to the Observation Lounge. Here you will be seated to a silver and china laden table before glancing at the exceptional tea menu. Not content with providing passengers with common tea selections, the cruise line have clearly put a great deal of thought into this experience and provide a phenomenal range of choice. A tea connoisseur has clearly been put to work on board as passengers can choose from a great range of teas including rare treasures such as African amber, mandarin rose petal, ginger twist and organic mint melange, Himalayan peak Darjeeling and acai black tea.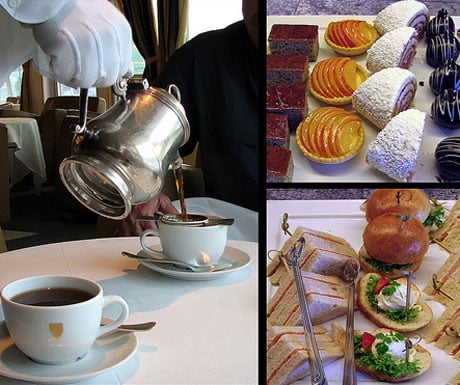 Tea choices are accompanied by a fine selection of finger sandwiches, pastries, cakes and much more, whilst coffee lovers need not worry as their preferences will also be more than catered for. Finger sandwich choices are nothing short of special and include specialities such as marinated shrimp on focaccia and the hugely popular roast beef, remoulade and cornichon croissant.
Time for Silversea and their stand out performance in the league of afternoon teas certainly takes them close to the top. This is because not only do you have the pleasure of enjoying afternoon tea in an array of exquisite lounges on board, you can also enjoy a full service in your suite, should you so desire. The cruise lines take afternoon tea to the next level. In public areas, the afternoon tea service commences at 4.00pm and depending on the cruise vessel you are aboard you will be welcomed to the La Terrazza, the Panorama Lounge or The Bar. On arrival you will be greeted by Silversea waiting staff with white gloves, ready to seat you to your table along with the soft tones of a pianist.
Each Silversea ship provides butler service as standard for every suite level and therefore the choice of enjoying afternoon tea in your own private accommodation is a pleasurable experience. Your butler will provide you with all of the options available as if you were visiting the public areas but as an extra offering, you can also choose to indulge in caviar and bilinis, foie gras terrines with brioche and a fine selection of cheese and crackers.
The tea blends available never fail to impress. Popular blends include chamomile, green Darjeeling and rose hip from the cruise lines purveyor, Ronnefeldt. A wide selection of sandwich choices are available daily including favourites such as smoked salmon with cream cheese, roast beef and chicken salad. Once you have finished, a selection of pastries will then be brought to you by your waiter including the Silversea speciality chocolate surprises and delectable fruit tarts.
A favourite amongst many cruise lovers, Oceania never disappoint when it comes to serving up an afternoon tea extravaganza. From 4pm each day on board, waiters welcome you to a particular area on board. This area is usually Horizons, an observation lounge that transforms into a remarkably beautiful tearoom setting adorned with linen topped table, fine china and silver. The floor to ceiling windows here provide fantastic panoramic views as you relax to the sounds of a classical string quartet nestling into the background of this charming location.
On board Oceania, cuisine is everything. This cruise line prides themselves on outstanding culinary presentations and when the time comes each day for afternoon tea, the pastry chefs are just as excited if not more as the passengers. This is because they know that what they have created is truly stunning and cannot wait to present the masterpiece collections to their guests. The selection of finger sandwiches changes by the day along with a wonderful collection of petit fours, scones and of course a spectacular array of desserts. Your waiters will deliver the vast collections to your table, if only the desserts were calorie free. You are on holiday after all, it would be a shame not to indulge in these sinful creations.
Afternoon tea is often rated on the standard of choice available as well as the service, however, Celebrity realise that it takes more than this to be recognised as one of the best. The setting for Celebrity Cruises is vital and when on board you will know exactly what we mean. The chosen venue for afternoon tea varies depending on which ship you are sailing aboard but it is usually held at one of the speciality restaurants, something the cruise line is renowned for. Speciality dining venues on Celebrity ships are held in high regard.
Celebrity Cruises enhance the afternoon tea experience even further with their own version known as Champagne High Tea. This takes place usually once during seven night sailings and twice for longer durations. For these events you will be greeted by a glass of champagne before being seated to your table. It's a great idea to take your camera to these events as they are not your typical afternoon teas. Celebrity pulls out all the stops with immaculate table linen presentations combined with Wedgewood China and striking Riedel crystal.
At these occasions you will have the choice of a selection of premium champagnes, Tea Forte teas and coffees including lattes, espressos and cappuccinos. Finger sandwiches are divine as are the pastry creations but be sure to leave room for the truffles as they are truly amazing.
It is important to note that the Champagne High Tea experience is not complimentary and does come at a charge of $25 per person. Should you wish to avoid the expense then head for the buffet restaurant at 4pm where you will find an open seating venue with its own range of indulgent treats.
Crystal Cruises create their point of difference with the incorporation of themed events for afternoon tea. These events include such highlights as a Mozart Tea where waiting staff will dress for the occasion in period costume designs. Costumes include velvet and lace to reflect the period and create a unique atmosphere. Another popular themed event is the English Colonial Tea. For this occasion waiters will again dress for the occasion in white ties and tails. Of course we cannot forget the Chocolate Tea, an event that instead of period dress provides a magnificent selection of chocolate creations. When these theme occasions are not taking place, the regular afternoon tea service will take place from 3.30pm onwards at the Palm Court venue on board both ships in the fleet.
The tea choice menus are incredible with a vast variety of concoctions from around the world. This is one of the reasons we have included Crystal in our recommended cruise lines for afternoon tea as they are an outstanding luxury cruise line that give you the chance to try something completely new and different. One choice we would highly recommend is the "leaves of Provence" black tea.
Last but by no means least is Holland America. This cruise line are not content with offering one afternoon tea experience, instead they prefer to provide passengers with three. Rather than a traditional afternoon tea on a daily basis, Holland America prefers to put their focus into three occasions that will each feature once during each itinerary. The three events are known as Cupcake Tea, Indonesian Tea and Royal Dutch Tea. All are held in the main dining room and all are excellent.
The Cupcake Tea features an impressive ten different variation of cupcake including the likes of household favourites such as chocolate and vanilla to the innovative bread pudding cupcake. A superb selection of teas and coffees accompany the cakes or should you prefer, you could even become children for the day and indulge in a flavoured sip of milk including chocolate or strawberry.
The Indonesian Tea is made special from the outset by the crew donning batik Indonesian dress. The atmosphere is also beautifully created by the background music from an Angklung, an instrument that derives from the region and has become an age-old tradition, hence its perfect complement to the afternoon tea experience. The exotic tones are further enhanced by the serving of a variety of traditional teas from the region including Indonesian green, black and jasmine. Coffee lovers are also more than catered for with the inclusion of Sumatra and Celebes to the menu. The Indonesian heritage is also evident in the accompanying assortment of sweets, which often included mango fritters, chocolate rice sponge cake and the gorgeous coconut rice balls.
Now for the Royal Dutch Tea, an occasion you will be sure to enjoy. This is the most quintessentially British tea theme of a Holland America cruise. Despite the other themes paying tribute to the ritual, this occasion is by far the most in keeping. Traditional sandwiches, pastries and desserts are served along with another incredible impressive choice of teas.
Summary
Afternoon tea on board a luxury cruise is nothing short of spectacular. That may seem a little dramatic but only to those who haven't experienced it because when you have, it really does fit into this category. The selections of delights along with the marvellous tea choices are amazing no matter which of these cruise lines you travel with and the fact that they all try to put their own slant nd glamour to the occasion makes it all the more special each time you travel, avoiding that "seen one seen them all" statement we all aim to avoid.
The key conclusion is that no matter which of these tremendous cruise lines you choose, you are in for a wonderful treat.
Michael Wilson is the Managing Director at Bolsover Cruise Club.
If you would like to be a guest blogger on A Luxury Travel Blog in order to raise your profile, please contact us.