Afternoon tea – 13 choices
Afternoon tea is thankfully a Great British institution and it is very unlikely to ever go out of fashion. It also blends 2 very good quotes and so as a result it must be something that needs to be taken often? 1. Henry James: there are very few hours in life more agreeable than the hour dedicated to the ceremony known as afternoon tea. 2. Lily Bollinger: I only drink Champagne when I'm happy… and when I'm sad.  Sometimes I drink it when I'm alone.  When I have company I consider it obligatory.  I trifle with it if I am not hungry and drink it when I am. Otherwise I never touch it, unless I'm thirsty.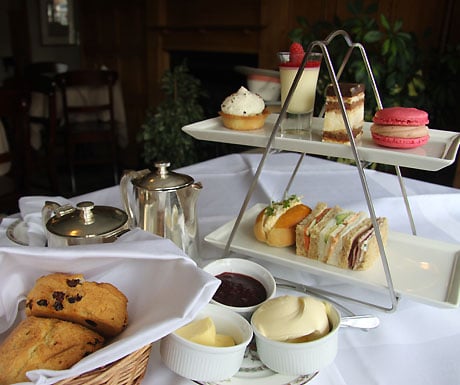 So, here's a bit of a run-down on some fabulous afternoon teas that I have stumbled upon in the past few years.
Drunken Duck Inn, near Ambleside, Cumbria
If you stay at the
Drunken Duck
then you are already onto a good thing, because included in the B&B rate is cream tea and a pot of tea, every day you are there.  They are not mean on portion sizes and I for one couldn't eat it all in one sitting and still have space for supper, so wrapping up the scones in napkins meant they came in very handy for the next days hill walk.  You can have afternoon tea in either your room, the garden or the residents lounge.  Great scones, ample cream and jam and a good choice of champagne in case you need an excuse. Supper is amazing though, so beware eating too much at 3pm.
The Montagu Arms Hotel, New Forest
They recently won a prize I believe and were names based country afternoon tea.  Afternoon tea is taken in the conservatory to the rear of the property and is really rather splendid.  We went for my birthday and I had an extra scone with a candle which was a kind gesture.  They have a very sensible list of fizz by the bottle which helps the cost considerably if you are doing this as a group.  Very friendly staff and where we were seated was not at all rowdy.
Landmark, London
So many of the London offerings have a habit of being a bit stuck up – for example making men keep their jackets on and banning photos.
Landmark
is not at all like this.  It is very open (and hence quite noisy) and very airy below the glass roof in the atrium of the building.  My most memorable recollection of this venue was the sheer volume of food – it just kept being topped up again and again – thankfully we had left plenty of time to make the most of this.
Chesterfield, London
This is a quaint hotel and not one I had heard of until I was invited there with friends.  Really good, very traditional style dining room and very attentive service.  It was also a bit quirky which I liked – chocolate scones and also chicken sandwiches with almonds around the crust.  Nice touches to a meal that could become a bit set in its ways!  Again good topping up of food!
The Cove, near Penzance, Cornwall
Strangely it is hard to find somewhere in west Cornwall that advertises cream teas but isn't just a cafe.  We enjoyed ourselves here, sat in the sunshine right next to the pool.  We could also walk down to Lamorna Cove afterwards to burn a few calories.  This looks like a great little hotel and it was a very private and quiet place.  Simple, but spot on.
Chewton Glen, Hampshire
When we last stayed we took afternoon tea in our suite and it really was rather fabulous.  The stack of plates arrived – and had plenty for 2 people even though we only ordered '1' portion.  Really fancy cakes.  Probably the best quality afternoon tea I've taken (accompanied by a bottle of Nyetimber fizz) but then that probably isn't a surprise.
Coombe Abbey, near Birmingham
What I liked about this was the fact that alongside the standard cream tea that I ordered, there was also the cheese and grapes  version – cheese scone, a variety of cheeses, some chutney and grapes.  Basically cheese and biscuits as was, but with a scone.  What a great idea!  The hotel (whilst a bit corporate and eventy) has lovely grounds and we enjoyed this in the garden with the sunday papers – really good to relax.  And it was as if it was a 2 course lunch because we both had half of the two styles on offer.
The Connaught, London
This is grand and very hip, and as such the food is great and the people watching is even better.  A really swanky restaurant setting and almost too helpful waiters.  The cakes were something else and there was every type of jam you could imagine – nice to mix it up a bit and get away from the standard strawberry.  Very helpful in giving doggy bag boxes to take home the leftovers. When the food first comes out it doesn't look like there is much there, but there are discreet and ample top ups throughout the table booking.  And having just been back for a 2nd visit, they also cater marvellously for food allergies – dairy free, particularly in the afternoon tea setting, isn't easy but I ate well and still had plenty of sweet treats (although I did miss the clotted cream!).
Round Hill, Jamaica
The perfect surprise to any holiday is when the hotel puts on afternoon tea each day.  There wasn't any clotted cream in sight, this was more of a mid-afternoon cake and sandwich fest, but certainly nothing to complain about as it was filling and since breakfast isn't included in the room rate it was good to have this instead.  The best bit for me was the tea – proper english tea and proper milk.  The first day we were there we arrived just in time – and had been on the island for a week without having seen much beyond Lipton tea (urgh) and Blue Mountain coffee (which to be fair is very good, just not tea).  Fantastic to people watch – Ralph Lauren does tend to attend if he's on site….  The bar area where this is served is full of colonial grandeur and photos of the famous guests that have passed through the gates.  It really is rather a nice spot.
Careys Manor Spa, New Forest
Some of the spa packages include afternoon tea.  Taken in the garden sitting in your bathrobes!  Thankfully this isn't one of those spa's that is teetotal.  Good cakes, good scones and a very peaceful setting.
The Bull, Bridport
Aas you might expect for somewhere in the south west, the Bull knows how to do cream tea – I think this places gets the prize for the most amount of cream! I might have had to finish the pot by just eating it off the spoon…. lovely home baked scones – bit and misshapen – for some reason the country-kitchen misshapen style is something that makes the experience even better
National Trust Tea Room
I don't need to mention any particular tea room (although
Hinton Ampner
was nice recently) because they all deliver this as might be expected.  Massive scones, a great choice of different scones and of course the fantastic Rodda's as standard.  Plenty of grounds to walk of the excesses, although unlikely to find fizz to accompany so the calorie count is luckily reduced.  There is something about a tea room at a National Trust property, quintessentially English and fantastic – guaranteed to have food for everyone's taste and at a price below pub lunch costs.
British Airways
I often think that a daytime business class flight is a bit of a waste of money as you don't get so much use of the bed, however there is an extra meal, and it comes with Rodda's thankfully.  Little sandwiches and cakes and warm scones with jam and cream – and of course champagne, free flowing from before take off.  Always enjoyable.  Difficult to manage if you are flying with work and need to work, but to be honest it is worth the 30min break – the trouble is you can't really walk very far afterwards.  First class afternoon tea is even better as it is all silver served – I imagine it is the same food, but there is something very special about this. Can't wait for the next trip!
My own
All this chatter about going out for afternoon tea, why not make it yourself? If there is one thing apparent – that is that hotel-based afternoon tea is pretty expensive for what it is (although when the hotels top the plates up it certainly is appreciated). So – make some scones, so so simple – you can be eating them in less than 40 minutes from starting to make them.  Do this at home and you can eat as many as you can make and there is no risk of running out of cream.
Top tip
Put the jam on first, that is the Cornish way and I'm pretty sure cream tea came from Cornwall (says the Cornish girl).  Not only that – putting the cream on last means you can put more on; it is pretty pointless to use it as if it is butter!
Did you enjoy this article?
Receive similar content direct to your inbox.