When filling out your itinerary for your trip to Paris, the major sights and museums will inevitably end up on your list. But why not do something out of the box, something that will have your friends saying "you can do THAT in Paris?!" Here are five ways to make your friends jealous and your trip even more than you ever thought it could could be.
Buy your weight in clothing
Everyone knows that Paris is famous for its high fashion. The clothes are to die for, but the prices don't fit everyone's budget. We have found the perfect solution! The Kilo Shop in the Marais allows you to shop your weight in clothing. With racks upon racks of vintage clothes to choose from the possibilities are endless. Simply make your selection of clothing, walk to the register, weigh your desired pieces and pay one price! How could you say no to that? Pricing: 20€/kg for red marked items, 30€/kg for green marked items.
Take a water biking class
Hop on a bike submerged in water and pedal your way to better legs. Water biking has all of the benefits of swimming laps without getting your hair wet and is easy on the joints. A quick 30 minute session allows you to be in and out without putting a damper on your busy day ahead. With locations popping up around the city if won't be hard to find the perfect place to try this spin class alternative. Note that sometimes you need to make reservations in advance.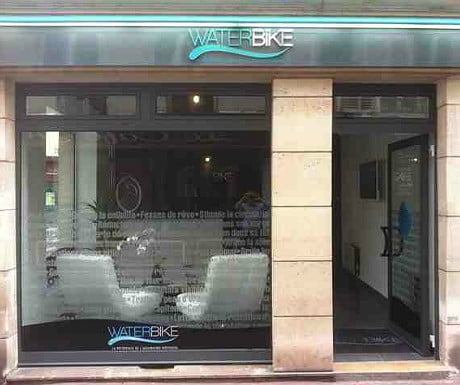 Visit a mosque
Situated in the heart of the 5th arrondissement, La Mosquee de Paris offers the perfect afternoon escape. An oriental oasis in the City of Light is a great place to spend your afternoon or evening, enjoying tea on cushions, plush chairs or under cedar trees. Aside from the restaurant, the architecturally stunning mosque also offers a traditional hammam (for women only). Call for hours.
Go clubbing in an aquarium
The nightlife in Paris is nothing short of lively, especially if you know where to look. One of the best spots is hidden in the Gardens of the Trocadéro. Trocadéro Ozu club, the hard to find secret spot, offers an informal atmosphere and a backdrop of exotic fish and even a few sharks. With great drinks and great house music, the Ozu Club is an ideal spot to dance the night away with the locals!
Experience chocolate like never before
One of the first things that comes to mind when visiting Paris is almost always the divine food that we will encounter. With patisseries on every corner, and many famed chocolatiers calling the city their home, it's hard to go wrong. But what many people don't know is the best place to go when looking for a sweet treat. Michel Chaudun's shop in the 7th arrondissement is one-of-a-kind and features out of this world chocolate. A former chocolatier at La Maison du Chocolat, Chaudun is an absolute master of chocolate. Most famous for it's pavés, chocolates shaped like cobblestones to commemorate the 1968 riots, heavenly bonbons that have an artisanal feel, chocolate shaped like gargoyles and handbags, and with out of this world taste you will never want to leave!
Chloe Johnston is the CEO at CJ Shopping Tours.
If you would like to be a guest blogger on A Luxury Travel Blog in order to raise your profile, please contact us.