Special feature: Sheen Falls Lodge, Kenmare, Ireland
We have just returned from
Ireland
where we spent the week at the five star
Sheen Falls Lodge
hotel on the outskirts of Kenmare, County Kerry. Rather than staying in the hotel itself, we were in one of the hotel's 'villa rental' properties, known as
Little Hay Cottage
. This thatched, two-bedroomed property gives you the best of both worlds – the opportunity to cater for yourself should you wish, but also with all the amenities and facilities of the hotel on your doorstep.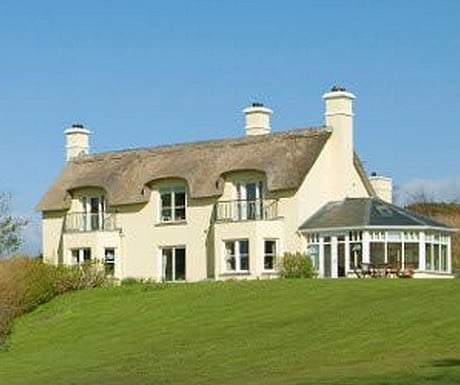 The property enjoys a prime position with a lovely view over a stretch of sea close to the mouth of the River Kenmare. However, on the map, this inlet is marked as the River Kenmare itself because the landowner at the time named it as such, and in so doing rather cannily gave himself sole fishing rights over a 28-mile stretch of sea. The house was very inviting – a fire had been lit in the lounge, and there was a well-stocked fridge in the kitchen, with drinks and provisions, including a bottle of wine, Irish brown soda bread, bacon, eggs, black pudding, ham and the hotel's own home smoked salmon.
Also on the ground floor is a conservatory with two relaxing chairs with spectacular views of the grounds and sea beyond.
Everything had been thought of – even items such as Wellington boots and mountain bikes were provided. Upstairs there were two en suite bedrooms – one large double and one twin.
Complimentary organic 
Voya
toiletries could be found in the bathroom.
A really nice touch in the children's room was a personal, handwritten letter welcoming them, and explaining all the exciting things they could do in the area. This area is a haven for families with so many fun activities on the doorstep as you will see later. The weather was mixed – as is to be expected in October – with intermittent sunny spells and occasional showers, which meant we were treated to one or two rainbows.  This was the view from the house that we woke up to on our first morning there.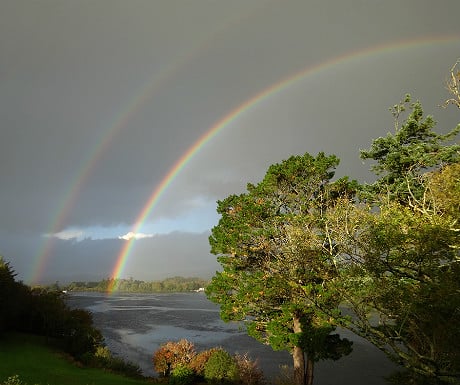 Even if you are staying in one of rental properties at Sheen Falls, don't pass up on the opportunity to dine at the hotel. There is the option to dine casually or you can opt for the fine dining in the main dining room. We sampled both and I would heartily recommend the seafood linguine if dining casually as it is packed with prawns, scallops, squid, mussels and chunks of fish, bound together in a really tasty tomato sauce. On the evening when we fine dined, we sat in the bar at first; here you can marvel at the view of Sheen Falls – the waterfall that's just outside the hotel and is so close that you can hear it – before being shown through to La Cascade restaurant, proudly displaying its most recent award – 'Best Hotel Restaurant' in the
National Hospitality Awards
, held in association with
Hospitality Ireland
. The restaurant is led by Head Chef Philip Brazil, back for his second spell at Sheen Falls, having worked with Michael Martin at The Clarence in Dublin, and alongside Michelin starred chefs in the
UK
.  For starters, I had the caramelised Atlantic scallops, Sneem black pudding bon bon, green pea purée, smoked bacon and pea vinegar. The clean taste of the scallops worked really well with the crisp black pudding.
Next up was the flavourful roast Irish lamb loin, St. Tola goat's cheese, wild garlic and bread terrine, barbecue lamb spare ribs and julienne of Summer vegetables.
And to finish, I went for the surprisingly light but rich dark chocolate mousse that was complimented with a delicious homemade ginger ice cream.
If you get the chance, go for a tour of the wine cellar too or ask about the tasting events that are regularly held there – it's one of the largest public cellars in Ireland, with over 10,000 bottles of wine. Additional facilities at the hotel include a swimming pool, Jacuzzi, sauna and spa (also using Voya products), table tennis and an outdoor tennis court.
If you can peel yourself away from that pint of Guinness at the cosy fire in the hotel foyer, there is also lots to see and do for all the family in the local area – walking, horse-riding, fishing, mountain biking, paintballing, archery, orienteering, kayaking, sailing, waterskiing, wakeboarding, water trampolining, wildlife cruises, pedal boats, banana boats, and more. Take a look at the
Star Outdoors Adventure Centre
which is just a few minutes' drive from the hotel. We went on a scenic drive along the Ring of Beara, lesser known than the Ring of Kerry and lying just to the south. This trail around the Beara peninsula begins in Kenmare and takes in some beautiful panoramic views. We stopped at Glengarriff and took the short boat trip to the Italian gardens and Martello tower on Garinish Island, spotting a number of seals en route.
We were also lucky enough to see a white-tailed sea eagle, once extinct in Ireland, perched high up in the trees.
Further along this scenic drive, we called in at McCarthy's Bar (featured in a bestselling travel book of the same name) in Castletownbere for a quick half before heading on towards Dursey Island at the southwestern tip of the peninsula, connected to the mainland by Ireland's only cable car and populated by just six residents during the Winter months. The views here and on the stretch of coastline that followed were truly memorable, particularly since the sun was setting, but darkness brought the day's explorations to an end and so we returned to the hotel. On another day, we went clay pigeon shooting on part of Sheen Falls' 300-acre estate, expertly guided by Tim – an enjoyable experience even if my aim wasn't as good as it could have been! (Thanks to Katie from Papillon PR for the image.)
For younger ones, there is the opportunity to fire an air rife at a target that they can keep afterwards.
For another unforgettable experience,
Killarney Falconry
will bring their birds to the hotel so you can fly and feed them. Make sure you book this in advance, particularly if you are visiting in peak season. We got to fly a Harris hawk named Texas and handle this lovely, soft barn owl called Scruff.  Again, this is something children can do.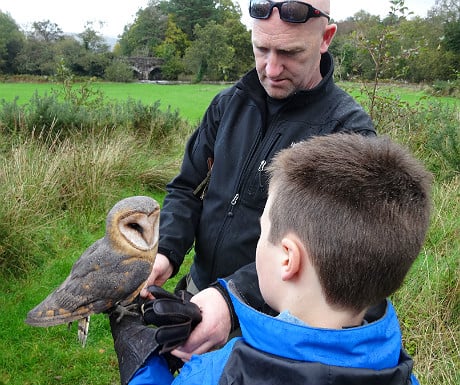 Don't miss also the chance to go on a river walk with resident ghillie Brendan. He took us along the River Sheen, up past the Sheen Falls.
Thanks to his enthusiasm, we learnt about how different species act as indicators of the river's water quality, and how salmon return upstream to lay their eggs in the exact same pool as they themselves were born. We even called in on a now disused salmon hatchery and heard how man tried to assist the process in order to have the river teeming with salmon, before it was decided that it was best just to let nature take its course.
Similarly, you can go on guided mountain walks from Sheen Falls Lodge with Dermot, a mountain guide and hill walker. Ascents of Corrán Tuathail, the highest peak in Ireland at 1,038 metres, can start at about an hour's drive from Kenmare. A perfect half day out if the weather is not in your favour is a visit to
Lorge Chocolatier
run by Benoit Lorge, formerly the pastry chef at Sheen Falls Lodge. Here children (and adults!) can learn all about the process of making chocolate, the differences between different types of chocolate, and the health benefits of dark chocolate. You can even make your own chocolates with a hands-on demonstration or simply purchase a few treats from the shop.
On our last night in Kenmare, it was Halloween – an event that seems to be celebrated much more in Ireland than it is in the UK. So much so, in fact, that the Kenmare Halloween Howl consists of a series of local events starting as early as the 26th. We took the Halloween 'Seafari' cruise in the early evening and, after watching a rather gruesome procession through the streets and attending a witches' gathering in the park, we took refuge in 
The Coachmans
on the main street in Kenmare where there was a friendly and vibrant scene with live Irish music. Click on the video to get a feel for the atmosphere. Kenmare is a lovely little town with lots of character, home to one of the largest stone circles in south-west Ireland, and set in some of the most unspoilt scenery you're likely to find. All good things have to come to an end, though, and on our way back to Shannon Airport the next day, our driver – a delightful man named Liam from
Pro Bus & Car
(they do luxury tours as well as transfers) – joked that they say "if you loved Ireland, make sure you tell everyone… and if you didn't, keep it to yourself". So, here I am telling everyone – if you haven't been, go and explore the area for yourself, and hopefully you'll enjoy it as much as we did.
Did you enjoy this article?
Receive similar content direct to your inbox.