Many travellers visiting Barbados from the UK opt to fly, primarily because it's quick, but if you've got the time, a cruise from Southampton can be a fun and luxurious way to travel to the Caribbean. Taking 14 nights, the cruise really is a major part of the holiday as you'll visit a number of beautiful and fascinating islands on your way to Barbados. However, if you love being at sea and want enough time to fully explore your ship, take in the theatre shows and socialise with like-minded people, you'll have approximately 8 sea days on a standard Southampton to Barbados itinerary which is plenty of time to relax, unwind and revel in the opulence of a transatlantic cruise liner.
What to expect on board
Although the exact ins and outs of what you can expect on board during your trip to Barbados will vary based on your ship, there's one thing that can be guaranteed – you'll be in the midst of true extravagance. P&O Cruises' Ventura is regularly assigned a Southampton to Barbados itinerary, and it's simple to see why.
The ship is relatively large in comparison to the rest of the P&O fleet and very family-friendly. This is such an underrated feature of modern cruise ships. Have you ever tried taking babies and young children on a long-haul flight? It's not always the most easy, or pleasant of experiences.
Opting for cruise travel removes the hassle and makes everyone much more comfortable, relaxed and happy, which is essential when you're on holiday. During your 14 night cruise you can be as scheduled, or as spontaneous, as you like.
Too busy enjoying the on board spa facilities, play areas and cocktails of the day to make it to the main dining room for dinner? No problem!
The 24 hour buffet and wide range of alternative dining venues ensures you and your family never go hungry.
Crossing the Atlantic is also a breath taking experience in terms of scenery, with nothing but you, the blue skies, and the open water, so you can expect all transatlantic ships to have a fantastic viewing area, such as Ventura's alfresco terrace.
Places of interest along the route
When you book a journey from Southampton to Barbados you'll also visit an exciting number of other interesting ports in and around the Caribbean – it's all part of the holiday.
Many cruises dock into Ponta Delgada on the island of São Miguel in the Azores. Located about 600 miles off the coast of Portugal, this tiny Atlantic island is absolutely beautiful.
There are very definite Spanish and Northern African influences across the island, and the stunning climate gives you the opportunity to enjoy delicious local harvests such as pineapples and teas. It really is a stunning place and it breaks up the transatlantic crossing excellently for those who prefer a good mix of sea and shore days.
Following a few more sea days, many itineraries will take you around some of the eastern Caribbean islands before docking into Barbados for the final stop. St Maarten, St Kitts, Antigua, and St Lucia are all common ports due to their proximity to Barbados.
While all are amazing places to visit, one of the most interesting has to be St Kitts, and that's because of the scenic railway tours available on the island. Often referred to as one of the most beautiful train journeys in the world, the carriages transport visitors around 18 miles of the island's coastline, taking in the best of the sights, including a chance to see the looming Mt. Liamuiga at the heart of St Kitts.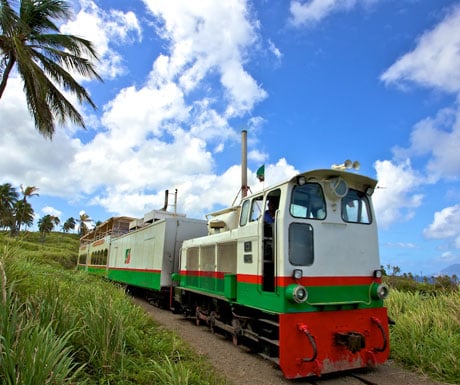 Travelling through the old English colonial towns and the sugar cane fields, if you want to get a true insight into the real Caribbean, then this is the ultimate activity. Tours can be booked through the excursion desk on your cruise ship or prior to departure via the P&O Cruises Cruise Personaliser.
Docking in Barbados
Barbados really is a home away from home. Although a part of the Caribbean, it remains heavily influenced by its British history (it became independent from the United Kingdom in 1966, but still falls under the British Monarchy).
One aspect that many travellers don't realise about Barbados is that it's really a place of extremes. The western coastline of the island – which is where you'll dock – overlooks the Caribbean Sea and encompasses everything that is typical of the area, such as fantastic weather, glorious beaches, and, of course, plenty of Caribbean Rum (the Mount Gay Distillery is located here and it's well worth a visit).
However, the eastern coast of the island couldn't be more diverse. If you travel just 10 miles from the Bridgetown port over to Bathsheba, it's an entirely different story, the east coast overlooks the Atlantic Ocean, and is greatly affected by the effects of the harsh waves.
Rather than quiet, serene and picturesque white sand beaches, the coastline is quite mountainous and rugged with waves crashing on the rocks, breaking them down bit by bit. It's remarkably windy compared to the main tourist areas, and it's somewhere relatively few cruises passengers make the effort to visit. However, it's actually fascinating to see how those 10 miles of land can make such a difference and the rugged coast is a wonderful photo opportunity.
Getting home
Once in Barbados, you'll typically have two choices for getting home. One of the most popular options is to arrange a flight through the cruise line, but this only gives you one or two days in Barbados, which really isn't enough!
An alternative option is to holiday in the Caribbean and hop on a cruise back to Southampton. This gives you plenty of time to really explore Barbados, and the surrounding islands such as Grenada and Dominica.
Whatever you choose, cruising to Barbados is sure to be a relaxing and luxurious experience and rest assured you and your family will be looked after every step of the way – both on board and on shore.
Michael Wilson is the Managing Director at Bolsover Cruise Club.
If you would like to be a guest blogger on A Luxury Travel Blog in order to raise your profile, please contact us.