By
Ceri Tinley
on Dec 14, 2013 in
Air Travel
,
Austria
,
Europe
,
Events
,
Food and Drink
,
France
,
Italy
,
Regions
,
Speciality Travel
,
Switzerland
,
Travel Miscellany
,
Western Europe
Sometimes it's good to have a ski trip which includes an alternative alpine activity to skiing. Sometimes the alternative activity can provide the perfect excuse to squeeze another ski trip into your schedule. So, as well as the family trip, the boys' trip and the corporate trip, you might like to include one or more of the following;
1. Polo
You can experience the thrill of the Polo Masters tour in either Val d'Isere, Courchevel or Megeve in 2014. This incredible sport combines total commitment and immense elegance, in fabulous Alpine settings.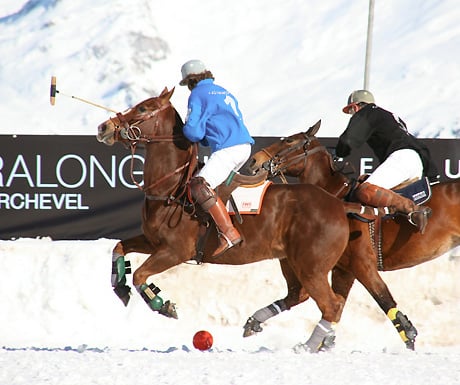 2. Horse racing on ice
On three consecutive Sundays in February, thoroughbreds both in equine and human form, come from all over Europe to the world's flattest and most glamorous race course – the frozen surface of the St. Moritz lake. There are flat races and trotting races of varying distances, but perhaps the most exciting and crowd pleasing is the Skijoring, where unsaddled horses pelt across the frozen lake dragging their riders on skis at speeds of up to 50 km/h. With its exceptionally beautiful setting, style and glamour, it is easy to see why The White Turf has established itself as the most spectacular winter event in Europe.
3. Alpine World Cup skiing
There is always a great vibe and party atmosphere in a ski resort when the world cup arrives. Spectators from all over the world come to watch some of the finest athletes from all over the world, compete in one of the most exciting spectator sports known to man. Watching a downhill can be almost as exhilarating as taking part. Even if you don't normally follow the sport, you will soon be absorbed by the cheers and excitement. Before you know it, the Ski Sunday theme tune will be ringing in your ears.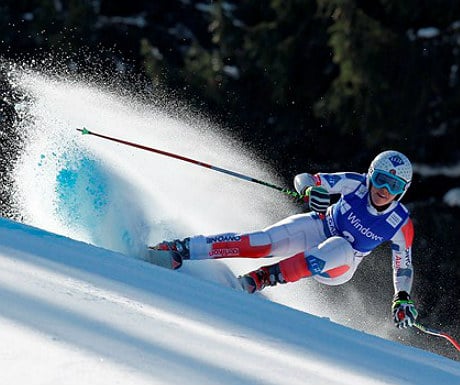 4. The Altitude Comedy Festival

Next year's festival will take place in the Austrian resort of Mayrhofen between 31st March and 4th April 2014. The line up includes John Bishop, Marcus Brigstocke and Terry Alderton. You will need some stamina to survive a week at the comedy festival, but there is no denying that skiing and comedy make a great combination. The ethos of the festival can be summed up in one word – FUN. While you are there, you may as well take the opportunity to ski the Harakiri – Austria's steepest piste, which has a gradient of 38 degrees. It may be short, but it is a great challenge for thrill seekers, and provides excellent material for "bigging" it up over a beer later on.
5. Ischgl Closing Party
Each year, the Austrian resort of Ischgl marks the close of the ski season with a concert at the top of the mountain. In the past, the resort has attracted big names such as Bob Dylan, Elton John and The Killers. It has recently been announced that Robbie Williams and his Big Band will be performing a lunchtime concert at the top of the mountain on 3rd May 2014, as part of his Swing Both Ways tour. What a way to end the season! There is a happy, positive vibe in Ischgl, and watching bands play live in an intimate outdoor arena, with the stars twinkling and the snow falling, cannot fail to please. The skiing is pretty good too.
6. Music festivals
The Caprice Festival in Crans-Montana is one of the original festivals which has been going for over a decade now. Lou Reed, Robert Plant and Joss Stone have all performed here. Next year's festival will take place from 11-19 April. With numerous other festivals lined up for 2014 including Snowbombing in Mayrhofen, Ibiza Rocks on Snow in Meribel and Snowboxx in Andorra, you really are spoilt for choice.
7. Cross country skiing
This might be something that you think you will save until you are too old for Alpine skiing, but believe me this is not the leisurely pastime it appears to be. When you watch experienced cross country skiers, they appear to glide along effortlessly, but in reality this sport will provide you with a massive cardio workout and an unexpected thrill. The Davos area of Switzerland is a great place to try it out as there is no charge to use the numerous trails which are suitable for all tastes and abilities.
8. Fine dining
Gone are the days when the only food available in a ski resort was cheesy fondue or even cheesier raclette. Combine your ski trip with world-class gastronomy by dining in a different Michelin-starred restaurant each day. With enough Michelin-starred restaurants to last over a week, The Three Valleys would be a perfect choice.
9. Yoga
The Yoga Festival in Val d'Isere will take place between 28 Feb and 2 March 2014. There will be around 24 yoga workshops, 2 concerts, an evening of music and dance, a market full of yoga-related products and an organic cafe. The perfect way to rejuvenate the soul, and all in the breathtakingly beautiful Alpine resort of Val d'Isere.
10. Heliskiing
Fly over snow capped mountains to the virgin snow for the ultimate back country experience. Nothing can compare with the thrill and adrenaline rush of heli-skiing!
Ceri Tinley is the Co-Founder and MD of Consensio Holidays.