For the second year running Winnipeg in Manitoba, Canada is offering diners a 'cool' new dining experience.  Pop-up restaurant, RAW: Almond has been built on the fork of the frozen Assiniboine & Red Rivers in the centre of Winnipeg for a short Winter season between the 24th January and 13th February 2014. The restaurant is the creation of Mandel Hitzer, chef/owner of popular restaurant Deer + Almond and architect/designer, Joe Kalturnyk of RAW Gallery. Hitzer described the mission of RAW: Almond as "connecting Winnipeg's art and food communities, creating a truly local food experience, and redefining the city's winter reputation".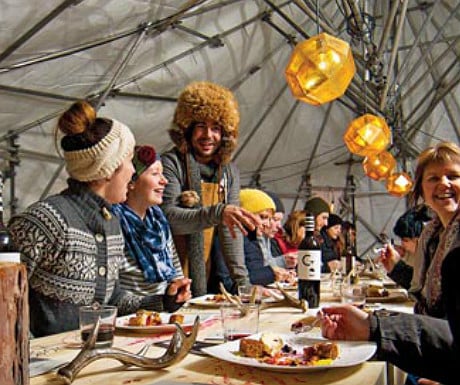 This year's restaurant includes a larger dining tent with seating for up to 30 people and a tasting lounge for 10. Diners don down filled jackets, cosy aviator caps and sub-zero boots to dine at the icy restaurant. Add faux fur throws covering tree trunks as seating and a surprise menu from some of Winnipeg's top chefs and the dining experience at RAW: Almond is truly unique.
Over the 3 weeks that the restaurant is open over 1,300 diners will eat in the temporary structure designed to complement the wintery surroundings of the frozen rivers at the area of Winnipeg known as 'The Forks'.
RAW: Almond is a welcome addition to the area which is already famous for having the Guinness World Record for the longest naturally frozen skating trail called 'The Red River Mutual Trail' At 6km long the trail has both skating and walking trails and impromptu games of hockey and curling can often transpire before your eyes.
With 2013 tickets selling out before opening night, don't delay if you want to be there in 2014!