Forget your Royal Suite reservation at Claridges… forget renting Brigitte Bardot's villa in St. Tropez… you can even forget your own private island; if you're looking to book the most expensive and most exclusive holiday next summer, then think mega-yachts! If money is no object and only the best will do, then this post is for you – we look at the most luxurious and opulent yachts currently available for private hire in 2014.
Yacht "Imagine" – 215ft
The name says it all, just Imagine… Imagine a world where you are surrounded by fine art, refined hand crafted interiors of the highest quality, and where the most exemplary and highly trained crew are on hand. Imagination finds realisation aboard this brand new 215ft mega yacht. Conceived with charter in mind, the owner of Imagine commissioned his yacht with the intention of sharing it with the world from day one. From refined and spacious interiors, to expansive decks offering Al-fresco dining and lounging opportunities on all levels; every detail has been meticulously considered to ensure the ultimate holiday experience.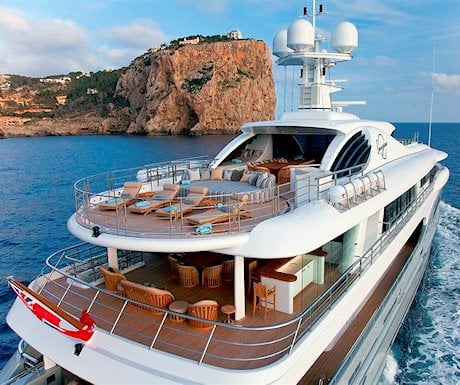 There are 6 guest staterooms (all mini-suites, of course) and one vast owner's suite with double Jacuzzi bath, adjoining private office, private balcony, and dressing rooms. Personal health and well-being is catered for on the Sun Deck; the swimming pool and Jacuzzi both have "wet-feet" bars, and the Sky gym offers the chance for a more serious workout. Of course you could just recline on a sunbed, and watch the world sail past…
Rates start from €465,000 per week, and guest should allow at least €100,000 in addition to cover operating costs for a typical week's holiday.
Yacht "Amaryllis" – 258ft
Yacht Amaryllis is an art gallery afloat. Inspired by the Belle Epoque, Art Nouveau, and Art Deco eras; designed by Reymond Langton, and furnished with bespoke pieces from Silverlining, Amaryllis is truly something to behold. Over 250ft in length, Amaryllis accommodates 12 guests in 6 staterooms, including an entire private deck with terrace dedicated to the owner's suite. A beach club with gym and spa is aft allowing direct sea access, whilst the sun deck features a 20ft swimming pool.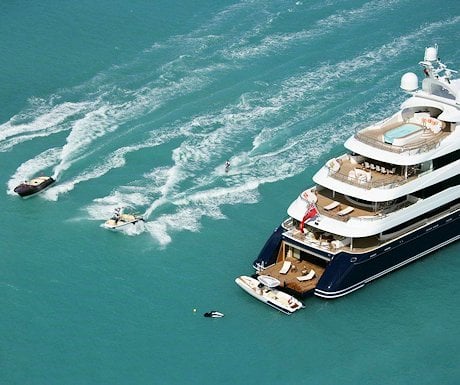 But like any piece of fine artwork, all this luxury comes at a price…and whilst she is not the largest yacht in this post, Amaryllis is certainly the most expensive. Even for the super-rich, the peak season price tag of €1,137,500 per week might be enough to put off some! One should draw the line at "a million-a-week" for one's holidays, really!
This is all about the beach club. There are enough toys on this yacht to keep even the most demanding and overindulged family entertained for a week, without ever needing to weigh anchor! The inflatable water park is totally unique, your own private aqua-world including obstacle course, Zorb ball, water slides, climbing frame, trampoline, ringos, banana boat… and that's before the four jet skis and two sailing dinghies are launched. There is even a diving centre aboard, and of course amongst the 22 crew there are highly experienced and accredited instructors for all the on-board sports. But the old folks in the family needn't despair; four decks up you can chill out with a cocktail in the Jacuzzi and enjoy the panoramic sea views.
Yacht "Ecstasea"- 282ft
Last, but certainly not least. At nearly 300ft in length, Ecstasea is the largest of these yachts, and demands a crew of 25 full time professionals to keep her operational. Luxury accommodation and unbelievable amenities are not dissimilar to others in this post, but what really sets this yacht apart is her speed. With a combination of four monstrous diesel engines and one giant General Electric gas turbine, total power output is just under 45,000 bhp. Reaching speeds of up to 33 knots, this floating hotel could cover Ibiza, the cote d'Azur, Italian Riviera, Corsica, Sardinia, and Sicily…all within a week's holiday! Just be aware that you have to return her with a full tank, and consumption flat out is 10,000 litres of diesel per hour – ouch!
Originally commissioned and built for billionaire Roman Abramovich, Ecstasea is now owned by philanthropist Sonja Zuckerman and is has now been made available for private hire on the French Riviera. Unfortunately Ms. Zuckerman's philanthropy doesn't extend to yachts, and so €750,000 per week plus costs (not forgetting the fuel bill) will be required to enjoy this particular perk!
Daniel Barber is Director of AquaCruise Yacht Charter.
If you would like to be a guest blogger on A Luxury Travel Blog in order to raise your profile, please contact us.