Rock oysters from Carlingford in Lough, Ireland are recommended for this dish as they are creamy and rich with a distinct metallic zing, which contrasts well with the sweetness of the Champagne sauce. This recipe combines the indulgence and richness of traditional French cuisine, with light, clean flavours favoured in Asian cooking to cut through fatty or rich textures – a signature style in the restaurant which hails from the Chef's Japanese-French background. Baking oysters renders them sweeter and more delicate than when raw.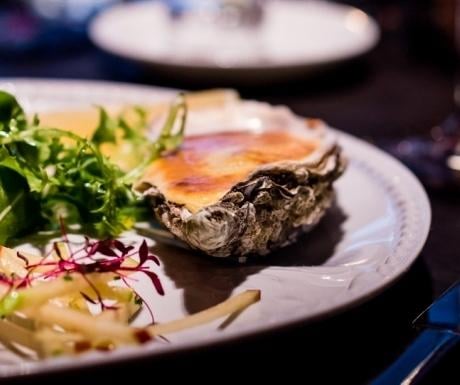 Ingredients
6 large oysters
100g of fresh spinach
1 small clove of garlic
3 egg yolks
40g unsalted clarified butter
10cl of Champagne (sparkling wine will also work as a substitute)
Parmesan cheese
1 green apple
30g baby red chard
Salt, pepper, olive oil
Directions
Open the oysters with a knife or ask your fishmonger to prepare them for you. Remove the oysters from their shells and tip the water out from them into a cup. In a small pan, boil the oysters for 30 seconds, adding their own shell water, then remove with a slotted spoon and set aside.
In a separate pan, boil the oyster shells with a splash of vinegar until they are white and cleaned. Remove and set aside.
Place a bowl over a pan of simmering water (bain-marie), and into the bowl add the egg yolks, a pinch of water and salt and pepper. Whisk into an emulsion. Once it is thickened and creamy, add the butter and whisk in. You should obtain a sauce with a mayonnaise-like consistency. Slowly add the Champagne into this mixture.
Clean and wash the spinach, then fry in a pan with some olive oil and little bit of salt.
To plate, place the oyster shells onto your serving dish. Add a small amount of spinach onto each oyster shell. Top with an oyster, then pour over the sabayon creamy sauce.
Turn on your grill to 180 degrees C and place the oysters on the lowest shelf – grill for 3-5 minutes until the sabayon is golden and bubbling.
Serve with a salad of shredded green apple and baby red chard.
Thank you to Walter Ishizuka, Head Chef at Brasserie Joel, Park Plaza Westminster Bridge Hotel, for the recipe.
If you have a recipe you would like to share with A Luxury Travel Blog's readers, please contact us.