A leisurely afternoon in Chinatown, Manchester, UK
With the wet weather continuing unabated here in the
UK
, this afternoon we decided to head for
Chinatown
in Manchester, have a late lunch and a bit of a look around. This is the second biggest Chinatown in the UK (after London) and one of the biggest in Europe. We've been many times before but I've never written about it here so thought I'd take the opportunity. Manchester was looking its usual grey and wet self but brightened a little as we reached Chinatown thanks to some remnant decorations from the Chinese New Year and the colourful archway on Faulkner Street. We opted for the
Little Yang Sing
for lunch – an off-shoot of Manchester's well-established Yang Sing restaurant that has been serving Chinese food on the city's Princess Street (just to the south) for more than 30 years.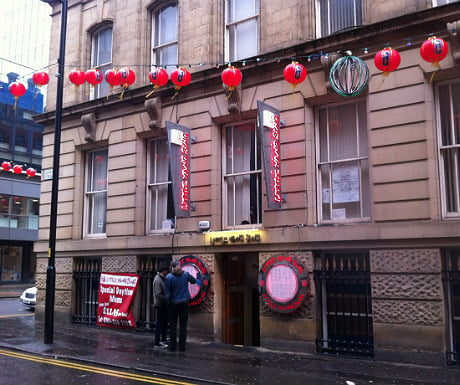 Manchester's Chinatown grew mostly with Chinese restaurants back in the 1950s but, come the 1970s, other Chinese businesses began to spring up – bakeries, supermarkets, medicinal shops, legal services, financial centres and more. The Bank of East Asia even opened up a branch there just a few months ago – its first branch in the city. We chose a range of dishes to share – spare ribs in a BBQ sauce, spring rolls, seaweed, chicken in a Cantonese sauce, special fried rice, chicken chow mein, etc. 
In all honesty, I didn't feel the meal was anything that special but we still had an enjoyable and relaxing time.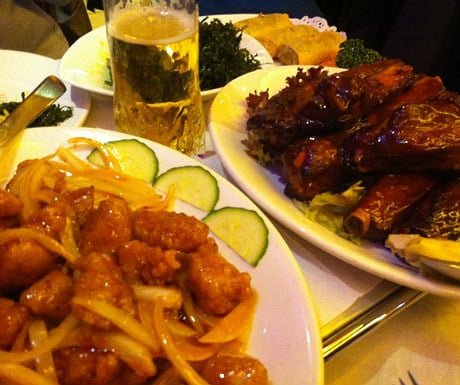 After lunch, we headed for one of the supermarkets to stock up on a few provisions that we can't get as easily at home or that we can buy much cheaper and in larger quantities in Chinatown (for example, a 10kg bag of Jasmine rice for less than £15, which should last us at least until our next visit, whenever that may be!). You can get pretty much anything you want at the stores in Chinatown, including some fairly obscure-looking items that you won't find in traditional UK supermarkets.
Finally, we called in at a shop selling a vast range of miscellaenous Chinese items and picked up a couple of pairs of child-friendly chopsticks to help our boys master an art they were struggling with an hour earlier! If you're ever faced with a rainy day and are not sure what to do, I'd recommend a visit to your nearest Chinatown for a bit of a change. We certainly enjoyed our afternoon out. Perhaps next time we should pay a visit when it's actually Chinese New Year to witness the celebrations.
When was the last time you visited a city's Chinatown, which one was it, and what did you think?
Did you enjoy this article?
Receive similar content direct to your inbox.