By
Andy Levine
on Feb 22, 2014 in
Africa
,
California
,
Europe
,
Food and Drink
,
Hawaii
,
Italy
,
Leisure Travel
,
North America
,
Regions
,
South Africa
,
Speciality Travel
,
Travel Miscellany
,
USA
,
Utah
,
Western Europe
I've found that in life, efficiency and health are keys to a happy (not to mention productive) existence. This plays perfectly into my role as a cyclist and CEO. Between meetings, deadlines, training rides and other traveling obligations, sometimes there just aren't enough hours in the day. This is why I'm a huge advocate for pre-packed meals. They are easy, healthy, and exactly what you want and need for a break in the day. Throughout my travels, I often find myself at some of the most high-end, upscale restaurants in the world, but it is when I'm not indulging that I truly feel like myself.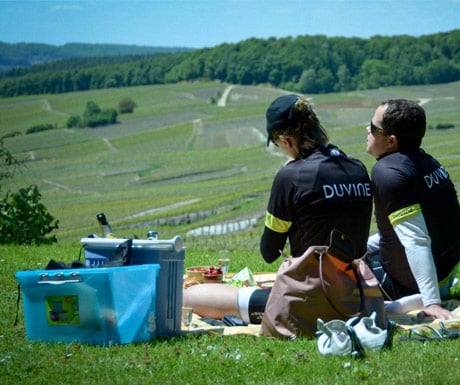 A simple picnic, sitting quietly on a blanket, with a delicious and nutritious pre-prepared meal surrounded by the glorious ambiance of it all, is the exact opposite of a fine-dining experience, yet it is still one of my favorite things to do. Life can get hectic at times, and these simple pleasures are an excellent way to slow it all down. So, to those who just can't seem to unwind, I've decided to share some of my favorite picnic locations in the world so that you too can take a step back and relax.
Monte Oliveto Maggiore, Tuscany, Italy
This location just outside the abbey of the Monte Oliveto Maggiore is the perfect setting for a picnic. Stop en route to the abbey in order to pick fresh figs off a tree to pair with a picnic packed with prosciutto. A simple caprese salad, apples, fennel, hazelnuts, bread and affettati is perfect. For dessert, try peaches in red wine topped with mascarpone. Paired with the stunning monastery, this simple meal is one to remember.
Villa Borghese Gardens, Rome, Italy
One of the largest public parks in Rome is located just at the end of the city. Originally used to house an art collection by Scipione Borghese, the garden is everything you want from a picnic area. Escape from the ancient ruins, tourists and Renaissance highlights of Rome by spending a quiet afternoon here. Olives, pizza, artichokes, salumi and of course, a bottle of wine is all it takes to turn this garden into a picnic-perfect landscape. Surrounded by sculptures by Bernini and paintings by many great artists, it is the ideal way to step back from your everyday life.
Point Reyes National Seashore, California, USA
The Point Reyes National Seashore is the essence of nature and is ideal for a simple outdoor meal. It is, hands down, one of my favorite places in the world to relax. With coastal beauty year round and an array of wildlife, the park is rich in character. The spectacular nature preserve located just north of San Francisco epitomizes everything I love about traveling. Without the hustle and bustle of traffic and crowds, it makes me truly appreciate all that nature has to offer. A short hike to the Point Reyes Lighthouse will allow for prime whale-watching as you dig in to your baskets.
Kirsenbosch Botanical Garden, Western Cape, South Africa
If you're like me and enjoy to stop and smell the flowers, then the Kirstenbosch Botanical Garden would be your ideal picnic go-to. More than 7,000 plant species are cultivated in this impressive locale with exhibit areas dedicated to specific plants. There's nothing quite like enjoying a meal surrounded by an array of stunning flowers. Pack a bottle of South Africa's famous wine and enjoy some local delicacies on the fly.
Armstrong Redwoods State Park, California, USA
There's nothing that can drown out the sound of cars and the incessant beeps of technology quite like trees towering 300 feet tall. Sitting in the heart of the Armstrong Redwoods State Park in California among 1,400-year-old trees was like nothing I'd ever experienced. A Sonoma bike tour opened my eyes to a completely different side of nature. The sounds and smells of the trees, birds, and earth are forever etched in my memory. This is why this picnic locale is one of my favorites. It's an experience unlike any other.
Haleakala National Park, Hawaii, USA
Dinner picnics do not have the same reputation as their lunch counterparts, but if you're ready to really shake things up, Haleakala National Park is where to do it. Hawaii is one of my favorite destinations for many reasons, but spending an evening outside with clear skies as far as the eye can see, truly takes the cake. Maui's Haleakala Volcano affords stunningly clear views of the terrain and sky, which makes stargazing at night a true spectacle. Be sure to wear layers to deal with the changing temperatures as they can range from near-freezing to really warm, depending on the elevation and weather.
Zion National Park, Utah, USA
Zion is the epitome of nature. It is the most striking environment for hiking, biking and more. There's nothing quite like tucking into a picnic basket surrounded by some of the freshest air, majestic canyons and the tallest trees. If you're looking for an unforgettable meal, a picnic in Zion should be at the top of the list. Take a break from a day of hiking to stop and enjoy a blissful meal under a tree or against a rock. The rest of the world can wait.
Andy Levine is the President/Founder of DuVine Cycling + Adventure Co.