There is something about the antiquated things of yesterday that provokes a nostalgic endearment beckoning one to defy the laws of physics in an attempt to understand the past. Nothing encourages this feeling like embarking on a classic train adventure where the tracks guide you through a land that otherwise remains untouched.
The train networks of Latin America are more than a thing of the past. Train travel is alive and flourishing throughout the continent, revealing hidden secrets through every tunnel and over every bridge. While there are hundreds of trains worth riding, here is a short list of some of the most unforgettable train adventures in Latin America.
Belmond Hiram Bingham- Cusco to Agua Calientes, Peru
Peru is known for some of the most impressive train rides in the world, especially the rides to Machu Picchu from Cusco in the heart of the Andes Mountains. PeruRail operates the luxurious Belmond Hiram Bingham train that provides exclusive service from Cusco to Agua Calientes, the gateway to Machu Picchu. Publicly acclaimed as one of the seven best trains in the world by Conde Nast Traveler Magazine, the Belmond Hiram Bingham train is the most luxurious way to travel to the sacred citadel of the Inca heartland. Distinguished by its blue and gold colored exterior, this train is equipped with four elegantly decorated passenger cars, two restaurant cars, a bar and scenic observation car, and an exclusive kitchen car. When you buy a round trip ticket for the Hiram Bingham train, services include brunch and exquisite music aboard the train, a tour guide per fourteen passengers, entrance and transportation to Machu Picchu, tea time at the classy Belmond Sanctuary Lodge above Machu Picchu, and a gourmet dinner on the return trip.
Tren Crucero – Quito to Guayaquil, Ecuador
One of the newest additions to the Ecuadorian train network, Tren Crucero launched its first trip in July of 2013, providing round trip luxury service from Quito to Guayaquil to connect the Andes highlands to the coast. Covering a distance of nearly 450 km over four days and three nights, this journey weaves through the Andes Mountains of Ecuador descending from a staggering 3,600 meters above sea level, along the way offering spectacular views of some of Ecuador's most beautiful natural attractions, such as la Avenida de los Volcanoes, la Nariz del Diablo, and el Bosque Nublado.
Tren a las Nubes –  Salta to Puna, Argentina
El Tren a las Nubes, or the Train to the Clouds, undoubtedly lives up to its name. Originally built to connect northwestern Argentina to the borax mines on the border of Chile, the Tren a las Nubes snakes through the scenic Argentine landscape over 13 viaducts, 29 bridges, through 21 tunnels, up 2 spirals and switchbacks climbing nearly 3,000 meters. The sixth highest train network in the world at 4,220 meters above sea level (fourth highest in Latin America), Tren a las Nubes has comfortable seating and air conditioning, with each car having a personal attendant. In addition to the bar and restaurant car, there is also a special medical car equipped with additional oxygen for passengers who might be feeling the effects of the increased in altitude.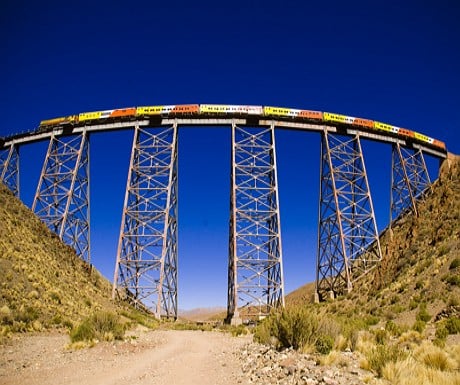 While it is not the most speedy mode of transportation, moving about 35 km/hour to cover a round trip distance of 434 km in about 15 hours, it is arguably one of the most spectacular train rides in the world. The journey begins in Salta in northeastern Argentina and ends after crossing La Polvorilla, the highest viaduct on the route measuring roughly 60 meters high.
Great Brazil Express – Curitiba to Cascavel, Brazil
All aboard Brazil's first luxury train! About 6 years ago, the Brazilian train company Paraná Serra Verde Express was inspired to offer a luxury train service to the likes of the famous Orient Express which became known as the Great Brazil Express. This exclusive train service only accommodates 22 passengers each trip, tailing two tastefully decorated cars with goose down-filled sofa cushions, silk curtains, and reproductions of Rugendas and Debret paintings depicting colloquial life in 19th century Brazil.The nearly 480 km trip from Curitiba to Cascavel is actually a leg of an all-inclusive plane, bus, and train tour from Rio de Janeiro to Foz de Iguassu, seeing a total of 12 cities and their attractions. But if you are just looking for a short getaway to admire Brazil's landscapes in style, the luxury train operates from Curitiba to Morretes on the weekends, as part of an upgrade option with the Curitiba-Paranagua train ride.
La Trochita – Esquel to Ingeniero Jacobacci, Argentina
A collection of 1922 narrow gauge steam locomotives operating over 402 km of the Argentine Patagonia, the La Trochita begins its journey in Esquel and passes through El Maiten and Ingeniero Jacobacci. Originally part of the Ferrocarriles Patagonicos running through southern Argentina in the early 20th century, La Trochita was declared a national monument by the Government of Argentina in 1998. This train serves as a timeless reminder of nostalgia as it operates its nearly century old route across the Patagonian countryside.
Are you a train enthusiast or have traveled on one of these trains in South America? Leave a comment below!
Richard Leon is the General Manager at Peru For Less.
If you would like to be a guest blogger on A Luxury Travel Blog in order to raise your profile, please contact us.