6 things to know about Bath
Behind the stoned buildings of Georgian Bath is a city that has plenty to see and do; a host of great eateries to visit and a vast array of accommodation to suit all budgets. Here are six things that you need to know about Bath to make sure that you make the most of your visit to this gem of a city that boasts a history sweeping back to the Roman times.
1. The golden glow of Bath's architecture
Bath stone is used to clad most of the cities' beautiful Georgian buildings. The stone was all excavated locally. The 18th Century Georgian architecture would be enough to captivate any Roman Emperor and indeed continues to captivate the modern day visitor. Much of the city has not changed over the past 200 years. Even today, modern day builders must adhere to using the same building materials in the heart of the city, meaning little will change. Two masterpieces that should not be missed are the Royal Crescent, a spectacular crescent curve of townhouses edging on to the magnificent Victoria Park, and the nearby Circus, a circular street mimicking Rome's Colosseum.
Bath is easily accessible by foot. However a good way for visitors to take in all of the scenery is on an open-top bus tour, which will take you past all of the significant landmarks; from the magnificent Bath Abbey at the heat of the city; to the Georgian masterpieces including the Royal Crescent, the Circus and the Georgian Assembly Rooms (now the Fashion Museum) to the main Georgian shopping drag that is Milsom Street and now hosts designer shops; and to the Roman wonder of Pulteney Bridge, a bridge reminiscent of Ponte Vecchio in Florence. The tour will leave you marveling at all of the historical architecture and point out the cities many Art Galleries and must go to destinations.
2. Roman history
The Romans knew that they were on to a good thing when they discovered natural warm water springs in the then swamp areas around Bath. They built the much celebrated and majestic
Roman Baths
to soak away their hours. Entrance to the Baths and museum is well worth the fee. You will be given a free audio player, which gives a comprehensive overview of explaining how the entire baths complex once looked. A visit to the Baths is a bit of a sensory overload: in the Pump Rooms visitors are offered the opportunity to taste the natural spring water and by the Bath edges you can smell the natural sulphur. And as you wonder around you can also marvel at some of wonderfully intact Roman artifacts such as the Gorgon, a mythical creature with hair made of snakes, and the bronze head of the once powerful Roman Goddess Minerva.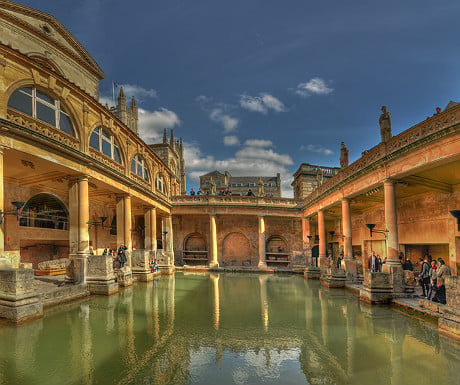 Straight from the Roman era you can then make a modern day splash in the 21st century state of the art
Thermae Bath Spa
that opened its doors to the public in 2006. The modern glass building represents a juxtaposition to the traditional architecture in town. That said it works. At the modern spa you can drift in the outdoor rooftop in the naturally heated spa waters drawn up from more than a mile under ground and watch the sunset (temperatures to 33 degrees Centigrade). There are a range of packages and treatments at the spa, a number of pools and steamrooms as well as an onsite restaurant to enjoy.
3. The novel attractions
Jane Austen is one of Bath's most notorious historical residents, she lived in the city from 1801 to 1806, and the city served as a backdrop in her books Northanger Abbey and Persuasion. In those days Bath was a retreat from the hubbub of busier city lives. Visitors would bathe at the Spa and socialize.
The Jane Austen Centre
will give you a great insight in to Georgian society and Jane's time in the City. It also offers an audio walking tour.
4. Shopping, shopping and more shopping
For over 200 years, Bath has always offered a vast array of shops. Of Bath, Jane Austen is even purported to have said, "There are so many good shops". Today the streets are bustling with shoppers down the main shopping fare that is Milsom Street and Milsom Place; to the several picturesque lanes and alleys that criss-cross on the side streets to the large modern Southgate development. Shoppers can find beautiful boutiques with bespoke offerings or find well know shops and brands.
5. Food, glorious food
The southwest is notorious for the wonderful array of artisan food producers; you will find a broad range of locally produced goods; from cheeses; meats; cakes and bakes. Bath is also home to some very fine restaurants and cafes. For afternoon tearooms you can not beat
Sally Lunn's
, a home of illustrious Bath Bun. For a more traditional high tea try out the Pump Room at the Roman Baths or why not head over the
Royal Crescent Hotel
for a really sumptuous treat. There are several restaurants in town. For a delicious yet relaxed lunch try
The Porter
on George Street. The chef Richard Clayton is a former holder of Michelin stars and this new gaff serving a range of seasonal British food will not disappoint. If you are looking for something quick and tasty then try out
Chapel Arts Cafe
, where a fantastic array of Moroccan food is on offer along with a range of cakes. Chapel Arts also host a number of events showcasing musicians. If you would rather have a pub lunch then
The Raven
is a fantastic place that offers a range of beer and ales and brilliant pie and mash. For a plate of home made pasta and all things traditionally Italian then head off to
Nonna's
. A wonderful family owned restaurant serve great food at a reasonable price. For a lunch or dinner with a bit of special pizzazz, then a table at the
Priory Hotel
's one
Michelin starred restaurant
may be just the ticket, where Sam Moody's team will cook up a wonderful feast, either from the al a carte menu or set menus. Alternatively you could get a taxi up to Bear Flat (approx. 1 mile out of the city) and get a table at the much talked about
Menu Gordon Jones Restaurant
. Here you will be treated to a food adventure as you are served an amazing 5-6 course-tasting menu of exciting food delights worthy of a Michelin star. Young and talented Chef Gordon Jones decides on the daily menu, so you can not choose, however his amazing culinary skills means that he does not disappoint his diners. Menu Gordon Jones will also cater for vegetarians if they are notified in advance.
6. Where to stay
There are many hotels and places to stay within the heart of Bath and lots more to choose from on slightly out this world heritage City. For those who would like to stay in the heart of town then
The Royal Crescent
offers luxury and falls out on to the main streets of the town. Rates start at around £200 per double room per night. Just around the corner on Russell Street you will find
The Queensberry
, four terrace houses fused into a boutique hotel, which has lots of changes of level leading to interesting lounges and secluded rear patios. Rooms here start at £125 per night; there are special rates available for dinner, bed and breakfast. A couple of miles out of town you will find
Aspley House Hotel
lovely boutique hotel. The rooms here are luxurious and start around £140 per night. You can find some special last minute offers online with rooms at £99 per night. For those who would rather spend more at the shops and restaurants there are several very good B&B options in Bath.
Images: 
Shutterstock
Did you enjoy this article?
Receive similar content direct to your inbox.