Seeking a luxurious getaway to Singapore? It's hard to beat Singapore Suites and the Four Seasons Singapore for some serious pampering. Here's what you can look forward to by upgrading your flights to and hotel stay in this cosmopolitan city.
Singapore Suites' "Book the Cook"
Want to pick out a special gourmet meal even before flying? Singapore Suites' "Book the Cook" service is for you. Offered for Singapore Suites, Singapore First Class and Singapore Business Class passengers, the Book the Cook service is available from Singapore and a number of other cities Singapore Airlines serves, such as New York JFK, Los Angeles, San Francisco, London, Frankfurt, and Sydney to name a few.
Menu selections vary by city, but the Lobster Thermidor is offered in several locations and is delicious, as is most any version of Rendang, a rich Malaysian stew prepared with beef or lamb. And if you have special religious or dietary meal needs, Singapore offers everything from Hindu, Kosher and Halal meals to Vegetarian Ovo-Lacto and No Carbohydrate meals.
Double bed for two or a suite with a view?
Singapore Suites is fantastic for couples booking the middle suites, which can convert to double beds. But even if you're on a solo jaunt, it's pretty spectacular to have your own enclosed suite with sliding doors and 3 windows for a great view. Singapore Suites beds are also incredibly comfortable, with a memory foam mattress layer and Givenchy bedding. You'll also be given Givenchy pajamas, slippers, and an amenity kit from French skincare specialist Sothys.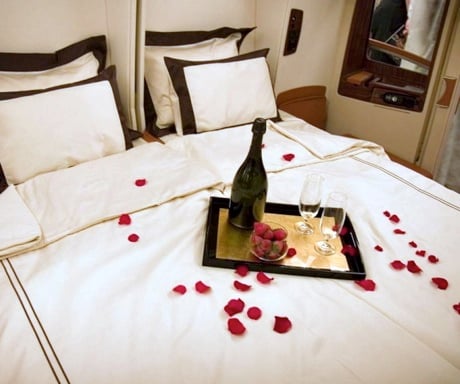 Superb service
"Would you care for Krug or Dom Perignon?" is a question you won't be asked often on a plane, but Singapore Suites tastefully offers you this choice of top of the line champagnes. As a Singapore Suites guest, the head purser and flight attendants working in Suites will come by to introduce themselves to you and help you feel at home, whether it's taking your jacket, offering a favorite newspaper or making a helpful recommendation for your stay in Singapore.
Four Seasons Singapore: a warm welcome and refreshing welcome drink
The Four Seasons Singapore is in a leafy, tree-lined residential area of Singapore, yet just steps from trendy Orchard Road shopping and a short taxi ride to many Singapore attractions, such as Marina Bay and Gardens by the Bay.
You'll be ushered by the friendly doormen into the hotel's lobby, with its beautiful flower arrangements and welcoming reception staff. Enjoy a cool scented moist towel as a respite from the outside heat, along with a delicious and refreshing welcome drink.
Couples-only floor
Did you know that the Four Seasons Singapore offers a couples only floor on its 11th floor? If you book this floor, you'll use your room key to be able to access it from the elevator (no need to fear any pint-size interlopers!) Enjoy complimentary canapes in the afternoon and early evening, mood lighting in the rooms and even in the hallways, sweet treats in the room, and even a love bucket with 101 romantic ideas to bring you and your loved one closer.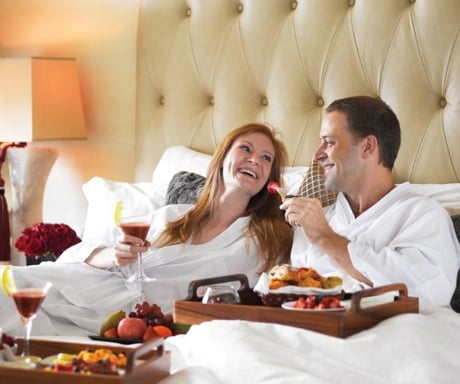 Best of all, no need to worry about housekeeping waking you up when you want to sleep in: housekeeping doesn't come around until 12 noon, unless you request otherwise.
Third night complimentary and Four Seasons Preferred Partner perks
Make it a long weekend by taking advantage of the current stay longer third night free offer, through September 20, 2014. And if you book with a Four Seasons Preferred Partner luxury travel advisor, you'll also enjoy complimentary daily breakfast for two (including the extensive breakfast buffet of Asian and Western favorites); a one category room upgrade based on availability at check-in; $100 food and beverage credit once during stay; and complimentary high speed Internet access.
Work out… or relax poolside
One of the more unique aspects of the Four Seasons Singapore is that, in addition to the Fitness Center, it offers air conditioned tennis courts (a great idea given the daytime heat in Singapore), as well as outdoor courts (fees apply). Also unusual, for a city hotel, is that it offers not just one but two outdoor pool. The rooftop pool is for families and casual swimmers, whereas the tranquil third floor outdoor lap pool and adjacent whirlpool is perfect for both serious swimmers and couples that seek a more serene poolside experience.
Secret menu: Singapore Hawker at One-Ninety
One-Ninety is the Four Seasons Singapore's steak and seafood fine dining venue. But come on, you don't come to Singapore for a steak or hamburger–ask instead for the Singaporean menu, so that you can feast on hawker favorites such as Laksa, Char Kway Teow or Nasi Lemak, all in a romantic setting.
Have you enjoyed Singapore Suites and the Four Seasons Singapore?
Hilary Stockton is the CEO at TravelSort.
If you would like to be a guest blogger on A Luxury Travel Blog in order to raise your profile, please contact us.