As part of Enterprise Rent-A-Car UK's #openroadessentials campaign, I've decided to share a few road trip essentials that I take on my own travels. This is a really fun project to get involved with so do take a look at the link at the end if you fancy taking part (there's a great prize to be won!) or even if you just want to explore the travel essentials of others.  Anyway, without further ado, here are mine.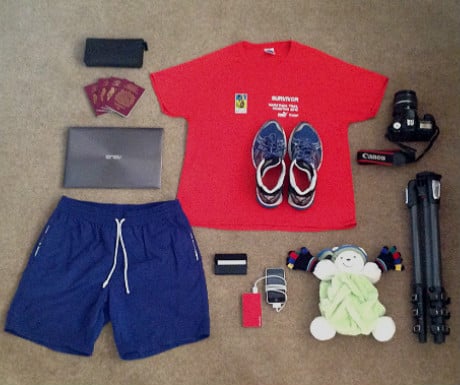 You'll have to forgive me for the quality of the picture. With my camera already in the shot, I didn't have my best photography equipment to hand! So… "what do we have here?" I hear you ask… and here's the answer:
Tumi Ticon travel wallet
A recent addition to my travel essentials but a great luxury product. Made from leather, it's a good size and even has its own proprietary technology (Tumi ID Lock™) designed to protect personal data encoded on most IDs, credit cards and passports.
Passports
I know, I know… it's a rather obvious one, but an important one nonetheless! Whenever I leave the house on a trip, I find myself repeating three words – "passport", "money" and "tickets".  So long as you have those three things, you are usually 'good to go'.  Forget your passports on an overseas trip and you're heading for disaster before you've even left. And there's added pressure for me because I'm the one that's responsible for the passports for the whole family whenever we travel!
ASUS Zenbook Prime UX31A ultrabook
This is a crucial bit of kit for me as a travel blogger, so it comes everywhere. It's lightweight, pretty quick, slim and has a reasonable battery life.  And what I really like about it is the screen… it's got a good level of brightness and is usable outside even in sunny conditions which was a key factor for me when choosing. It would be no fun being a travel blogger and being stuck inside all the time!
Running gear
It would be all too easy to pile on the pounds in this job so, whilst I'm not a great runner, I do enjoy getting out and about and burning a few calories, even when I'm travelling. I've completed six marathons to date (3 in England, 2 in the US and 1 in Scotland) and will no doubt be eyeing up a seventh in the not too distant future, so the runing gear must come with me at all times.
Orlebar Brown swimming shorts
You never know when you might have a swimming pool (or the sea!) at your disposal so his pair of Orlebar Brown swim shorts comes with me everywhere. They are rather conservative when compared with much of their range but I'm happy with that, and in particular with the quality and fit.
Giorgio Fedon business card holder
Since pretty much all my travels are work-related, I always need some business cards with me and need to keep them from getting 'dog-eared'. This stylish luxury accessory does just that ad is made from soft Italian nappa leather. It's modern, beautifully crafted and holds around 20 cards which is more than I need at my disposal on an average day.
iPhone and mophie charger
Of course, smartphones have become a staple requirement for many nowadays. Whilst my iPhone is long overdue an upgrade, it remains a rather predictable travel essential for me. The battery drains all too fast on it, though, so the mophie charger, which is slim and lightweight and yet can re-charge the device twice over, is a great add-on to carry with it.
Canon 50D
It's not the choice of the pros, but not an entry level DSLR either, and despite being superceded now by later models, my Canon 50D is still a trusty piece of kit.  I did nearly leave it in a restaurant in Cape Town, mind, but thankfully remembered just as I was leaving and dashed back inside to find it was still there. Phew!  Sometimes it's as much of a worry losing the card that's in the camera as losing the camera itself!
Manfrotto tripod
Photography is a bit of a hobby of mine but, being so busy, I often feel I don't really have the time to do it justice. Over the years, though, I've learnt how important it is to have a tripod if you want to get the most from your photography in certain scenarios (ie. whenever you want the shutter open for any length of time), so this reliable friend comes with me everywhere.
'Fat Lump'
Last but by no means least… one of our sons is rather attached to 'Fat Lump' as he has become affectionately known . Sporting multi-coloured gloves and a belt around his head (he didn't come like that originally, I hasten to add!), he's an extremely soft and cuddly travel companion!
So, now that you know mine… we'd like to hear what your travel essentials are when you're on the open road! You can win an amazing road trip for two by simply submitting one of your road trip essentials using the #openroadessentials hashtage. For more information, see the competition page.