Following your next trip, food and drink will inevitably play a large part in how successfully your trip plays out, but, short of asking some friends who may live there, the research required to find out where to eat and drink while you're in town can always be a hassle. Researching for food is, in relative terms, easy; many cities, regions or countries have their own version of a restaurants rating site or app.  Alternatively you may come across blogs, forums or articles detailing exactly where to satiate your hunger on your travels, primarily accompanied by articles that also tell you where to stay or sleep, helping you avoid the tedious research necessary to plan out your meals. But where do you go if you want to find out where to sip the coolest cocktail in town or just want to satiate your thirst for a drink?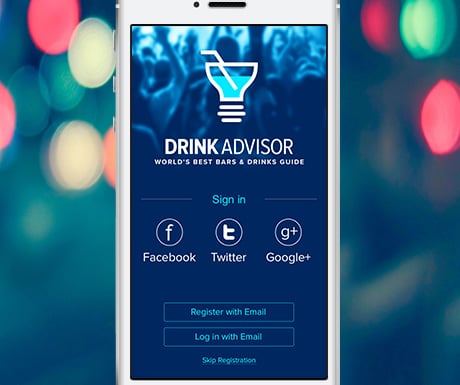 DrinkAdvisor, a free and easy to use app available, makes searching for that happy hour beer, late evening cocktail or nightcap that much easier. If you're looking for where the hottest late-night spot or club to party the night away in town is, the app can help you with that too.
Dubbed as "the world's best bars and drinks guide", the app covers bars and nightclubs in 200 of the biggest cities around the world, helping you find exclusive information on over 7,000 bars spanning major cities globally. Featured information includes detailed descriptions of places giving a feel for the ambiance and type of bar/club, opening hours, distance to respective bars and clubs from current location, photographs of interiors and user ratings, reviews and photographs.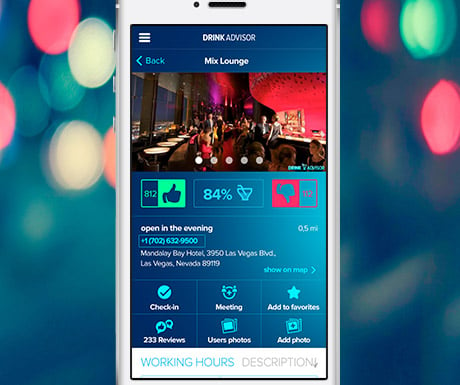 Used by local city-dwellers as much as by past visitors who have already scoured the town, and future or current tourists, ratings and reviews are genuine and designed to help anyone interested in a drink find out where best to go according to their mood, with detailed descriptions providing a good rundown of the place and what to expect at that bar or club. With a favourites tool, it's easy enough to plan your night (or even weekend!) out in advance by adding the bars that interest you the most to your personalised favourites list.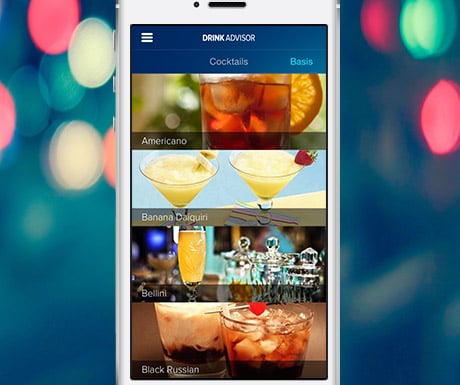 In addition to being a helpful tool, the app also has a plethora of additional extras, from unique history and interesting facts about alcohol, to detailed recipes for famous cocktails, the latter possibly coming in particularly handy for hosted parties at home, when someone will (no doubt) order the one drink you don't know how to make or what alcohol is to be used for a zombie cocktail. The answer to that particular cocktail conundrum, thanks to the app, is 2/10th dark rum, 1/10th gold rum, 1/10th apricot brandy and 2/10th white rum -so stock up now!
One of the app's most unique features is its ability to organise events and arrange meet ups at bars with friends who use the app. With a streamlined process designed to eliminate all the usual hassle in arranging meets, hosting a party is now simply a few taps away.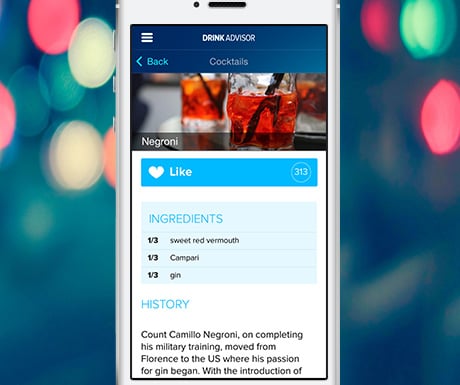 While there are plenty of drinks apps around, there are very few that are so all-encompassing, covering a range of topics from nightlife, bars, nightclubs and drinks, all with up-to-date information. The app continues to grow, with bars and nightclubs being added on a daily basis.
Featuring an easy to use format and interface, the app makes life (and evenings and nights) that much easier and that much more pleasurable. Drinkadvisor is available for download on both the Apple Store and on Google Play.
Happy drinking!