Increasingly in the modern market, an airline is judged not only by its business and first class, but also by its private or members' lounge at various airports – most certainly for short-haul trips, where time spent in the aircraft itself is minimal. A new VIP lounge – Club Bauhinia – situated near Gate 23 at Hong Kong International Airport, opened in late June to provide service to Hong Kong Airlines business class passengers and frequent flyer members.
Prior to our 5-hour trip to Bali, we had the opportunity to try out the new lounge. As our flight was departing around noon, we arrived very early for some much needed breakfast. The lounge offers a very reasonable selection of local Cantonese dishes, from dim sum and egg waffles to steamed rice sets and noodles, complemented by a small pastry section and sandwiches. The selection certainly veers more towards local tastes than international, and while the range of dishes is very small, the Cantonese dishes, in particular, are very well made, providing a fulfilling start to our day.
The lounge is split into several sections, primarily with an open plan. The communal dining table takes centre stage, while the fringes of the lounge are lined with a much more comforting but standard seating arrangement of sets of four chairs around a coffee table. Thoughtfully, there is also a section for lone travellers to sit in privacy and peace, with high-raised back chairs arranged in a row and facing away from each other. Entertainment is provided in the form of digital (iMacs) and traditional (with a slew of magazines, newspapers and other publications, as well as a television broadcasting business news).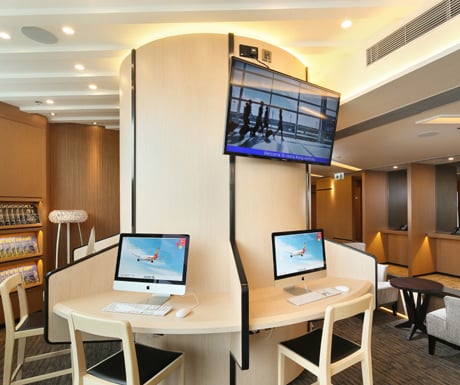 Further inwards, the lounge becomes darker and more discrete, appropriate for the sleeping pods that populate the area. While privacy could be improved, the pods are almost too relaxing, so be sure to set an alarm. Thankfully, the staff are alert to your departure time and would wake you with enough time to spare before your flight. While the official photos do not do the lounge much justice, we were pleasantly surprised by this unexpectedly serene lounge and by the food.
With no first class, business class offers Hong Kong Airlines' most premium seats, presenting a 2-2-2 arrangement decked out in a rather calming red and grey-tinged palate. The seats have three preset positions: upright, rest and sleep, with the middle being extremely comfortable, while the latter is entirely redundant as the slightly raised angle is not conducive to a good sleep. Thankfully, the individual pads of the seat from head to toe are entirely customisable according to your preference, as I found a good afternoon's sleep after toying around with the controls.
A tucked-in flip screen monitor provides the bulk of the entertainment, but sadly the touch screen is dated and difficult to operate as response to the touch and its remote control is slow. With a fairly short flight, there was only one meal onboard. The international menu offers a choice of mains, with set appetisers featuring a seafood salad and Häagen-Dazs ice cream for dessert. Unfortunately, even by airline standards, the food was rather bland, with not even the fish, doused in an overly thick, creamy sauce, being a particularly safe choice.
While the airline's hard product could do with improvements to bring it up-to-date to modern expectations, the service throughout the experience, from check-in to the lounge to inflight, is exceptional: friendly, caring and very responsive to demands, and is probably the most luxurious aspect of the offering. Hong Kong Airline's genuinely enthusiastic service standard is something we've had the pleasure of experiencing on many a trip, from economy to business class. While the hardware possibly leaves much to be desired in comparison to its competitors and more established airlines, the service continues to impress and has been a primary reason for my continued and consistent patronage of Hong Kong Airlines for short-haul flights, especially factoring in the airline's fantastic rates.
Chinmoy Lad is the CEO and Founder of The Suite Life.
If you would like to be a guest blogger on A Luxury Travel Blog in order to raise your profile, please contact us.