For those who haven't seen my 'tried and tested' posts on A Luxury Travel Blog before, this is an ongoing series where I give a brief overview of products I have trialled on my travels. On my trip to the ILTM international luxury travel conference in Shanghai this year, I road-tested a few new products, details of which can be found below.
TUMI is world renowned for its quality luggage but also boasts other items in its range such as toiletry bags, passport cases and travel wallets. This large Ticon zip-around leather travel wallet (measuring 10.25 cm x 20.5 cm x 4.25 cm) is the perfect solution for carrying passports, money and other essentials. For the security conscious, features include Tumi ID Lock™ – a proprietary technology designed to protect personal data encoded on most IDs, credit cards and passports. Any pocket lined with the signature red TICON-patterned lining offers this advanced technology. The ideal travel companion, the wallet comes with no less than five interior compartments, an ID Lock zip pocket, open pockets and 16 card slots.
Finding a bag that's not too big but carries my essential photography kit (camera body and lens, spare lens and battery, filters, data cards and one or two other bits and pieces) is not so easy but I found the medium-sized Advanced Tri Backpack from Manfrotto to be just right for my needs. It comfortably fits with standard carry-on luggage requirements (though cheque the specific details with your particular airline), meaning that you don't have to be put any of your treasured equipment in the hold and risk it being mis-handled or – worse still – lost.  A lot of thought has clearly been put into this bag – you can easily swing it around from a backpack position to access the items you need, without having to take it off your back.
There are straps so that you can externally carry a compact tripod. Again, finding a tripod that's rigid enough (avoid the many cheaper makes – they invariably don't give the same rigidity which is essential for long exposure photography) yet still portable can be a challenge, but Manfrotto's compact lightweight tripod for travel photography (MKBFRA4-BH) is the ideal companion for this bag and is not too weighty for someone who's regularly on the move. It measures just 40 cm long once in the closed position so won't take up too much space either.
This really sturdy cotton tote bag from Toghal was great for carrying the various brochures and flyers I gathered from the ILTM conference that I attended. Strong and thick, it can take a substantial amount of weight without causing any apparent strain on the seams. You could equally use it for shopping at a market perhaps or, with its interpretation of Mbuti designs from the Congo, it wouldn't look out of place in Africa either. The design has been screen printed so the bag can go in the washing machine at a low temperature.
Luxury candles from The Sitota Collection
Like to have something to soothe and relax you when you get to your destination? Inspired by a love of travel The Sitota Collection has an excellent range of luxury candles. Go for the the Petit Excursion Candle Quartet – small and compact, these make the perfect travel companion and yet still have a burn time of 18+ hours.  It also gives you the opportunity to try them all out before buying one of the larger ones with a burn time of 55+ hours. Our recommendation: the Aigyptos scented candle with notes of amber, sandalwood, musk and vanilla, smoothed out and balanced by jasmine, lavender and orange. Infused with essential oils including copaiba, balsam, orange and lavandin.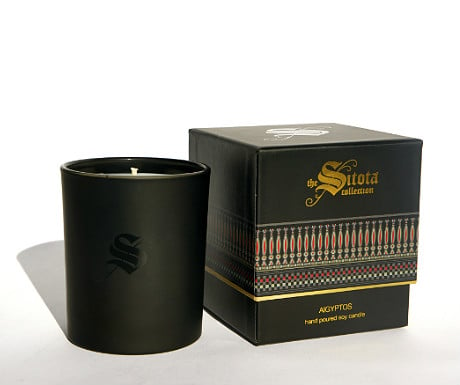 Got a stinky pair of trainers that you'd prefer to keep away from your main clothes?  Or perhaps you'd just like to carry a pair of flat shoes with you when you're out in high heels if you know you're going to have a long walk home afterwards? The slightly unfortunately named SHAG (that's 'shoe-bag', in case you're wondering) is the ideal solution, keeping your clothes and belongings neatly separated from whatever your shoes having been coming into contact all day. It comes with a convenient carry handle and is made from a water-resistant polyester so can be wiped clean easily if you've been traipsing through mud.