Luxury travel with four-legged friends… your tips, please!
Meet George… our new puppy. He's a lively 10 week old English Springer Spaniel and, of course, our new travel companion! Right now, he's keeping us busy, chewing anything he can get teeth into and generally being a mischief. This is going to be a steep learning curve for us all, not least when we come to travel with him, so we welcome any travel tips from experienced dog owners.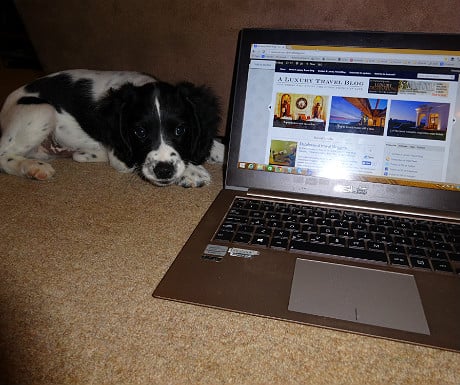 Dog-friendly places to stay in the UK
We may well be taking a few more UK trips as a result of our new canine companion so we welcome your suggestions on dog-friendly luxury hotels or other accommodation, and dog-friendly places to visit. Any tips on travelling with your dog on long car journeys?
Dog-friendly travel gadgets / accessories
Are there any travel gadgets or accessories that you can't live without? Please let us know what they are and why they're so useful. Would you recommend using a crate? What information do you suggest is included on ID tag? Are there any apps that are useful?
Taking your dog abroad
What are the things we need to know if we ever consider taking our dog abroad? Any tips on applying for a pet passport? Any implications for your pet insurance? What treatments do you need to ensure your dog has had and how do you find out if there are any other requirements for the contry or countries you're visiting?
Leaving your dog at home
I'm also looking for tips on what to do with your dog on those occasions when you don't take him with you. DO you use kennels? Do you instead leave your dog with friends and/or relatives? Are ther other options to consider? The above are just a few issues for us to think about. In the meantime, we welcome your tips and suggestions on any of the above issues, and more, in the comments below. (No spam, please… if you have something you'd personally like to promote, then
click here to contact us
. Thank you.)
Did you enjoy this article?
Receive similar content direct to your inbox.