With a pair of planks strapped to my feet at the age of three, little did I know this would be the shape of things to come – a passion that I would never outgrow. As an avid skier, I have experienced most snow conditions that the Alps have to offer and while of course we can't reliably forecast a huge snow dump, the trends (and peoples' perception of those trends) are fairly robust.
1. First tracks
Espace Killy aside, December is when the vast majority of ski resorts open and quite understandably the seasoned skier is simply desperate to indulge his/her sport after months of abstinence! And why not – if you go at the beginning of the season, there is plenty of time to score a second ski trip to enjoy later season conditions.
2. The pistes are quieter
The good news is that it takes most of the winter sports enthusiasts a little time to warm up to their ski trip so on average, the pistes are so much quieter. More importantly there are very few queues for the lifts which means your vertical mileage potential is phenomenal. I challenge you to literally double your vertical descent statistics!
3. Amazing piste conditions
While December isn't known for off piste skiing, I have often enjoyed incredible conditions. Last year I lost my ski in 2m of glorious powder! The pistes themselves are exceptional, having been groomed to perfection for the resort opening. With far fewer skiers and snowboarders cutting up the slopes, the corduroy remains intact for much longer, especially at high altitude resorts, making each of those descents so much more enjoyable. The Skiing World Cup is held in Val d'Isere in December and if it's good enough for the world's skiing elite…
4. Luxury for less
Some weeks in the month of December can be up to half the price of peak season tariffs, making that perfect luxury family ski trip a real possibility. Either that – or you simply have more to spend on the slopes and gear to finesse your form. The pace of change of ski technology makes upgrading much more worthwhile. You'll even find Christmas costs less than you think.
5. On form
An often underestimated reason to ski in December is quite simply the level of service that you'll receive throughout your stay. Instructors are fresh, excited to be back on snow, unjaded by the challenge of chaperoning groups of kamikaze children. Meanwhile, chalet staff are exceptionally enthusiastic and eager to please and even shop attendants are friendly and welcoming. The shared anticipation of the whole season ahead is catching.
6. Postcard perfect
Lastly, there is little more beautiful than the first sight of snow-capped peaks, glistening at sunrise while snow laden chalets surrounded by fir trees stir and ski lifts creak into life. Twinkling lights a plenty, resorts like Val d'Isere do a fabulous job of making the early nights special with the village lit up in a thousand different colours, Christmas trees a plenty and stalls of hot chocolate to draw you in.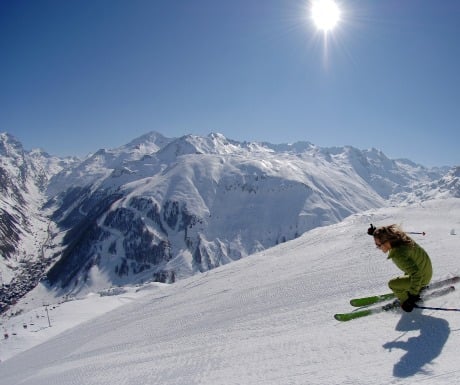 Yes, December is definitely one of my favourite times of year to ski. Hopefully you now have an inkling why…
Jamie Rennie is Director at Le Chardon Mountain Lodges, Val d'Isere.
If you would like to be a guest blogger on A Luxury Travel Blog in order to raise your profile, please contact us.