By
Paul Johnson
on Nov 17, 2014 in
Accommodation
,
Bars
,
Europe
,
Family Travel
,
Featured
,
Going Out
,
Greece
,
Hotels
,
Leisure Travel
,
Regions
,
Resorts
,
Restaurants
,
Special Features
,
Speciality Travel
,
Travel Miscellany
,
Western Europe
On our arrival at the Sani Resort, a family-owned ecological reserve covering some 1,000 acres and with stunning, golden beaches, we were warmly welcomed by the ever-helpful Angelina in Guest Relations, offered a glass of fizz and presented with a useful map of the resort, outlining the various accommodation offerings, the marina, the restaurants and so on.
We were also informed of the free Sani Resort app – available through the Apple app store or via Google Play – which provided us with live information on what was happening in and around the resort so that we could make the most of our stay. Access is simple as WiFi is available throughout the public areas of the resort which I found to be impressive given its scale.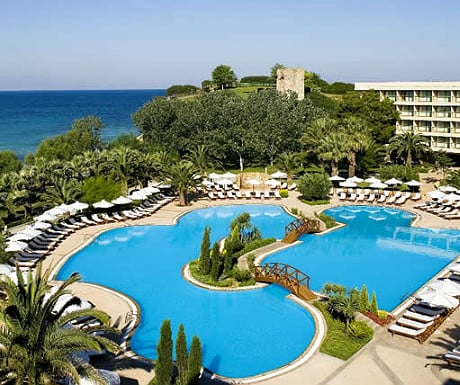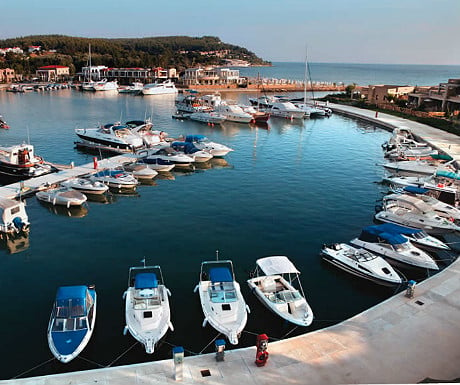 With the help of the map, it doesn't take long to get a basic general overview; within this serene setting are four main areas of accommodation: the recently renovated Sani Beach Hotel, the Sani Beach Club, Porto Sani Village and the Sani Asterias Suites, as well as the Sani Marina area – which make up the main areas of the resort. Our accommodation was a family suite in the Sani Beach Hotel and consisted of a master bedroom, a well-appointed lounge with sofa beds for the children, bathroom and generous balcony.
By travelling with Sovereign, we also benefitted from one or two extras that we wouldn't have otherwise enjoyed. Sarah, our dedicated Sovereign Concierge, had contacted us prior to our arrival and recommended that we book certain aspects of our stay (eg. the sunset cruise) in advance of our arrival in order to ensure we weren't disappointed. She also checked we were happy with everything once we had arrived and emphasised she was on call 24/7 should we need. This was all done in a way that wasn't intrusive to our stay, but at the same time re-assured us that help was on hand if required. And the 'Sovereign Experience' doesn't stop there. Other benefits included lounge access at our departure airport, an Anne Semonin gift on arrival and breakfast in bed on the first morning of our stay, the latter being a really welcome extra since the day before we had left home at 2am to catch a 6am flight.
In reality, breakfast in bed was never quite going to happen with children in tow, but we enjoyed it on our balcony overlooking the hotel's heated outdoor pool. Close by to the pool is MySpa which consists of not only a spa offering various beauty treatments or massages, but also a gym, sauna, the 'Yianni' hair salon and a heated indoor pool (which becomes a child-free zone from 2pm onwards).
Children (or adults) not satisfied with just a pool will find no end of sporting and other events at Sani. Available watersports include waterskiing, catamaran sailing and paragliding; diving with a large choice of underwater excursions can be enjoyed with professional PADI instructors. And for those who prefer dry land, there are mountain bikes available for hire, as well as the opportunity to play tennis, badminton, basketball, beach volleyball, football and more.
Those who are looking for something a little more sedate can simply go for a walk with two marked trails on offer through the nearby pine forests. There is an eco-excursion program available through Sani VIP services but availability is limited so do book ahead for the Sani Cliff Trail (a 4-hour walk with an amazing view of the unkown Kassandra landscape) or the Forest Walk (a 1-hour walk in the Bousoulas forest). We did the latter with Chris and learnt about the delicate ecosystem of the forest and neighbouring sand dunes, the flora and fauna to be found in this part of the resort (which includes many birds and other animals such as mice, hares and some non-venomous snakes), the pine trees and the distinctive pine honey that bees produce, and all about the Sani Green programme which currently accounts for the recycling of 33% of all the resort's waste.
Also on site is the birdwatching tour at the Sani Wetlands bird sanctuary. This area of Sani covers 225 acres and consists of two coastal lakes – Lake Yerani, with brackish water, and Lake Stavronikita, with mainly fresh water – surrounded by pine trees and farmland (primarily cereals and olives). These different ecoystems give the Sani Wetlands their unique character and increase the variety of habitats available to birds and other animals to such an extent that 217 of Greece's 450 bird species can be found here. The wetlands are not only an important location for many aquatic birds such as the globally threatened Ferruginous Duck, but also of a useful restful place for migratory birds passing across the Aegean Sea in the Spring months.
All these activites are sure to muster up an appetite and restaurant options at Sani cover everything from gourmet options to traditional tavernas. There are some 18 restaurants and bars on the resort and through the Dine Around programme, guests on half or full board can eat at most of them, choosing from a tailored menu or by having an allowance set against the a la carte options.
The buffet options (for breakfast, lunch and dinner) at the Poseidon – just one floor below reception – ticks all the boxes for eating with children, giving them the opportunity to sample items that they might not normally try. But for more of an atmosphere, try some of the other options – the Mediterranean style breakfast at Ammos was a much more relaxed affair with the gentle lapping of the sea audible in the background, and the Greek taverna at the marina has a lovely feel about it, as did the ouzerie at Sani Beach Club in the evenings. Here are a few photos to give you a flavour of what to expect:
Breakfast at Ammos Bar and Restaurant:
Cheeseboard at Poseidon Restaurant:
Delicious salads at Grill by the Pool:
Grilled aubergine with muhamara (baked red pepper pesto with chili, walnuts, pine nuts, pomegranate syrup and yogurt) at La Tomata
We loved the ouzeries and the open air ambience of the Bousoulas Beach Bar, conveniently located close to the kids club if you're looking for an hour's respite whilst the little ones have fun with an activity.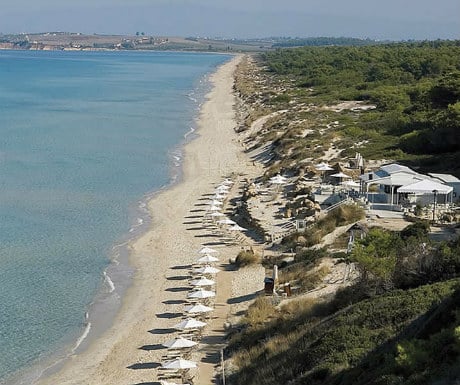 Sani is ideal for families and the Melissa Kids Club offers an activity programme for children aged 4 to 11, run by Worldwide Kids Co. Activities include making postcards, watersports (15 euro supplement), Lego, beach Olympics, pizza faces, 'capture the flag', mini disco and much more. For those a little too old for the above, there's a teens club in high season offering various activities for an extra charge (watersports, football, cooking, spa experience sessions, etc.)
And those looking to explore beyond the confines of the resort can sample one of the many excursions on offer – a visit to the traditional village of Athitos, a guided winery tour of Gerovasiliou or shopping trips to Mediterranean Cosmos, Northern Greece's biggest shopping mall. Should you prefer, VIP options include helicopter rides and private yacht charters. At dusk I'd highly recommend the 30-minute sunset cruise – a lovely way to bring the day to a close before dinner, complete with complimentary Champagne.
In the unlikely event that you're still seeking something to do in the evenings, the Garden Theatre offers a weekly 'Greek night' and a host of other events, plus there's the not-to-be-missed 'White Night' at Bousoulas Beach, as well as the Orpheas open air cinema (showing films in English with Greek subtitles) and concerts on Sani Hill in high season.
We enjoy having active holidays with new experiences, and yet Sani was a fantastic opportunity to just put our feet up and do very little, yet have plenty of options on hand should we wish. Watch the video below as we feel sure you'll like the look of it, too!
Disclosure: The above was a luxury holiday sponsored by Sovereign, specialists in handpicked luxury holidays to Mediterranean Europe and exotic long haul destinations.