By
Paul Johnson
on Dec 29, 2014 in
Accommodation
,
Attractions
,
Bars
,
Clubs
,
Europe
,
Featured
,
Food and Drink
,
Going Out
,
Hotels
,
Photography
,
Regions
,
Restaurants
,
Travel Equipment
,
Travel Miscellany
,
United Kingdom
,
Vacation Rentals
,
Western Europe
SPONSORED FEATURE IN ASSOCIATION WITH AMERICAN EXPRESS
London is a city that has seen considerable change in the last 20 years. Of course, many of the capital's most notable buildings such as St. Paul's and the Palace of Westminster have been around for centuries, but two decades ago there was no London Eye (completed in 2000), no Gherkin (completed in 2003) and no Shard (completed in 2012)… not even a Millennium Dome, of course.
A great time to see the city's changing skyline is at night so, armed with my DSLR and some warm clothing I headed down to London to spend a few days unearthing some of London's most iconic views after dark. But of course I wanted to enjoy some of the best bars and restaurants that London offers while I was there, so I connected my American Express card to my TripAdvisor account and sought out recommendations through its network of exclusive 'Amex Traveller' reviews, which you can access along with some great 'top 10' content for major world cities and a range of offers.
Whilst on assignment, I stayed at a beautifully appointed two bedroom serviced corner apartment at Cheval Three Quays. This has to be one of the best views from any accommodation in London. Below to my left, I had the Tower of London and to my right a view of the Shard and, to the far right in the distance, I could see the top of the London Eye. But straight ahead of me was the highlight – a superb view of the Tower Bridge.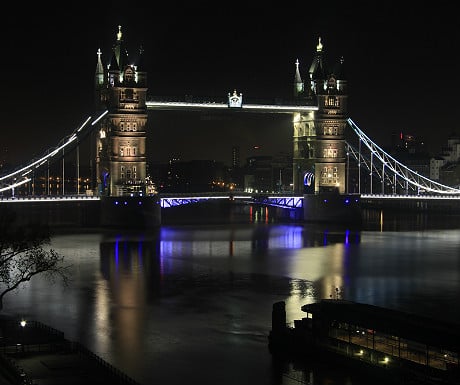 With two outside balconies to choose from, I could have simply sat and watched all night as boats drifted up and down the River Thames. Instead, though, I was had a quest ahead of me… to find other great views that were a match for this one!
Dusk is a magical time to observe the city transform from day to night, and a great location to see this happen is at Vertigo 42, on the 42nd floor of Tower 42. You'll have to take two lifts to get there, changing on the 23rd floor, as well as climb just one flight of stairs, but this bar is well worth the visit for the views alone. You can get a close-up view of the Gherkin which is only a stone's throw away as well as an amazing panorama of the heart of the city.
To help you with your orientation, the words 'tower', 'bank', 'big ben', 'eye', 'st pauls', 'bt tower, 'wembley', 'barbican', etc. are etched in the glass table that surrounds the bar. Whilst you settle down and get your bearings, it would be rude not to choose from the unique collection of Champagnes, wines and cocktails. They even have a tapas menu should you be feeling a little peckish.
Tate Modern is pretty much directly opposite St. Paul's Cathedral, one of London's most iconic buildings. Entry to the gallery is free and if you head for Level 3, you will find a balcony offering a wonderful view across the River Thames. Note that the gallery closes at 6pm most days so if you want to see this view at night, you will need to be prompt. Alternatively, visit on a Friday or Saturday when the opening hours are extended until 10pm.
If you're out of luck, then the view from nearby Millennium Bridge isn't a bad alternative.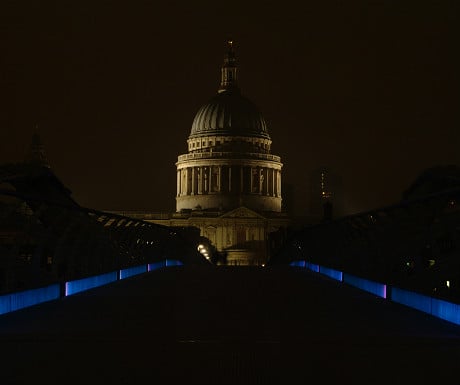 For stunning views of the city – day or night – the London Eye is a must.  A single revolution takes around 20-30 minutes but the time seems to fly by as there is so much to look at and take in.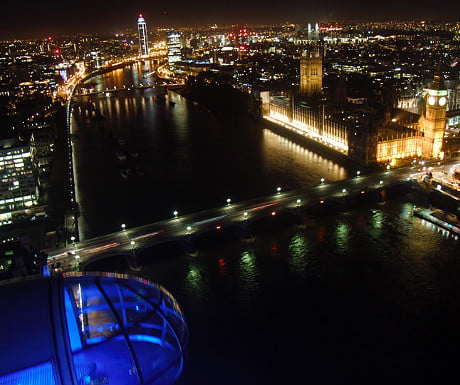 Please note that you are not allowed to take tripods, multiple lenses or long lenses on to the capsules so taking good photographs, particularly at night when there can be lots of reflections coming back off the glass, can be a little challenging. (If you do happen to have a tripod, don't worry… there is the means to hand it in for safekeeping and then claim it back after the ride.)
Make sure you also visit the 4D experience either before or after your ride as it is included in your ticket. This is a groundbreaking three minute 3D film with spectacular in-theatre effects including wind, bubbles and mist which add a breathtaking fourth dimension.
I'd heard great reports about the views at Paramount and it didn't disappoint. Located at the top of Centre Point, on the 32nd floor, you are in for a real treat here. There is a viewing gallery on the uppermost 33rd floor, accessed by a single flight of stairs. This offers truly 360-degree panoramas (you can walk right the ay around) with near-floor-to-ceiling windows and occasional clusters of low seating where you can relax and quite literally drihnk in the views.
Speak to the very friendly and approachable Marco, the head barman at Paramount, who's responsible for about 80% of the cocktails on the menu. And they each have a story… pictured is the Femme Fatale – which he told me is "everything he looks for in a woman" – but on the menu is described as "Mysterious and seductive whose charms ensnare, this base of Bowmore 12 year old boasts a higher proportion of sherry-matured malt in its make-up which together with St Germain Elderflower cordial, lemon juice and egg white, and garnished with an edible flower makes a tantalising temptress."
Westminster Bridge
Of course, you don't have to scale tall buildings to enjoy some of the best views of London. If you don't really have a head for heights, the views from Westminster Bridge at night – whichever direction you choose to look – rival those from some of London's highest landmarks. From here there's a great view of the National Theatre lit up in different colours, the London Eye and the chain of lights along the South Bank.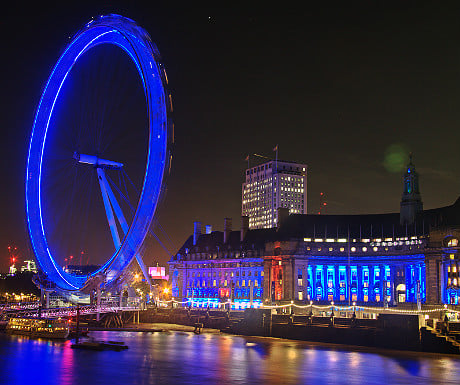 OXO Tower Restaurant, Bar & Brasserie
At the top of London's famous OXO Tower is a restaurant, bar and brasserie. Formerly a power station for the Post Office, the building was saved from demolition in the 1970s and 1980s, you can now dine in this 8th floor restaurant and from there enjoy access to a long terrace overlooking the banks of the Thames.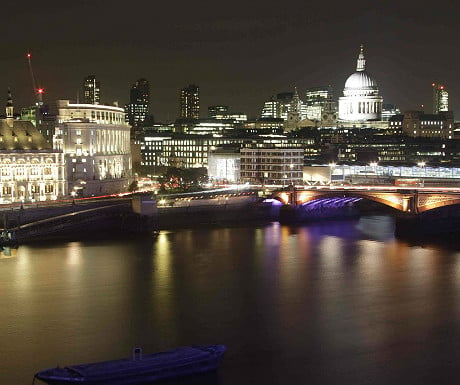 Whist you enjoy the views, the restaurant offers a fine dining experience with beautifully presented, modern, seasonal British dishes with an innovative twist. For a special treat, try the roast Chateaubriand for two, with beef fat chips, béarnaise sauce, baby spinach and bacon salad.
Located on the 10th floor of the ME London hotel is the lovely Radio Rooftop Bar and is another bar with superb views of the city. From a fairly expansive terrace, the panorama takes in Tower Bridge, the Shard, London Bridge, Saint Paul's, Tate Modern, Somerset House, Southbank, the London Eye, Houses of Parliament and the Theatre District of Covent Garden.
As well as the drinks and wide selection of cocktails, there's a choice of international tapas (try the calamari or the goats cheese crostini) and a friendly, unpretentious atmosphere.
Palace of Westminster
Finally, one of the most iconic views in the world. If you aren't one for heights, the view from the opposite bank to the Palace of Westminster is a sight to behold at night, with the glow of the Houses of Parliament and Elizabeth Tower (more commonly referred to as Big Ben) reflected in the Thames.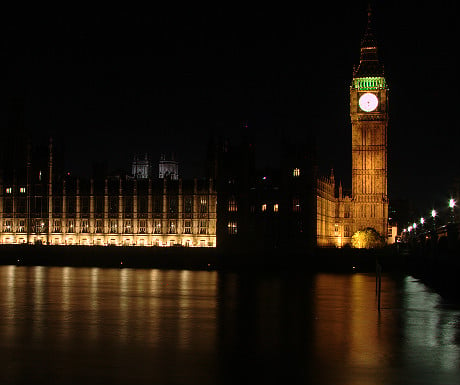 Alternatively, venture on to the bridge, armed with a tripod, and see what you can capture as the vehicles trundle by.
Enjoy these views, and do let me know what you consider to be the best views in London. Don't forget to visit www.americanexpress.co.uk/tripadvisor if you have an American Express card and would like to find out more about the content and offers.