By
Alan Hazel
on Jan 15, 2015 in
Accessories
,
Accommodation
,
Clothing
,
Cruises & Boat Travel
,
Fun Stuff
,
Gadgets
,
Going Out
,
Resorts
,
Restaurants
,
Speciality Travel
,
Travel Equipment
,
Travel Miscellany
The start of the new year is always a time for the travel industry to review data (or consult crystal balls) and present predictions for the top trends influencing travel in the coming year. Some of these trends grow year on year and 2015 is no exception; for example, immersive experiences summed up by the phrase, "live like a local" continue to top the pundits lists. Similarly, private rentals that allow for this kind of experience with an increasingly personalised service orientation continue the ascendance over hotels, especially when linked to another growing trend, that of multi-generational travel. This year sees a boom in river cruises as well, both across Europe and especially Asia.
While all of these trends are interesting and potentially important to note, this year I prefer a more light hearted look at some of the stranger and more surprising tendencies shaping travel in 2015. Here are some of the more amusing trends I have uncovered for the new year.
1. The selfie-drone
We all know how ubiquitous the selfie photo has become over the years, pairing a "been-there-done-that" self satisfaction for travellers with a sometimes downright narcissistic exhibitionism. Well it seems now that even the added perspective from beyond arms length offered by the "selfie stick" is not enough. As drones become small enough to fit in your pocket or even wear on your wrist, travellers are packing their bags with these sophisticated little devices to snap ever more extreme angles of themselves in ever more exotic destinations and scenes.
2. Competitive travel
Referring again to those selfie photos intended to strike envy into the hearts of less mobile and less well travelled friends, apparently this type of one-upsmanship is simply not enough. Perhaps taking inspiration from the reality TV show, "The Amazing Race", competitive travel is actually a thing now. How many apps and travel sites allow users to tally and compare the number of continents, countries and cities they have visited? There are even websites out there allowing users to compare and rank themselves as the self-professed "most traveled people", and apparently it gets pretty cut-throat. There's also an annual world travel championship event, the "Global Scavenger Hunt", running this year from 10th April to 2nd May. Are you in?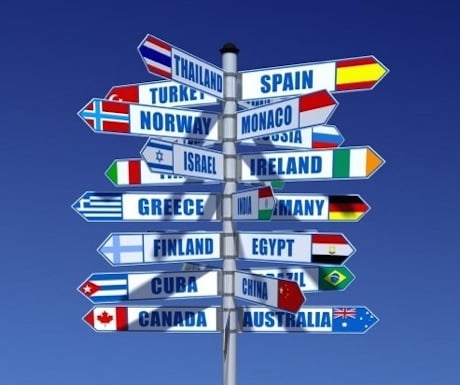 3. Underwater tourism
The recent emergence (or submergence?) of those fascinating aquarium-like hotels, such as the Poseidon Resorts, or the new Ithaa restaurant by Conrad in the Maldives are no laughing matter and are sure to make a, ahem, splash. However, an even more claustrophobic trend is gaining momentum in the high seas: voyages in submarines and other submersibles. A new easily operated personal submarine by Deep Flight promises to spur underwater tourism in the coming year and already holiday rentals company Oliver's Travels offer romantic overnight stays on board the "Lovers Deep". For just £175,000 per night you too can join the "mile low club". Tacky or terrific?
4. Travel gadgetry and accessories
Again, there are many legitimate developments in the arena of travel gadgets that are sure to shape the way in which people book and experience their vacations. Add new technologies such as the highly anticipated Apple Watch and other "wearables" to expanding mobile phone functions and apps, and reservations for everything from flights to restaurants are about to get quicker and easier. Technologies such as Google Glass may literally change the way people see new locations when on holiday. However, there are various other gadgets and travel tools that should probably never have been granted a patent.
Take for instance the "ostrich pillow" that will allow users to nap anytime, anyplace by simply pulling the unseemly pillow over their heads. It looks more like the pumpkin-head pillow; but on the upside, you can avoid embarrassment because no one can really see your face.
Also, an attachment to convert your bottle of water into a portable bidet? Really? Or a personal air purifier to wear around your neck…Is that really going to eliminate odours and germs on your next flight? If dry air really spoils your trips you can similarly purchase a personal humidifier just for the air around your own head. Don't even get me started on the solar powered cooling helmet!
5. MAMIL
OK, apparently this trend has become so prevalent that it deserves its own acronym. MAMIL, or "middle aged men in lycra" began to appear a few years back, but somehow has made its way onto more than a couple of the resources I found for 2015 travel trends, including the World Travel Market. It seems that as 50 is the new 40 and so on, men seem to find it increasingly acceptable to continue wearing those lycra shorts that were perhaps never very appropriate to begin with.
On the serious side, golf is in decline, particularly in the Americas. Those middle aged men appear to be cycling much more on holidays instead, thus the abundance of lycra. Still, let's hope MAMIL is a short lived trend. Perhaps the next great idea for the developers of travel gadgets and accessories, comfortable non-lycra cycling shorts?
Alan Hazel is Owner and Director of Cortijo El Carligto.
If you would like to be a guest blogger on A Luxury Travel Blog in order to raise your profile, please contact us.