By
Katia Kulawick-Assante
on Jan 15, 2015 in
Accommodation
,
Europe
,
Food and Drink
,
France
,
Going Out
,
Hotels
,
Regions
,
Resorts
,
Restaurants
,
Spas & Pampering
,
Speciality Travel
,
Travel Miscellany
,
Western Europe
There are many reasons to stay in Chantilly before leaving France – not the least being the location of this charming historic town, 25 minutes from Roissy Charles de Gaulle airport. Chantilly in fact abounds with hidden treasures, above and beyond its special value for lovers of horseraces (the famous Diane-Longines Prize is in June, and 300 races are held per year at the racetrack built in 1833) and vintage cars (Chantilly Arts & Elegance by Richard Mille takes place in September).
No one ever forgets their first arrival at the cobblestoned turnaround in front of the Château, originally built in 1560 (perfect music: Viva La Vida by Coldplay). Time stops. You then enter the arch of the city, and of course there is a castle, le château de Chantilly : less crowded than Versailles but just as charming and alive – if not more. It hides the second-biggest private collection of 17th- and 18th-century art, right after the Louvres. It's also the perfect place for passionate gourmets and Francophiles, concentrating in the same place History (which you may have seen in the James Bond film « A View to a Kill ») and Chantilly (cream). Yes, this is the place where the famous recipe was imagined for Louis XIV- They are still debating about the dates, but it was around 1600-. Here are three ways to experience your last night in France.
Driving from the castle, on your right is the first hotel you'll cross, the Auberge du Jeu de Paume. Entering the lobby of this Relais & Châteaux 5 Star hotel is an immediate message to the brain saying: you're off and everything's gonna be fine!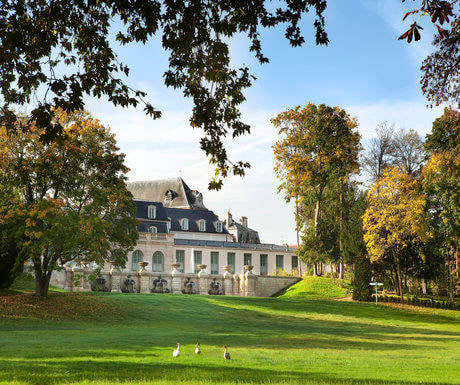 Candles and sweet perfume open the weekend. With its 98 rooms, the hotel has a great capacity for weddings and ceremonies without losing its intimate feeling for romantic stays. Around the patio you'll find a wooden bar and the gastronomic restaurant 'La Table du Connétable,' run by chef Arnaud Faye.
And fasten your seatbelt: the world still does not know (sufficiently) that this is one of the best restaurants in France. But the Michelin guide did notice, as he was given a second star in 2014. You'll be welcomed by Anthony, talented sommelier and a real poet when it comes to wine. He will make you discover some fantastic unknown labels from authentic winemakers (like this delicious Champagne Rosé from Nathalie Falmet). While sipping glacier water, Iskilde, you'll start your dinner with a hot towel infused with peppermint essential oils to prepare your senses. The appetizer is a rocking salted Chantilly, Beaufort and peas cream. Like when you were a kid, you'll be given a lollipop, but this one is a frozen version of verbena and peas. Among our favorite tastes is a Green Chartreuse Granita (a french liqueur made of 30 plants, herbs and flowers, invented by a monk during the middle ages), just as a breather – the famous trou normand, as the French say. We also especially loved the hay and ceps chocolates and the mostarda cremosa prepared fruits served after dessert…
Then you'll have the privilege to stay in a room that overlooks the Château's park – priceless! And don't be disappointed because you hear rain falling, that is only the fountain right under your balcony, like in Romeo and Juliet. The decor is what you expect of French style, with large marbled bathrooms and spacious rooms.
The Valmont Spa is another must-visit in the hotel. To be in shape for your plane trip, jump in the pool and then get the very unique 'Chantilly' massage. After a sugar scrub you'll be wrapped up in a real Chantilly cream, homemade by pastry chef Ophélie Barès (who won the 2014 TV show 'Who's gonna be the great next pastry chef?'. The cream comes out of the fridge and (you can taste it!) all over your body for 25 minutes, naturally rehydrating your skin. You'll end up the experience near the pool tasting a juice or tea with a cup of Chantilly and a sweet delight.
The hotel imagined a very resonable package: 'Last night in France', from €345 per night for two persons, with one-way car transportation from or to Charles de Gaulle, a classic double room, free entrance to the château and its gardens, VIP welcome room, Wifi, and access to pool area and fitness.
Tiara Château Hôtel Mont Royal
Ever dreamt of staying in a castle? Well, welcome to your dream! Your arrival at the estate is stunning, a slow drive along the bridle path that takes you to the main entrance porch. With 104 rooms and five suites, including the Royal Suite of 100 sqm, this 4 Star hotel in a Louis XVI style has spirit. It was built (only) in 1911 by architect Guillaume Tronchet for the composer Fernand Halphen. The Portuguese designer Pilar Paiva de Sousa totally redesigned it today, and with exquisite taste.
The rooms have high ceilings and delicate tones of beige and textures of velvet, silk and satin, all for a prince and princess fairytale night.
The Ballroom (inspired by the Comic Opera) is now the 'Opera' restaurant, set up in three magnificent rooms, and the library is now a cozy wooden bar with a fireplace and wild cherry walls. All the common parts are very luxurious – it feels more like a (huge) mansion than a hotel. The brunch offers a wide range of choice of everything you dream of. Notice that you have an indoor squash room and an outstanding pool with a very tasty and relaxing surrounding. And outside, plenty of woods to walk, run or daydream in the Halatte forest.
Package from €300 for two persons with the room, two breakfasts, and the gastronomic dinner for two (without drinks).
The Dolce Hotel & Resort Chantilly (4 star) offers a really interesting 'Nature package': a night and breakfast, followed by a 40-minute walk (at 9.30am) with chef Dorian Wicart, touring the woods and the local Chantilly market to buy fresh choices of culinary delights. After returning to the hotel (by van), you'll gather around the chef for a cooking lesson based on what you chose earlier. He will explain the recipe in detail and cook it there for you, so you can taste it in a very friendly way. The Dolce Chantilly is more a hotel for seminars and conferences, with 200 guest rooms, but it's also surrounded by an 18-hole golf course, two rivers, a huge park, and an outdoor pool open from May to September.
Chef Wicart, who worked previously at La Tour d'Argent, focuses on products made by local farmers and artisans for the bread, meat, vegetables, eggs, and fruits in Le Donatello, his new bistronomic restaurant (a touch of gastronomy and the spirit of a french bistro). On the menu: White wine-flavored mackerel rillettes, salt butter roasted Erquy scallops, lobster with Ravigote sauce apple and green salad, chocolate dessert with caramel and thin leafy praliné with exotic sorbet.
From April to October, the hotel offers a free golf initation for beginners. Kids are welcome and there's a golf school (6-17 years) on Wednesday and Saturday mornings. Don't be disapointed by the fitness room or the indoor pool, both old school – but you had better run or get your exercise outdoors. There's a beach volleyball court, and you can rent bikes. The bar is a very friendly place, with its funny bar one meter under the ground. The rooms are modern and quite spacious.
Also, if you want to buy fresh products from the region, stop at Ferme de la Nonette in Chantilly. You'll find cheese, fruits, vegetables, cider and wines, beer, butter, bread, yogurts and meat from the surroundings. The chef will probably take you there anyway during his walk!
'Nature Package', €67 per person per night. Next one : February 28, 2015.
For lunch and dinner
If you have to make a stop for lunch or dinner in Chantilly, don't miss Le Goutillon downtown. It's as typical a French bistro as you can expect – the decor, the food and the warm welcome. Better make a reservation or get there early, as the place is packed with locals. Have a glass of white wine at the wood and brass bar and choose anything from the menu, it's all fresh and quality.
Built in 1914 by Jeanne Leonino de Rothschild, the Château Montvillargenne became a girls' boarding school in 1945 and is now a 4 star hotel. The building and the park designed by Masson look fantastic and the restaurant Le Vilargène, which has just been taken over by chef Thierry Cattant, is a good surprise. Tasty and affordable (3-course gourmet menu for €47 or 7-course 'Savoury Menu' for €85), with a mezzanine and 1920s look. In summer, the restaurant extends to a nice terrace decorated with candles overlooking the park and the city of Gouvieux. Make sure you leave with a jar of honey made there in the gardens!