5 unmissables in New Zealand
Forget the interminable operas of Richard Wagner, the cinematic
Lord of the Rings
cycle feels like it has gone on for ever. Mercifully the Tolkien-fest has reached its conclusion (the ones with furry feet and pointy ears won) so New Zealand can revert from being a cinematic backdrop – albeit a fabulously beautiful one – to what it has always been: one of the world's greatest travel destinations. Unlike the
Hobbit
films, New Zealand itself is completely unmissable, but we've bravely tried to narrow down the list of must dos/sees/drinks to a more manageable five. Here they are:
James Stapley's food at Whare Kea Lodge
In a country with fresh produce this good a foodie scene was always going to emerge and now there's no holding back the creative talents of New Zealand's latest generation of chefs. Centre stage is James Stapley at the gorgeous
Whare Kea Lodge
. Stapley's staples are seasonally sensitive recipes often created on the fly as he's sourcing local ingredients. Full-on foodies can head into his kitchen at the Lodge and chat to him while he cooks, and the end result is pretty sensational as well; in fact so much so that the locals tend to forgive Stapley for being a Londoner.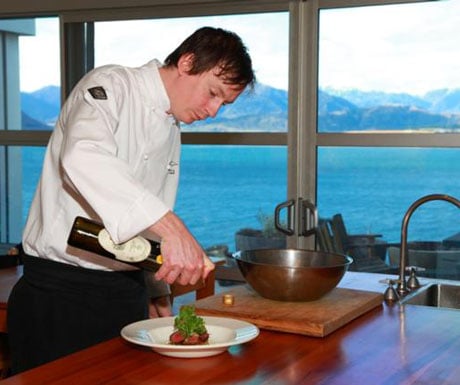 Eagle's Nest Lodge, Bay of Islands
If there was once a criticism of New Zealand's luxurious lodges it was that they all too often resembled a little slice of
Scotland
. Don't get me wrong, there's a lot that's right about the highland lodge look, but the five villas that make up
Eagle's Nest
in the staggeringly beautiful Bay of Islands blow the Scottish schtick clean away. No farmstead feel here, more floor to ceiling windows, infinity pools and superslick home cinemas. The cherry on top of this delectable cake is the Rahimoana Villa which has its own gym, sauna, wine cellar, infinity pool, helipad and use of a Porsche for the duration of your stay. This all comes at a cost, obvs, but if you happen to find a spare gazillion pounds down the back of the sofa, get booking.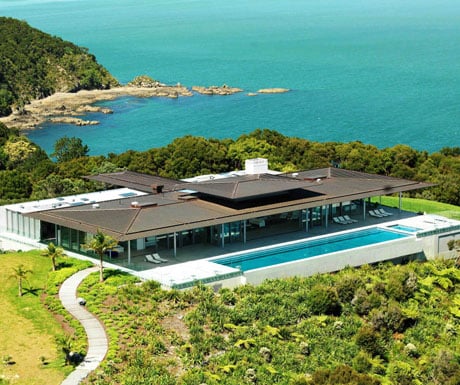 Doubtful Sound, South Island
Milford Sound, the beautiful fjord on New Zealand's South Island, deserves all the credit it so regularly receives, but be in no doubt that nearby (and far less visited) Doubtful Sound is every bit as gobsmacking. Most parts of the fjord are inaccessible by road so the place is best experienced while staying on one of the few boats allowed to moor overnight, with resulting views of the staggering scenery reflected in the (hopefully) calm waters come morning. For added amazingness, if you're really lucky you might be accompanied on your voyage by dolphins. The other way to take in the grandeur of the landscape is on a helicopter trip – a mode of transport that works brilliantly in New Zealand, the spiritual home to heli-trekking, heli-skiing, heli-fishing and heli-everything, basically.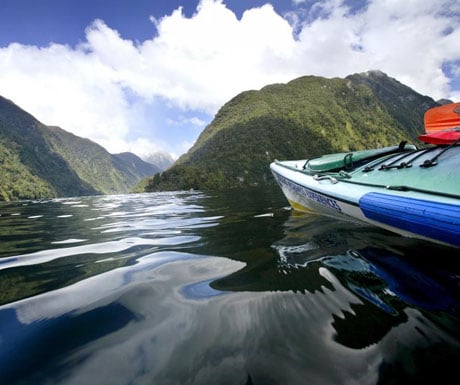 Whalewatching in Kaikoura, South Island
The Kaikoura Peninsula, jutting out from the North Eastern corner of the South Island, is generally considered to be one of the finest whale watching spots on the planet. Throw in dolphins, fur seals and huge crayfish, and this is a place to see marine wildlife up close and personal and, in the case of the crayfish, eat some of it too. Offshore, the continental shelf drops away dramatically into Kaikoura Canyon where nutrients (catnip for whales) are funnelled, bringing in the big boys with clockwork regularity. Sperm whales are in residence all year round, but at the right times of year you might also see Humpbacks, Minkes, Beaked Whales, Southern Right Whales and even the biggest of the bunch, Blue Whales. Even better, the whale watching boat companies claim 95% spotting success rates. For even closer encounters, it's also possible to snorkel with dolphins and kayak with orcas.
Wine tasting tours by bike, Marlborough
Road trips in New Zealand serendipitously seem to take in many of the country's legendary wine regions and while it's difficult to cherry (or grape) pick between them Marlborough is probably the flagship region, famed for producing some of the world's finest Sauvignon Blancs. Given that driving and wine tasting are not ideal bedfellows, the perfect way to take in a selection of the best wineries is on a bicycle trip around the vineyards. Those more interested in the wine than the biking should note that the vineyards are mainly on the extremely flat Wairau River's floodplain so this is categorically not one of the many adrenaline-junkie activities New Zealand is famed for.
Tom Barber is Co-Founder of Original Travel.
If you would like to be a guest blogger on A Luxury Travel Blog in order to raise your profile, please contact us.
Did you enjoy this article?
Receive similar content direct to your inbox.