By
Paul Johnson
on Jan 29, 2015 in
Air Travel
,
Asia
,
Business Travel
,
Featured
,
Food and Drink
,
Japan
,
Regions
,
Singapore
,
Speciality Travel
,
Travel Miscellany
ANA (All Nippon Airways) is the largest airline in Japan, a member of Star Alliance, and ranked one of the top 10 airlines in the world. It is one of less than 10 airlines worldwide to currently hold Sytrax's 5-star rating and has a fleet of more than 230 aircraft, with a coverage of over 170 different routes. Domestically it covers 50 cities, and internationally 32 destinations.
Having flown business class with the airline four times in just one week, amounting to almost 40 hours of flying time, I feel I'm now fairly well versed in being able to describe the experience. From London Heathrow to Tokyo Haneda International and back, I flew on the B777-300 and it is that experience I'll focus on here. The significance of Haneda, though, should not be underestimated as it can be used as a stop-over for travellers from Europe and the US going on to other destinations with ANA such as – in my case – Singapore, with the option to spend just a few hours or a few days in the Japanese capital.
Pre-flight
Check-in was courteous, quick and efficient. Since the airline is a member of Star Alliance, I had access to Star Alliance lounges (United at Heathrow Terminal 2 and ANA's own lounge at Tokyo Haneda) which in both cases happened to be conveniently right next to the gate.
The seat
As a single traveller for this trip, I really appreciated ANA's staggered business class seat configuration which gave a great deal of individual privacy.
My initial reaction was that the seat didn't look to be all that that long, but it is deceptive in its appearance and there's a significant amount of leg room concealed beneath the monitor. Once in the flat position (and the seat does go fully flat), I found I had ample room with at least a couple of inches still to spare (I'm 6 ft tall).
To make your trip even more comfortable, the following items are provided:
Nishikawa Sangyo's Air Cyclone® bed pad – this won a 2012 Good Design Award
Nishikawa Sangyo quilt comforter – this is very light, but gives a sufficient degree of warmth
Nishikawa Sangyo structural pillow – this is concave in the centre and can also serve as a lumbar support when your seat is in the upright position, although the seat also has this kind of support built in
All this combined to give me an experience on which I had no difficulty sleeping.
The seat control offers four options – trackback, recline, lumbar support and upright/bed. There is a 'do not disturb' button, a coat hook and a spotlight for more direct lighting.
In front of you is a TV screen with a hidden control panel just beneath that reveals a USB port, iPod socket and Empower charging point.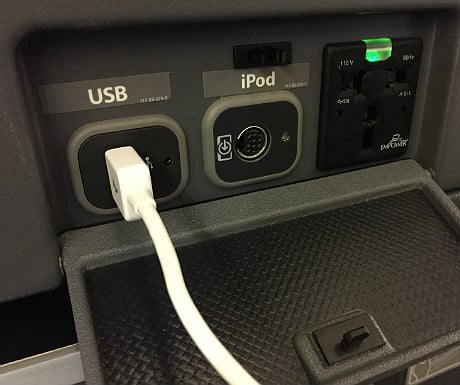 The service
Cabin staff had a welcoming smile and came round offering a choice of orange juice or sparkling wine once we were settled in our seats. Reading material such as the New York Times International Edition, Financial Times, WSJ and a variety of Japanese publications were also offered. On my outbound flight, I chose the Sunday Times travel magazine which, as luck would have it, had a cover feature on Tokyo.
Throughout my flights, staff were attentive without being too intrusive, offering to top up drinks, etc. If you just want to be completely 'left be', you can always illuminate the 'do not disturb' light.
The food
After being offered the in-flight menu, and a flannel and drink to freshen up, the pull-out table was laid with a tablecloth. I always feel it must be extremely challenging to serve quality food from 30,000 feet, but it was generally good, thanks in no small measure, I'm sure, to the team of '26 Connoisseurs' behind it all. There is a choice of both Japanese and international options, each led by different connoisseurs, as well as a selection of light dishes that can be enjoyed at any time. There are also conoisseur-selected wines, sake and whisky.
On my out-bound flight I tried the Japanese option…
Amuse: Pâté de campagne with orange canapé-style, sautéed prawn with lemon and herb, mushroom stuffed with chicken mousse
Steamed rice, miso soup and assorted Japanese pickles, sake-steamed yellowtail with grated daikon radish thick broth
Soy-based sauce cured hering roe, marinated prawn saikyo miso taste, simmered duck in soy-based sauce and simmered beans in syrup, simmered assorted vegetables and chicken dumpling, smoked salmon and quick-seared scallop with egg yolk vinegar
…and on my return I tried the international menu…
Amuse: Yuzu-citron flavored cheese bar, smoked fishcake, and two kinds of olive and cheese with herbed oil
Coppa ham, melon and sea bass brandade with smoked scallop gâteau-style (my favourite course!)
Fillet of beef steak yuzu-citron flavour with Takahata wine sauce
Amenities
A L'Occitane pouch was provided. This contained: L'Occitane ultra-rich lip balm with 10% shea butter, L'Occitane fabulous serum for skin hydration, eyemask, tissues, cotton set, earplugs, toothbrush and toothpaste.
Also supplied was a pair of slippers and a set of noise cancelling headphones to use with the entertainment system.
Reading material included Wingspan (the in-flight magazine of ANA Group), ANA seat service guide, a WiFi service guide and safety instructions, in addition to the reading offerings already mentioned.
Entertainment
On screen options include Skychannel (with a choice of movies, videos, news, audio, games and entertainment guide), Skyshop and Innovative Channel, with the latter including 'ANA Original' films. These actually made for quite interesting view; there were two available – one about Stephane Danton, a trained French sommelier, who had turned the world of Japanese tea on its head by introducing flavoured teas, and one about Tyler Lynch, an American running a successful ryokan in northern Nagano. More mainstream Hollywood movies including the likes of The Matrix and Vanilla Sky were available through the Skychannel.
On-board WiFi was available and worked reasonably well at a cost of $12 per 10MB.
Finally, ANA's Takeoff Mode app is also worth a mention. If you're a nervous flyer – or simply like to find different ways to while away the time when travelling – then take a look. Once downloaded, it doesn't require an internet connection to play; it serves as a neat little distraction from take-off or landing, is easy to play and quite addictive once you get started. You can learn more about the app through this ANA video:
Give it a go and see if you can beat my high score of 3,380!
Of course, the ultimate entertainment was the view outside… particularly when we got a fantastic view of Mount Fuji!
Disclosure: This post was created in partnership with ANA – All Nippon Airways. All opinions expressed in the post are my own and not those of ANA.