Singapore in style… and an introduction to eating fish sperm!
"This is coconut soup with fish sperm, matsutake mushroom and abalone," said the waitress. She'd uttered it without so much as batting an eyelid. It took me a while to process what had just been said. Did I really hear that correctly? I checked – and, sure enough, I had. It was my first night in Singapore, dining at Executive Chef Kyungsoo Moon's
Mikuni
Japanese restaurant at the
Fairmont Singapore
.
This was my first introduction to Singapore but, since I'd literally just arrived from Japan, on an
All Nippon Airways
' flight from Tokyo's Haneda Airport, it didn't come as too much of a culture shock. Two things about this city and country were very quickly becoming apparent; firstly, that Singaporeans take their food very seriously and secondly, that its population of just over five million is a true melting pot of different cultures, primarily from
China
, Malaysia and
India
, but also with other Asian influences and a growing ex-pat contingent. As for the soup, it was actually rather good and not as strange as it might sound. I'd probably not have done a double-take had I been told it was 'cod milt' (which amounts to the same thing) or by its Japanese name 'shirako' (since I would have been none the wiser on both fronts that it was in fact fish sperm), nor would I have been taken aback if I was served the female equivalent of fish roe, so why should there be double standards? Shirako, which literally translates to mean 'white children', is in fact the fish sperm sac – creamy and custard-like in terms of texture and with a slight sweetness in taste. Whilst it might not look all that appetising, it is actually quite a delicacy, in season in the winter months and apparently best retains its sweetness when steamed, but can also be fried or even eaten raw. This is one of the things I love about travel – new experiences, whether they be culinary or otherwise – and Singapore, celebrating its 50th anniversary and rated #1 in Lonely Planet's top 10 countries to visit in 2015, offers them in surprising abundance. To further get a handle on some of the cultural differences, the next day I headed first for Little India and Chinatown. At
Little India
 I found a vibrant mix of shops, temples, restaurants, mosques and businesses, all jostling to get noticed.
The area is a feast for the senses, blending old and new, and with something different around every corner – from parrot fortune tellers to henna tattooists. I stopped for a fairly basic, but wholesome, spicy lunch at a place where I'd clearly stood out as a tourist – the tell-tale sign being that I'd been given cutlery with my order when seemingly everyone else around me was eating with their hands.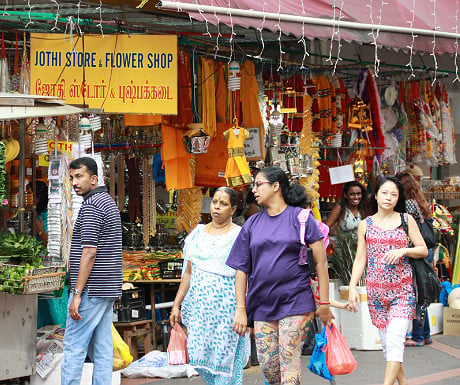 My belly satisfied, I made my way to
Chinatown
which struck me as mildy more ordered and considerably more extensive, spanning a much larger area. It is one of the oldest Chinatowns in the world, as well as one of the largest.
Here you can visit the Chinatown Heritage Centre, shop 'til you drop (clothes, toys, souvenirs, ceramics… you name it… even more unusual items such as snake oil and crocodile oil are available if that's your thing!), have a fish pedicure, have your name written in Chinese calligraphy as a keepsake, and much, much more. Should your legs get weary – and let's face it, that's likely if you're having a thorough look around – you can always tour the area on a trishaw for a while. If instead you're hungry and just want to sit down for a bite to eat, then the Maxwell Food Centre seems to be one of the most popular dining areas. Before you leave, do make sure you call at one of the temples. Keep your eyes peeled as you'll find Buddhist, Hindu and Muslim temples there.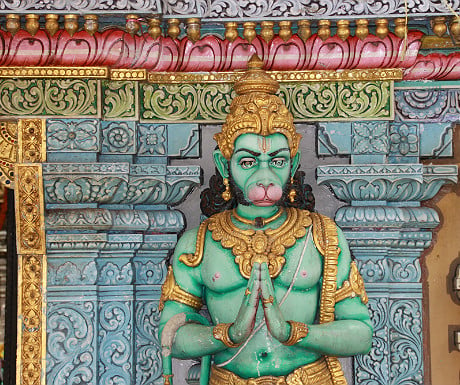 One of the biggest is the 
Buddha Tooth Relic Temple
 – an impressive new Buddhist temple built in 2002. On the upper floors there is a museum explaining Buddhism, as well as a peaceful roof garden.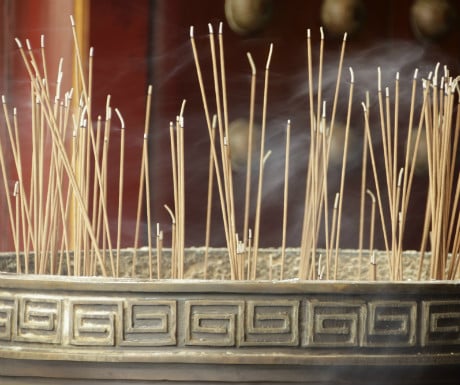 Talking of rooftops, I had been lucky enough to arrange a visit to the
Marina Bay Sands Hotel
, with its distinctive boat-shaped rooftop spanning the building's three main towers – nowadays one of the most distinctive and recognisable landmarks in Singapore – so that was my next stop before dusk. As many of you will know already, on the top of this hotel is a swimming pool with some of the most incredible views.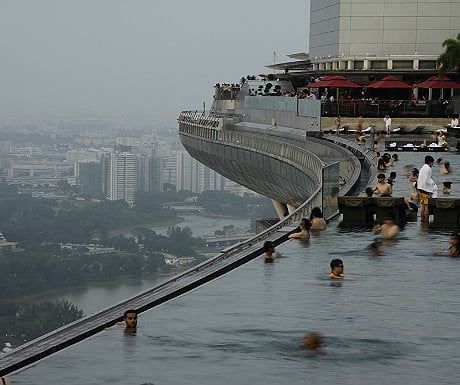 Special thanks to Jonathan for being so charming and patient with me and allowing me to capture these shots as night fell.
One of the things I wanted to do during my brief time in Singapore was to visit a hawker centre. Fine dining is all well and good, but there's only so much fish sperm one can consume in a short trip so, after taking in the Marina Bay Sands' light and water show (which takes place every evening at 8pm), I called at Lao Pa Sat to try the satay (chicken, beef and prawn) – no airs and graces here, but good food, great value and beer in plentiful supply.
My last day in Singapore was a Sunday and a great opportunity to try the somewhat more refined 
Sunday Champagne brunch at Raffles
, something I'd recommend to anyone – for the experience alone – but do make sure you book ahead as it usually fills around two months in advance. It is held at the hotel's Bar & Billiard Room, beneath which it is said (and confirmed by newspaper reports) that the last tiger in Singapore was shot in 1902.
Should you miss out on this opportunity, you can always head for the
Long Bar,
 famous for the world-renowned Singapore Sling (celebrating its 100th anniversary); help yourself from the bowls of monkey nuts in the bar and just discard the shells on the floor, as is the tradition… this is the only place in Singapore where littering is positively encouraged!
Finally, I would urge you to visit
Gardens by the Bay
– with its Flower Dome, Cloud Forest, Supertrees and more, you could easily spend the day here. Whether you're looking to get close to exotic species, marvel at the towering vertical gardens or learn about the intricacies of plant life in the themed gardens, there's plenty to see and capture the interest of young and old alike.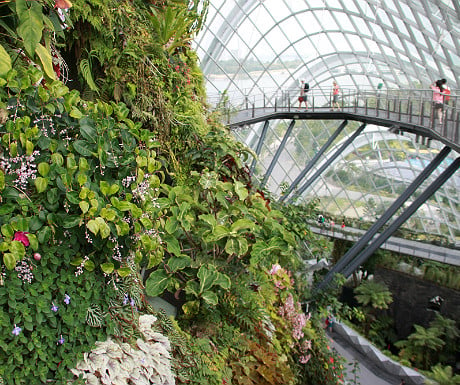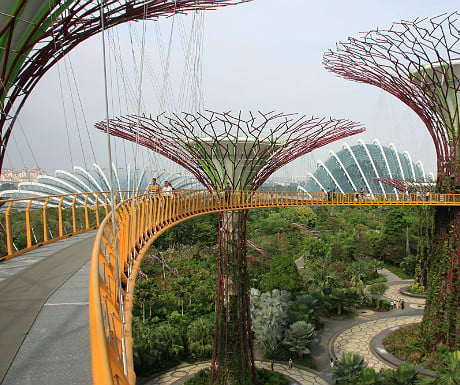 At this unique botanical universe you will find more than 500,000 plants from every continent except Antarctica, the world's tallest indoor waterfall at 35 metres and the world's largest climate-controlled greenhouses. Currently ranked #2 out of 531 things to do in Singapore on Tripadvisor, this is a must in my opinion for any first-time visitor.
My time had been all too short, but I was glad I'd included this in my itinerary and hopefully I'll return to Singapore before too long… not for the fish sperm necessarily (although I would certainly try it again!), but for the things I didn't manage to do in this brief visit. There are so many delights on offer in this compact country that in many ways I feel I've only scratched the surface.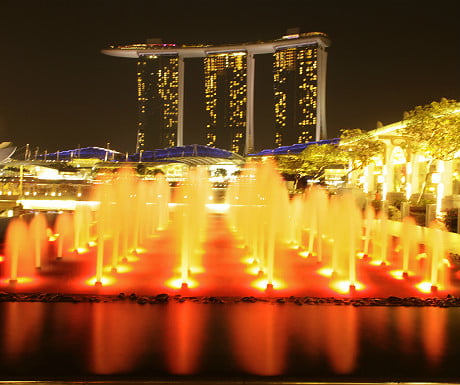 Indeed, it is easy to lose sight of the fact that this island nation is in fact a nation of islands, and so next time I'd like to explore further afield, perhaps visiting the coves and caves of the Southern Islands or maybe heading for Lorong Buangkok which is home to the last kampong – a traditional village – on mainland Singapore to get more of a feel for what this area was once like. Have you visited Singapore?  What were the highlights for you and what do you plan to do on your next visit?
Disclosure: This post was created in partnership with ANA – All Nippon Airways. All opinions expressed in the post are my own and not those of ANA.
Did you enjoy this article?
Receive similar content direct to your inbox.