The 8 most beautiful parks and gardens of Paris
Taking a leisurely stroll through one of the many parks in Paris is a wonderful affair, with so much attention to detail and history, there's always something new to discover. After a long day exploring the sights and museums, what could be better than grabbing a baguette, some wine and relaxing in some of the most beautiful parks in Europe?
1. Parc Montsouris
Located in the 14th, this 37-acre expanse of botanical gardens and beautifully manicured lawns was created by Adolphe Alphand. Incorporating artistic displays and sculptures that draw in people of all ages, this park is a fantastic escape from the busy Parisian streets.
2. Parc Monceau
Perhaps one of the most Romantic parks in Paris, Park Monceau has been the source of inspiration for many artists, including Claude Monet. It's not hard to see why, with its traditional French formal garden style combined with modern café's and children's parks make this a favourite among locals and tourists.
3. Square du Vert-Galant
Although this small garden doesn't have the huge expanses of lawns and fountains that the other parks offer, the underlining intimacy that it has with the city is priceless. Located on the western tip of the Ile de la Cite, this garden forms the 'arrown point' where the Seine meets again. Sitting down on the edge and watching Paris go by is a truly lovely experience, and the views at sunset are equally impressive.
4. Luxembourg Garden
Situated on the border between Saint-Germain-des-Prés and the Latin Quarter, this beautiful and classic French garden with an Italian Twist as the Luxembourg Gardens, inspired by the Boboli Gardens in Florence, were created upon the initiative of Queen Marie de Medicis. Don't miss out the Fontaine de Médicis, one of the most romantic places in Paris.
5. Parc Andre Citroen
The most successful of Paris' modern parks, this huge expanse of gardens, pavilions and greenhouses has been a huge hit with locals and tourists. The park orientates itself around four themes: artifice, nature, movement and architecture. This allows for a fantastic cultural hub to exist while also providing a relaxing spot for Parisians to unwind.
6. Jardins de l'Observatoire
Once occupied by Castle Vauvert and later redesigned into a park by Jean Chalgrin, this magnificent park boasts some of the best picnic areas and children areas in Paris.  With its centrepiece being the awe-inspiring fountain at the south end of the Marco Polo garden, this  park has a unique movement to its layout and atmosphere that is unique among the parks in Paris.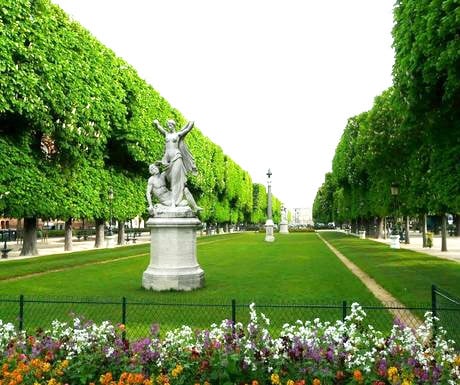 7. Jardin des Plantes
Co-existing and complimenting the Natural History Museum, this amazing botanical garden truly lives up to its name. Founded and curated by the physician of Louis XIII, this gardens scientific history can be seen throughout its many boulevards and walkways. The tropical hothouses are a must see, rivalling even London's famous Kew Gardens with their grandeur and complexity.
8. Tuileries Garden
This beautiful garden has a compelling history of endurance in Parisian culture. The park form the start of a compelling and impressive walk from the Louvre to the famous Place de La Concorde, with stunning views both sides as you meander down the long walkways. The symmetry and attention to detail is paramount in this garden. The French master the art of the "Jardin a la Francaise".
The parks of Paris have been intertwined with Parisian culture for decades; simply taking a stroll enlightens visitors on why the city is so popular and why artists come here for inspiration. Perhaps the most attractive aspect of these huge expanses of greenery and tranquillity is their close proximity to the bustling city life that is efficiently prevented from interfering with the beauty of the botanical and artistic gardens.
Irina Raileanu is the owner and Director at Avenue Story.
If you would like to be a guest blogger on A Luxury Travel Blog in order to raise your profile, please contact us.
Did you enjoy this article?
Receive similar content direct to your inbox.