By
Paul Johnson
on Mar 06, 2015 in
Accommodation
,
Attractions
,
Europe
,
Family Travel
,
Featured
,
Food and Drink
,
Going Out
,
Hotels
,
Regions
,
Restaurants
,
Special Features
,
Speciality Travel
,
Travel Miscellany
,
United Kingdom
,
Western Europe
Anyone who has ever played the famous Monopoly boardgame will already be familiar with the whereabouts of one of our latest stays. The Athenaeum is located in Mayfair, among some of London's prime real estate, so to have the pleasure of an entire apartment there – rather than just a hotel room – was a real treat.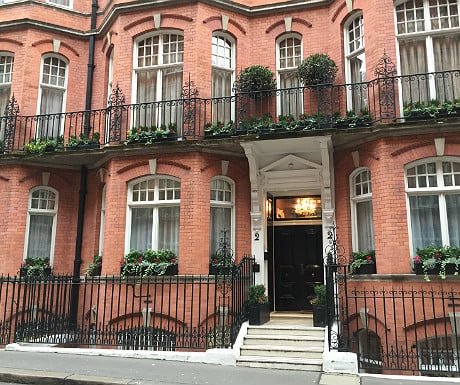 Our apartment could be found on Down Street (apartment number 5 on the second floor of House 2), just around the corner from the main entrance to the hotel, across the road from Green Park and only a short walk from Hyde Park. It's the ultimate accommodation for families looking for a break in the city, and comes complete with an en suite master bedroom, lounge with sofa and comfortable chairs (plus TV/DVD, Bose docking station and even a games console for the kids), a desk area in a bay window overlooking the street, a small dining table with chairs for four, and a kitchenette with Nespresso machine, fridge, oven and washer/dryer.
Children are exceedingly well looked after. In advance of my stay, I was asked for their names and ages. The day of our arrival happened to co-incide with our younger son's birthday and this was recognised with a small cake and the words "Happy Birthday" on arrival along with milk and cookies that is brought to children each evening.
I was also asked about their likes and dislikes, which resulted in an assortment of Harry Potter, Doctor Who and Star Wars DVDs and games thoughtfully placed in the room, in addition to there being a frisbee, duck food, scooters and helmets. The hotel can also provide kites and bikes.
When a hotel goes out of their way to cater for your children like this, it really makes a great impression and inevitably becomes a more welcoming place for parents, too. I loved some of the other areas where there was attention to detail – bathrobes not just for the adults, but for children too, and nice little touches such as the Union Jack corgi doorstop that served as a reminder of your whereabouts – less than half a mile from Buckingham Palace.
With three huge Royal Parks on the doorstep (Green Park – 47 acres; St James' Park – 58 acres; and Hyde Park – 350 acres), there was no end of places to explore! We fed the ducks (which attracted as many pigeons also!) at Hyde Park, and took the scooters out on Green Park.
The sofa in the lounge also served as a pull-out bed, so we had separate bedrooms in the evening. What I particularly liked (and often doesn't happen in these situations) is that the bed was returned to a sofa during the day, and then back to a bed each evening, meaning that we could make full use of the living space when we were there during the daytime.
The accommodation is both spacious and very comfortable. A heavenly feather mattress liner and beautiful bed linen assured us of a good night's sleep. A choice of blankets, sheets or feather quilts and even a pillow menu (pure goose down, hypo-allergenic, buckwheat or tempur) is offered. The bathroom was equipped with ESPA toiletries with bergamot, jasmine and a hint of cedarwood.
We dined at the hotel on our first night. Regular readers will know that I'm rather partial to shellfish so I went for the pan-seared diver scallops with Amaretto butternut, nut brown almond and pea shoot for my starter. The scallops were wonderfully succulent and complimented by the nutty taste and textural contrast of the almonds.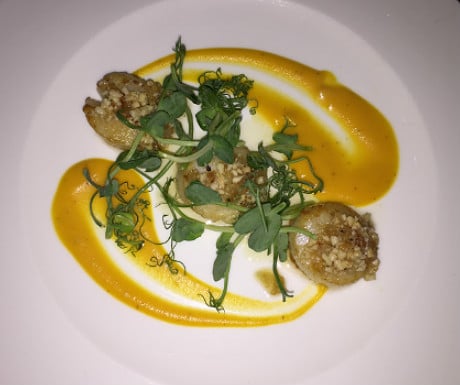 That was followed by the chagrilled Casterbridged aged rib eye steak with seared tomato, pepper sauce and watercress – cooked rare, just as I like it.
To finish, we shared the Bramley apple and cinnamon crumble with a delicious vanilla pod ice cream.
For whisky connoiseurs, the hotel has its own whisky bar that you can retire to, with over 300 different whiskies on offer – the largest selection of blends of any hotel in London.
On another evening we ate at Prezzo, an Italian just a short walk from the hotel. The pizzas there were good but the service distinctly lacking – I suppose it's never going to be a good sign when the staff are more interested in their mobile phones than the customers coming through the door, as happened when we arrived.
We also ate at Kouzu one evening which I can heartily recommend. It's an excellent Japanese restaurant about 10-15 minutes' walk from the hotel. In contrast to Prezzo, staff were attentive from the moment we arrived, with the customary shouts of "Irasshaimase!" from the kitchen as we entered (this essentially means "welcome, we are ready to serve you"). We ordered a range of dishes to share – pictured is the beef fillet tataki (charcoal grilled fillet, Oriental sauce with julienne salad) and duck breast with sansho (grilled free range duck with Japanese pepper sauce).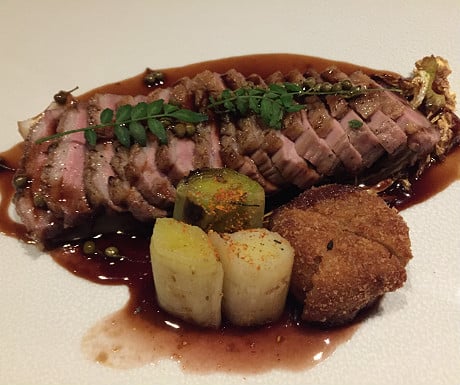 The dishes were full of flavour and we found enough kid-friendly options for our children to have a great first experience of Japanese food. The dark chocolate mousse and apricot sauce with hazelnut ice cream was a winner, too!
We chose this restaurant because of its proximity to the Victoria Palace Theatre where we went on to see a wonderful performance of Billy Elliot which I'd highly recommend, particularly for the performances by Bradley Perret (the boy taking on the role of Billy on the night we watched) and Ruthie Henshall (who played Mrs. Wilkinson).
As well as being in walking distance of parks, restaurants, theatre and more, the hotel is well positioned for Green Park (on the Jubilee, Piccadilly and Victoria lines) and Hyde Park Corner (also on the Piccadilly line) Underground stations, meaning you can get around the city with ease.
We took this opportunity to pay a visit to The Shard – the tallest building in Western Europe and the one place I hadn't managed to get to when working on a photography project in the capital just a month or so earlier.
Enlisting the services of Tinggly, who offer packaged experiences all over the globe, we booked a package that included tickets to The View from the Shard as well as lunch at an Italian just around the corner. (For the more adventurous among you, they do everything from shark diving in South Africa to waterfall rappelling in Costa Rica!) Unfortunately it was a little cloudy at the time of our visit but we didn't let that dampen the experience. On a good day you can see up to 40 miles away.
What I really liked about this attraction was the state-of-the-art interactive touchscreen telescopes that allow you to explore the views in greater detail, with information on about 200 different landmarks. Not only do they show you what they would look like on a good day, or at different times of day, but also how different parts of the city would have looked at different times in history, which was really interesting.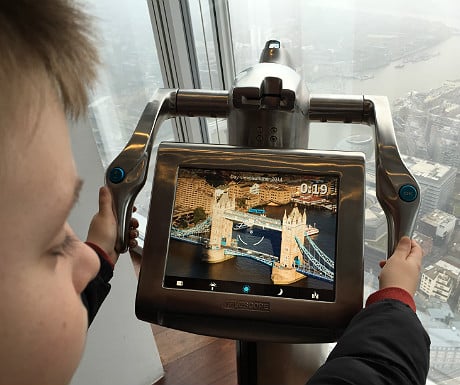 Of course, the cloud lifted a bit once we returned to ground level!
On another day, we had afternoon tea back at the hotel and that's an experience I'd recommend whether you're a hotel guest or just happen to be passing. The hotel was awarded Best Afternoon Tea in London by the Tea Guild a few years ago which is no mean feat given the fierce competition that is out there.
I would like to stress that this wonderful array was for eight of us and not just four! That said, we were offered free re-fills should we wish, but that really wasn't necessary… particularly since there was a sweet trolley to follow!!
After this we really should have been hitting the hotel gym! The gym is open 24 hours for guests, plus there is a luxury spa offering a range of treatments, from manicures to massages, during the day.
I'm ashamed to say we never made it to the gym despite it having been a rather indulgent few days. But sometimes that's what a leisure stay is all about – relaxing and spending time with family. That's not always possible on a city break, when you want to get out and about and see what the city offers, but the apartments at The Athenaeum offer exactly that – the opportunity to simply unwind and chill out. Soak in the bath… read a book…  and maybe – just maybe – get that boardgame out…