By
Paul Johnson
on Mar 16, 2015 in
Accommodation
,
Asia
,
Featured
,
Food and Drink
,
Going Out
,
Hotels
,
Regions
,
Restaurants
,
Singapore
,
Travel Miscellany
Designed by I.M. Pei and opened in 1986 between Marina Bay and the downtown core of Singapore, Fairmont Singapore stands at the crossroads of this colourful, complex nation. Conveniently situated for business, world-class shopping and entertainment, it is just 20 minutes' drive from Singapore Changi Airport.
The welcome
I am not sure how they did it, but the Fairmont Singapore seemed to know who I was from the moment I stepped out of my taxi. There were no clues – I'd arranged the airport transfer independently of the hotel and the luggage with my name tag on hadn't yet been retrieved from the back of the taxi, yet seemingly they knew me by name immediately, despite this being a 769-room hotel. Thereafter, I could see the ripple of communication from the doorman to the porter and the reception as he spoke quietly into his microphone to alert them of my arrival, so I wasn't quite so surprised thereafter to be referred to by my name, but to this day I'm intrigued as to how they managed to be so attentive on this front right from the outset.
Once in the foyer area, you are immediately struck by two pieces of artwork – a Czech glasswork structure hanging from the ceiling and a colourful 25 x 15 foot print on canvas behind the reception desk by Swiss artist Claudia Caviezel, reflecting Singapore's colourful, cultural fusion – an intense explosion of crimson, violet and aquamarine.
The room
I stayed in room 2018 – a Premier Room in the Fairmont Singapore's refurbished North Tower. The room is tastefully finished with hints of Peranakan craftwork in the décor. Peranakan is the name for the centuries-old ethnic mix of colonial Chinese and Malay people, and the visual motifs of traditional Peranakan craftwork include ornate, complicated patterns normally seen on textiles and clay tiles but re-interpreted in the room (and in public areas of the hotel) through everything from the carpets to the curtain sheers. The design piece on the headboard of the bed reflects Singapore's architecture, from old to new.
The living space in my accommodation was generous with ample room to relax and a desk from which to work. The suite is 39 sq m in size and came with a view of the outdoor below and the Marina Bay beyond.
The bathroom
The hotel uses its own Rose 31 toiletries which are unique to Fairmont internationally and custom made by a New York perfumerie.
The facilities
This large hotel has a huge 50,000 square foot spa – one of the largest in Asia – with 23 treatment rooms, and a 70,000 square foot convention centre – the largest in Singapore. There are 15 restaurants and bars across the Fairmont Singapore and the sister Swissotel property (with a further 1,261 rooms) that is situated next door.
I dined at the Japanese restaurant Mikuni which has three live stations – sashimi/sushi, tapenyaki and robatayaki – and is led by the charming Chef Moon who kindly took time to come to the table and talk to us. He is Korean but trained in Japan, and was previously at the Armani Hotel in Dubai.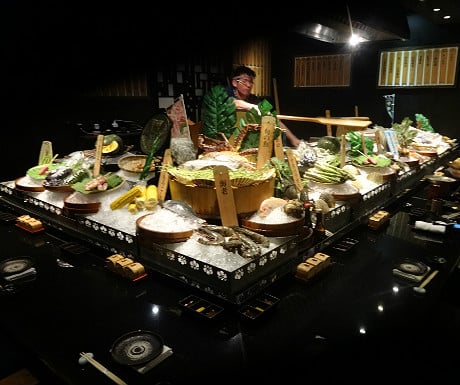 Dinner began with a Spring course – sakra flower/leaf (cherry blossom leaf), snow crab and yuzu jelly, which was followed by a coconut soup with fish sperm (yes, fish sperm… also known as shirako or cod milt – see earlier post), matsutake mushroom and abalone.
Every course was beautifully presented with some lovely flavours, with the red snapper, yellowtail, tuna belly and cuttlefish with sea urchin being a great example.
The Japanese wagyu beef and marinated mackerel was an interesting combination, and the beef was particularly tasty and succulent.
Next was the snow crab tempura with white radish…
…followed by, towards the end of the meal, the wagyu beef with truffles which for me at this point in proceedings was just a little rich… it was very good, but I think my stomach was stating to say enough was enough!
Other nice touches
Wine, fruit and chocolates were delivered to my room shortly after my arrival.
As my time of departure was known, front of house called me to ask if I needed help with my luggage on my way out.
Cost
Rates start from 400 Singapore dollars per night for a Premier Room such as the one I stayed in, including breakfast
The best bit
Dinner at Mikuni was the highlight of my stay. Although I had just arrived from Japan, the food was very different to what I had recently encountered and provided me with a number of new taste experiences – mostly notably, shirako.
The final verdict
This is a large, professionally-run hotel that somehow – despite its size – manages to retain a personal touch. I felt very welcome and would not hesitate to return.
Disclosure: This post was created in partnership with ANA – All Nippon Airways. All opinions expressed in the post are my own and not those of ANA.