By
Paul Johnson
on Mar 17, 2015 in
Accommodation
,
Asia
,
Featured
,
Food and Drink
,
Going Out
,
Hotels
,
Regions
,
Restaurants
,
Singapore
,
Travel Miscellany
Raffles is an iconic, colonial style all suite hotel – with 103 suites in total – and was declared a national monument in 1987; in 1989 it was restored to how it looked in 1915 – renovations that took two and a half years to complete. Re-opened on 16th September 1991, today this historic hotel retains its status as Singapore's most graceful landmark and continues to be one of the world's most famous hotels, attracting Royalty from around the world as well as a host of famous personalities.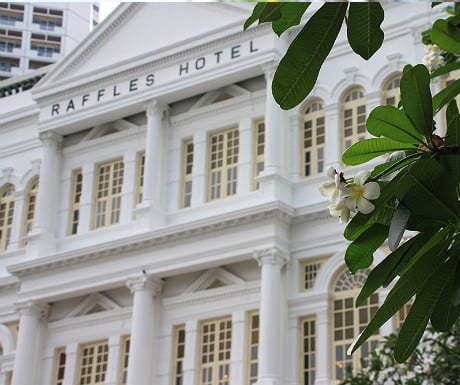 The welcome
Although I was very happy to walk the short distance from my previous hotel, Raffles insisted on providing a transfer by car. On arrival I was greeted by one of the hotel's Sikh doormen, complete with turban and military uniform and a reminder of its imperial past. On entering the main foyer – a very grand space littered with period furnishings and tasteful antiques – I was introduced to my butler who led me to my room.
The room
I stayed in room 219, a Palm Court Suite overlooking a tranquil, lawned courtyard surrounded by palm trees that takes you a million miles from the hustle and bustle outside of the hotel.
The room had a small living space on one side as you entered, and a pantry on the other.
The bathroom
The bathroom consisted twin basins, a shower and corner bath.
The facilities
The hotel has fifteen restaurants and bars, the most famous of which is undoubtedly the Long Bar. Although the exact location of the Long Bar has shifted with various renovations, it was here that the Singapore Sling was first developed by the Hainanese bartender Ngiam Tong Boon in about 1915. The bar has a unique atmosphere – boxes of monkey nuts can be found on the tables and you are positively encouraged to discard the shells on the floor, just as people would have done in times gone by. Yes, this is probably the only place in Singapore whre littering is positively encouraged!
I had Sunday Champagne brunch at the Billiard Room and Bar, reputed to be where the last tiger in Singapore was shot. Story has changed over the years, and the tale misconstrued to say the tiger was shot under the billiard table, but it was in fact on a floor that you don't see that was below where you have brunch today.
It's a European style buffet with a smart casual dress code, a fabulous atmosphere and free-flowing Champagne. In this beautiful, colonial-styled room with its chandeliers and marble floor, there were multiple food stations and a delicious line-up of fresh seafood, in particular, as well as meat and vegetarian options.
There was even a mouth-watering array of desserts with one or two creative items such as these miniature representations of the well-known Magnum ice cream.
Also on site at the rear of the hotel is the Raffles Gift Shop – the best seller here is the kaya spread, made from eggs, coconut milk and sugar, and flavoured by the unique pandan leaves. Look out for it at breakfast as it goes well with toast.
Other nice touches
Having introduced me to my room, my butler offered to fetch me a drink and suggested the Singapore sling. Since the hotel is celebrating its 100th anniversary of the cocktail, it would have been rude not to sample one…
Another nice touch was that when I returned to the airport using the hotel's transfer service, ther was in-car WiFi – very convenient when you just want to fire off a few emails before catching a flight.
Cost
The Palm Court room that I stayed in is priced at 1,500 Singapore dollars per night, based on single or double occupancy.
The best bit
For me, the highlight was – without doubt – the Sunday Champagne brunch. It reminded me of the Sunday jazz brunch at Winchester Mansions in Cape Town (another experience you should try if ever presented with the opportunity) with its relaxed yet refined setting… a truly wonderful way to spend a Sunday!
The final verdict
You could be forgiven for assuming that this legendary hotel might be resting on its laurels and living on its history but that couldn't be further from the truth. It is every bit as good as you might expect, oozing with the sophistication and charm of a bygone era whilst still maintaining the levels of excellence that we have come to expect from the world's top luxury hotels.
Disclosure: This post was created in partnership with ANA – All Nippon Airways. All opinions expressed in the post are my own and not those of ANA.